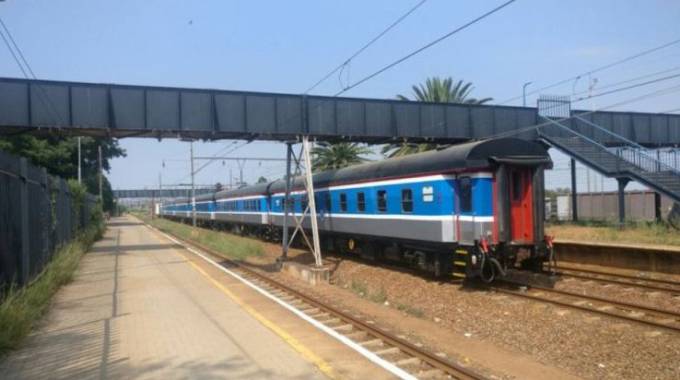 The Sunday Mail
Finalisation of the National Railways of Zimbabwe (NRZ) US$400 million recapitalisation deal is progressing well, with closure expected in the near future.
The Diaspora Infrastructure Development Group (DIDG) and Transnet of South Africa won the tender to recapitalise NRZ, which had almost collapsed mainly due to economic challenges.
Marathon meetings are being held with a view to concluding the massive investment deal, with one such meeting taking place just over a week ago.
Details of the meeting could not be established as NRZ board chairman Mr Larry Mavhima's mobile was not reachable.
Transport and Infrastructure Development Minister Dr Joram Gumbo confirmed to The Sunday Mail Business last week that the meeting took place.
Dr Gumbo said it is not possible to tie all ends "overnight" considering the size of the NRZ investment.
"Deals of NRZ's magnitude are not closed overnight. Several things have to be discussed. There are several things that you have to agree on, the repayments, the interest rates, all those things take time and are not done by one ministry," said Dr Gumbo.
"Agreements have to go to the AG (Attorney General's) office for assessment, the Ministry of Finance, our transaction advisor IDBZ (Infrastructure Development Bank of Zimbabwe), and the investors will also be doing the same.
"I have not had the report of how far they have gone but they were meeting (DIDG/Transnet and NRZ officials) last Friday (July 7) but you can call Larry Mavhima, he knows."
In an interview on the sidelines of the launch of Proflight Zambia's Harare-Lusaka route last Monday, Director — Aviation and Rail Transport in the Ministry of Transport, Mr Allowance Sango, said conclusion of the mega deal was getting close.
"I am very pleased and interested to join the rail bandwagon at this juncture when our NRZ is working on a joint venture arrangement, as you are aware, with Transnet and DIDG.
"Finalisation of that process is almost done. I bet there has been slight delays from the original plans but we are almost getting there," said Mr Sango.
DIDG executive chairman Mr Donovan Chimhandamba also told The Sunday Mail Business last Friday that the NRZ project plans are "proceeding as per plans with the due diligence just complete and no funding constraints".
The recapitalisation deal involves the delivery of 34 new locomotives, refurbishment of 28 locomotives, procurement of 200 new wagons and refurbishment of 768 wagons.
But given that making and supplying new locomotives takes between 18 and 24 months, DIDG and Transnet have crafted an interim solution which will see 14 locomotives, 200 wagons and 34 passenger coaches being provided to NRZ.
Already, 10 locomotives have been delivered, six of them being class 34D's that NRZ is used to.
The locomotives have already been deployed mainly in the Midlands province where they are moving chrome to Chicualacuala, Mozambique.
Some of them are being used by chrome miner, Zimasco.
Spurred by the locomotives, NRZ moved 771 000 tonnes of freight in the first four months of this year compared to 679 000 tonnes in the comparative period.
DIDG plans to capacitate rail value chain
Mr Chimhandamba said DIDG/ Transnet continues to add interventions through the interim solution to ensure NRZ increases its ability to service its growing demand.
Beyond the US$400 million capital investment, DIDG plans to issue a prescribed asset note to raise about US$100 million to capacitate companies in the NRZ value chain which used to supply key inputs such as concrete sleepers and ballast.
The US$100 million will be raised in two tranches of US$50 million.
Imara Capital has been appointed as the transaction advisor.
Said Mr Chimhandamba: "DIDG's planned prescribed asset note which will start with a US$50 million issuance has been in some media circles confused with the NRZ $400 million funding plan.
"That prescribed asset note is not for NRZ but it's to be used to fund companies that used to supply critical inputs into NRZ such as concrete rail sleepers, ballast and concrete aggregates, heavy engineering workshops for refurbishing and maintaining rolling stock, rehabilitation and maintenance of private rail links and spurs, among others.
"So we are saying further to the US$400 million for NRZ, DIDG is rolling out initiatives such as the prescribed asset note to allow for local financial institutions to participate in the broad infrastructure program aimed at re-starting some of the mothballed value chain industries."
The move is aimed at minimising the risk of increasing the national foreign currency debt exposure, providing a good mix of local bank participation in infrastructure related projects and create the much needed jobs as championed by President Mnangagwa.
The value chain industries that support or service NRZ are not covered by the US$400 million capital, hence the prescribed asset note for them.
DIDG believes it is prudent to fund such firms to minimise burden on the national foreign debt exposure.
Imara CEO Mr Mark Tunmer believes there is appetite for quality prescribed asset paper among the pension and insurance funds.
Recently, Imara worked on a US$10 million prescribed asset note which was over-subscribed.
"Our understanding is that the industry is still below the legislated PA requirements, meaning there is scope for further issuance. "Furthermore, existing PA instruments mature from time to time, and so need replacing with new paper. We cannot comment at this early juncture on who will consider the investment, but our approach is to market it to all institutions locally, including the banking sector, and to also consider involvement from foreign funders," said Mr Tunmer.
He reckons at US$50 million, this would be the largest single debt raise in the local market for a considerable time and Imara and DIDG will refine the capital raise strategy with that factor in mind.