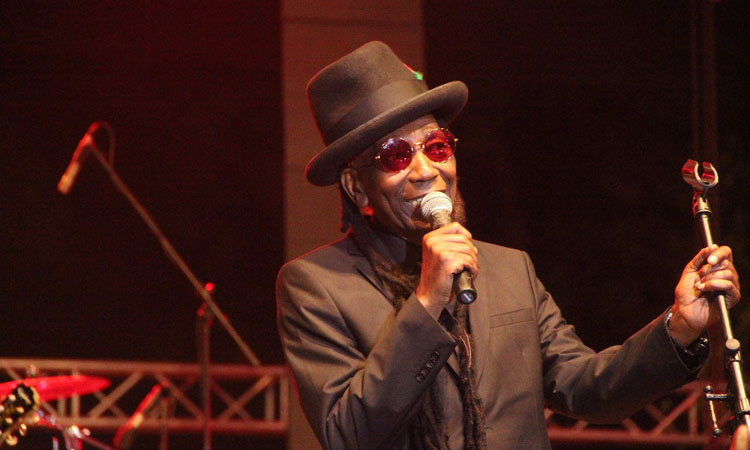 The Sunday Mail
ON April 22, 2018 on these pages, I wrote that ". . . no matter what comes out of Mukanya's oft-unbridled mouth, we already feel differently about our country".
He did not disappoint. Thomas "Mukanya" Mapfumo, as expected, ran his mouth off.
It's as if Mukanya does not know that he no longer has to seek relevance by mouthing off. His music does the talking for him. His artistry is enough for people across the political divide.
Judging by the numbers that turned out for the Big Bira last weekend – his popularity is not in doubt.
And precisely for that reason, Mukanya must learn to put a leash on his mouth.
We enjoyed his performance at Glamis Arena. We listened when he advised Zim dancehall to be original if they have any hopes of breaking onto the international stage. It was good when he censured corrupt politicians.
But it was irresponsible for Mukanya to encourage physical confrontations ahead of elections this year.
And why should a man of his stature signal that he does not believe in voting, that he will not vote?
And since he confesses that he is not a voter, why sing a song with inflammatory lyrics that incite election-related violence?
Why would Mukanya, in "Chauya Chauya", sing: "Yavesarudzo Muzimbabwe … chauya chauya vakomana … gore rino tinopedzerana … hondo iyo, hondo iyo."
We have already seen how rowdy the MDC-T can be. We saw it at Morgan Tsvangirai's funeral when Nelson Chamisa's boys tried to burn Thokozani Khupe alive. We have heard Chamisa talking about unleashing the "guys from Mbare" on the electorate.
There is a horrible history of violence around elections in Zimbabwe and for Mukanya to sing of war this year is downright irresponsible.
The new dispensation led by President Emmerson Mnangagwa is at the forefront of saying "down with violence".
What we need is for all Zimbabweans to support this position and behave like people who want their country to succeed.
I'm not saying Mukanya should endorse ED. Far from it. Besides, ED's work over the past few months has already endorsed him.
All I'm saying is the US-based artiste should refrain from using inflammatory language at a time when people have accepted that there is nothing wrong with holding divergent political views.
What Mukanya's divisive rants, utterances and irresponsible lyrics prove is that this man is out of touch.
Fourteen years is a long time to be living in exile and relying on mostly unreliable online publications for information about one's country.
Mukanya does not really know what people went through from 2004 when he last set foot in Zimbabwe, through the tough years of 2007/8, Robert Mugabe's fall and into this new era.
So out of touch is Mukanya that he did not know who his true paymaster was throughout the months that he got his deposit, prepared for his show and finally performed.
While he was busy speaking ill of Mugabe, the former President's son, Bellarmine Chatunga, was the one signing his hefty cheques.
If there were any doubts about Entertainment Republic being a poor attempt at legitimising Chatunga's Triplife, Chatunga himself in his social media celebrations of his remote controlled event confirmed that Triplife Entertainment is Entertainment Republic.
Of course, his acolytes will deny the link — just as they tried to do initially with Triplife before the Mugabe boys let the cat out of the bag again through social media, interviews and outright endorsements.
This has been a poorly kept secret. And Chatunga has never been good at keeping secrets.
But Triplife/Entertainment Republic is not our story.
The story is about Mukanya and his irresponsible lyrics.