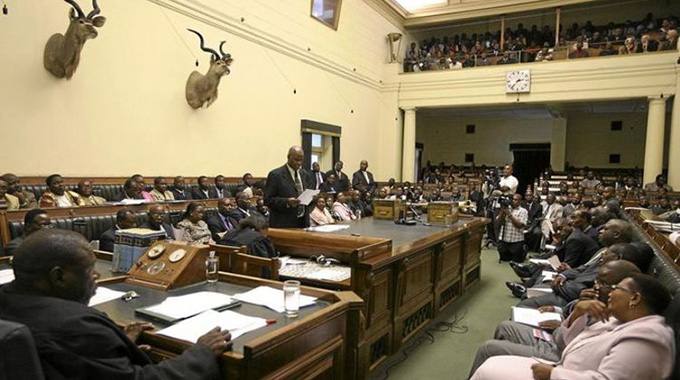 The Sunday Mail
Lincoln Towindo Parliament
Twenty-two legislators had their diplomatic passports withdrawn last week falling recall from Parliament by their political parties.
President Mnangagwa extended the privilege of the much-coveted travel document to all legislators after years of intense lobbying.
All MPs benefited as a result.
Announcing the extension of the facility to legislators, Makonde MP Kindness Paradza (ZANU PF), who chairs the Parliamentary Portfolio Committee on Foreign Affairs, said Zimbabwe had been "the only Parliament within the region and within the continent, or even throughout the world, that Members of Parliament did not have diplomatic passports".
Diplomatic passports are coveted for a variety of reasons, among them easy passage at borders, special queues at customs, tax exemptions, access to VIP lounges at airports, travel upgrades on airlines and hotels and free visas to most countries.
The fight for these privileges by our legislators was an intense undertaking, which pre-dates the current Government.
This undertaking by legislators has often provided us free drama and rare instances of unity among MPs from both the ruling party and the opposition.
When it comes to petitioning for privileges and luxurious perks, our MPs always speak with one voice.
As an illustration, Honourable Paradza's announcement in the August House of the decision to offer the special passports to MPs was met with shouts of "ED Pfee!!!" from legislators from both sides of the aisle, in an apparent but rare endorsement of the President from opposition MPs.
The withdrawal of the diplomatic passports from the recalled former legislators last week has brought with it a fresh dimension to the long-running debate on the utility of diplomatic passports for legislators.
Parliamentarians have always argued that diplomatic passports will enable them to efficiently carry out their duties when travelling outside the country on Government business.
Critics, however, insist that MPs only wanted the passports to fulfil their sense of prestige and elitism.
They want in on the buffet of privileges that come with the document, so the argument goes.
It has now been over a year since parliamentarians were given these special passports and we need to start asking questions about whether they have served any real purpose.
Yes, there have been worldwide Covid-19-induced travel restrictions for the best part of this year, but it would be injudicious to neglect analysing whether this exercise has served any purpose insofar as improving the operations of Parliament is concerned.
Questions have to be asked whether, a year down the line, legislative business has been bolstered by giving parliamentarians the special passports.
Have the passports engendered any meaningful development within the constituencies?
Have they reinforced Parliament's oversight and representation of constituencies by the legislators?
Surely, it should have been telling by now.
Have legislators improved their constituencies ever since they go this privilege?
This does not seem to be the case, especially in urban areas, where communities seem to have been abandoned by their representatives.
A virtual first
House sittings resumed last week, albeit virtually, as Parliament trialled new technological platforms to execute House business in light of the pandemic.
The experiment was not without incident as teething problems plagued the roll out of the system.
Some legislators clearly struggled with the technology, including failing to mute their devices.
As a result, we were treated to quite a lot of drama as some personal conversations were inadvertently broadcast, much to the embarrassment of those involved.
"Haaa technology yakanaka vakomana, sure kutotaura nevanhu vese ava panguva imwe chete," one participant could be heard saying in the middle of a contribution by a fellow House member.
We had instances where some MPs could not handle the urge to hackle their colleagues, but hackling usually works in an environment where there is face-to-face interaction. Others made their contributions before turning on their device microphones and that is as good as not making a contribution at all.
However, Parliament administration should be commended for the effort.
As we have said before on these pages, we cannot afford to have Parliament in perpetual recess, even during these dangerous times.
Our democracy cannot afford to have an entire arm of the State sitting out on the bench, however, bad the circumstances.
Parliament should learn from its experiences from the first session and hopefully, in no time, the innovation will be working like a charm.