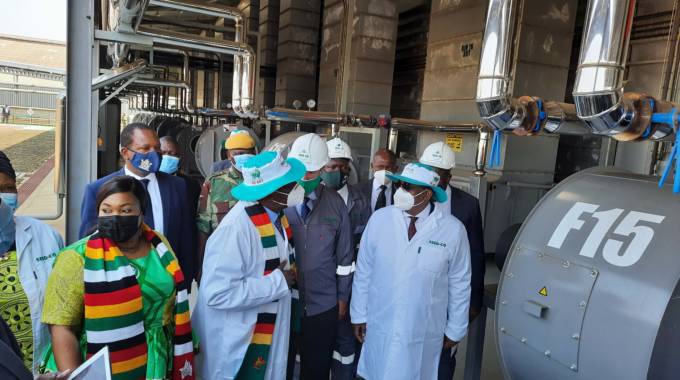 The Sunday Mail
Online Reporter
President Mnangagwa has said Seed-Co's new US$12,7 million seed maize conditioning plant will contribute to boosting Zimbabwe's agriculture value chains.
"I am honoured to be here today to officially launch the Seed-Co Seed Maize Conditioning Plant, which from today becomes a national asset as it will be servicing and enhancing our entire national seed maize value chain.
"This Seed Maize Conditioning Plant will contribute towards quick turnaround of production and productivity in agriculture," said President Mnangagwa while officially launching the new plant on Thursday. The Seed Maize Conditioning Plant is targeted to receive 150 metric tonnes (mt) per day of wet seed maize cobs harvested at 35 percent moisture content. The 150mt is dried down from 35 percent to 12,5 percent moisture content over a period of 72 hours.
During its construction 25 contractors participated, mainly local companies.
President Mnangagwa commended the downstream benefits.
"I am pleased to hear that this investment was driven by local consultancies, engineers and companies. This means therefore that a lot of diligence was done to save the much needed foreign currency; create jobs and empower the local communities.
"It means our industries are growing and are strengthening each other through this downstream effect. This investment clearly demonstrates that Seed-Co is indeed a local company, which is willing to support all the Government efforts of attaining a middle-income economy by 2030." The new plant will result in a number of benefits, including improving the quality of seed maize significantly, reduction of costs of producing seed maize, and early availability of seed maize to farmers, among others.
Seed-Co received US$13 million financing for the plant from French financiers, PROPARCO.
Seed-Co chief executive Mr Morgan Nzwere said the plant is a game-changer for several key stakeholders.
"The seed dryers are a game changer for Seed-Co, our growers, the farming community and the country at large. Instead of us waiting for the seed to completely dry in the field we are now going to be able to harvest it much early, at a moisture content of around 35 percent and bring it to the seed conditioning plant."