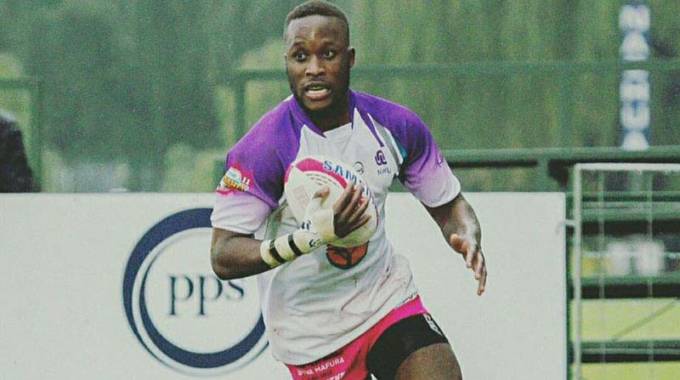 The Sunday Mail
Online Reporter  
FRESH off his Currie Cup title win with the Pumas last weekend, fullback Tapiwa Mafura has been slotted into the starting line-up for Zimbabwe's Rugby Africa Cup quarterfinal clash against Ivory Coast today.
Mafura missed Zimbabwe's Currie Cup First Division campaign as he was competing in the top-tier edition of the competition with Airlink Pumas.
Coincidentally, Mafura and his Pumas' side won their first Currie Cup title the same day Zimbabwe beat the Netherlands 30-17 to wrap up preparations for the Rugby Africa Cup.
The Pumas emerged 26-19 victors over The Windhoek Draught Griquas in Kimberley to lift their maiden Currie Cup title.
Among the few changes made by Sables coach Brendan Dawson, Mafura has been slotted into his favoured fullback position, while Victor Mupunga, Liam Larkan and Bornwell Gwinji are the favoured frontline trio.
Shingi Katsvere, who has mostly been experimented at the centre positions, returns to his favoured left wing and will be partnered by Shayne Makombe on the right.
Scrumhalf Hilton Mudariki will lead the team that also sees Marcus Nel (fly half), Taku Chieza, Matthew McNab (left and right centre), Godfrey Muzanargwo (right lock) and Jason Fraser (left flanker) also make the cut.
Dawson expects a very competitive game, with the Sables gaffer full of praise for his opponents.
"We haven't had much footage on Ivory Coast, but we all know that have played in France with most of their players French-based and plying their trade in the top leagues here," he said.
"It's going to be a physical, hard, strong and competitive game, and we are prepared for that.
"We are ready for it, we trained and prepared for it, and I am very happy with where we are as a team."
The match starts at 9pm Zimbabwe time.
Sables Starting VI  
Victor Mupunga, Liam Larkan, Bornwell Gwinji, Godfrey Muzanargwo, Jason Fraser, Kelvin Kanenungo, Nyasha Tarusenga, Hilton Mudariki (Cpt), Marcus Nel, Shingi Katsvere, Taku Chieza, Matthew McNab, Shayne Makombe, Tapiwa Mafura
Replacements  
Tyran Fagan, Cleopas Kundiona, Matthew Mandioma, Godwin Mangenje, Aiden Burnett, Kyle Galloway, James Forrester, Ngoni Chibuwe