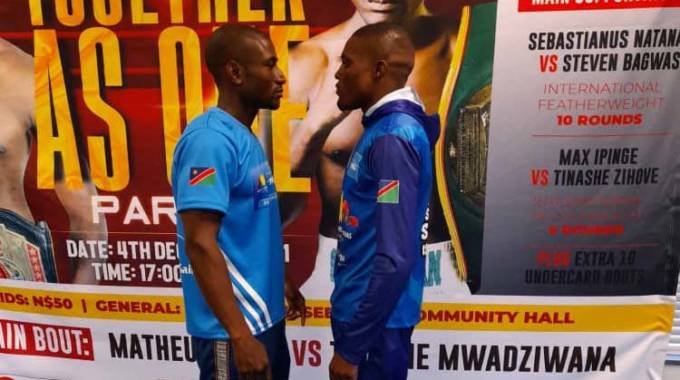 The Sunday Mail
Online Reporter 
ZIMBABWEAN bantamweight champion, Tinashe 'Chairman' Madziwana, has ramped up preparations for the upcoming international title fight against Matheus Heita, in Windhoek, Namibia.
The two will fight for the vacant World Boxing Association Pan African Super Bantamweight title at the Kuisebmond Community Hall in Windhoek, on Saturday.
The fight is being promoted by MTC Nestor Sunshine Tobias Boxing and Fitness Academy, owned by popular Namibian promoter, Nestor Tobias.
Now 33, Madziwana is reaching the twilight of a career that promised much but delivered little, especially on the international stage.
His fight against Heita could be his chance to finally land an international title.
The two boxers faced off on Wednesday, soon after Madziwana underwent medical examinations.
Madziwana will have veteran trainer, Clyde Musonda, in his corner.
"The boxer has done his medicals here and everything looks okay. So far so good, we are preparing well for the fight," Musonda told The Sunday Mail Sport from Windhoek.
Madziwana's record stands at 17-13-0, and his last fight was a knockout loss against Namibian, Nathanael Kakololo, in Windhoek on February 27, 2021.
His opponent Heita, 23, has a record of 5-0-0, but looks thin on experience as compared to Madziwana who has fought 30 bouts since turning professional in 2006.