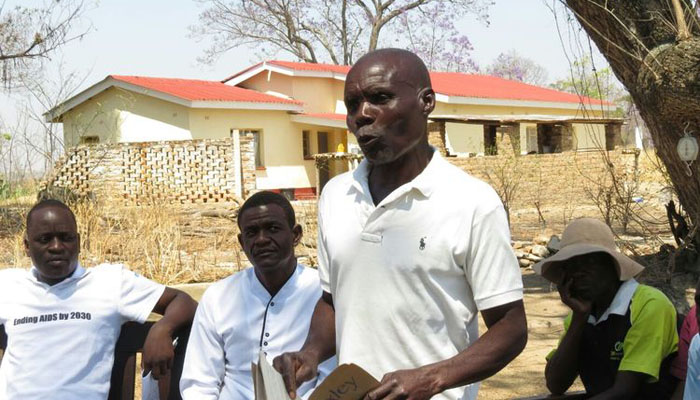 The Sunday Mail
Shamiso Yikoniko recently in Makoni
Ten fellow villagers take turns every month to go to Namie Clinic to collect antiretroviral drugs on everyone's behalf.
This is the essence of community ART refill groups (CARGs) — a simple, economical initiative that ensures everyone gets their medicine without expending too much cost.
Charles Mushanya, the leader of CARG 10 in Namie, Makoni district, sings praises about the model.
"Being part of a CARG has improved my life because now I'm able to cope better with HIV through sharing our successes and challenges as people living with HIV.
"Through CARGs we have also managed to fight stigma and discrimination in our community as awareness campaigns help members of our community to understand that HIV is just like any other disease."
Government's interventions, with its partners, have seen the HIV prevalence rate falling from a high of 27 percent to around 15 percent.
Though efforts have been made in HIV prevention, Zimbabwe has had its fair share of challenges, chief among them losses to follow-up of HIV clients and ART defaulting by patients.
This is one of the reasons why CARGs are being created.
When CARGs were introduced, the overall goal was to reduce the burden and challenges for both healthcare workers and patients in access to ART and improving adherence.
CARGs are now addressing issues of stigma and discrimination, improving patient retention as well as increasing male involvement in accessing healthcare.
The model supports self-formed groups of clients, who are stable in accessing ART. The members of the groups would usual come from the same geographical area.
With the advent of the HIV pandemic, the health delivery system has been overwhelmed with patients who require specialised services. Before the introduction of CARGs, health centres especially the opportunistic infections clinics were always congested with people living with HIV accessing health services.
The introduction of CARGs has eased the pressure on health centres.
Namie Clinic's sister-in-charge Kudzai Marongedza said: "Before CARGs, the workload was heavy but our biggest challenge was with manning the OId clinic which was always oversubscribed.
"The pressure was also fuelled by the shortage of staff as this clinic only has two nurses, one nurse aid and one general hand."
Sr Marongedza added that with CARGs instead of them attending to 10 people, they now deal with one person, de-congesting the health centre.
Avoiding treatment interruptions or discontinuations is a major challenge.
Lack of means to travel to health centres or failure to travel due to work or family commitments have often fuelled non-adherence.
According to the 2015 National Aid Council Annual Report, retention has increased from 78 percent to 85 percent after 12 months among adults.
"We're no longer defaulting because CARGs have given us an opportunity to monitor each other through the peer-to-peer counselling," said Mr Mushanya.
Sr Marongedza confirmed that the default rate had decreased in their community.
"CARGs have seen a decrease in defaulting rate, from about 10 percent to approximately two percent."
In addition, CARGs have also seen an increase in male involvement in HIV care and treatment.
"Men naturally haven't embraced health-seeking behaviours and it becomes worse when the subject of HIV is brought up," explained Mr Kennedy Makara, a CARG member.
"I will confess that for me to be tested, it took a lot of convincing. With CARGs, we are seeing more and more men coming up to receive HIV care and treatment. Though I can't tell the numbers of men in our district, our CARG group has a compliment of four men against six women."
Nationwide, male involvement in HIV/Aids programmes stands at less than 30 percent.
Couples are a population at risk of HIV infection thus male involvement is essential for reducing the risk of HIV infections, both for couples and their unborn children.
Before the formulation of CARGs, there was a nationwide outcry by people living with HIV who complained of spending the whole day at health centres waiting to be assisted.
"We used to spend more than six hours at the hospital waiting to be attended to and that would mean a day lost to work for the family," explained Mr Makara.
"But by being a member of a CARG, I have seen a great improvement as I get to spend time at work and also dedicate more time to my family. In fact, it has given me and other CARG members peace of mind."
The interventions through the CARGs model will result in the maintenance of high quality life and adherence of the 1 254 579 people living with HIV initiated on ART as of 2015.
Of this figure 15 337 are currently receiving second line ARVs and the Government is striving to reduce the numbers of more people going for second line ART due to non-adherence.
Currently, most people are still on the first line of treatment, which is way cheaper and readily available in most public institutions.
Zimbabwe introduced ARV therapy in 2004. The country adopted the WHO treatment guidelines recommending patients begin treatment at a CD4 count of 500, compared to the 350 count in earlier treatment guidelines.
Pregnant women and infants living with HIV are being initiated on treatment regardless of their CD4 count.
As such, trends show people living with HIV increasing and the number has risen to 1 412 790 in 2015 from 1 356 010 in 2011.
Zimbabwe National Network of People Living with HIV (ZNNP+) Manicaland provincial co-ordinator, Mr Lloyd Dembure, reiterated that CARGs is a good initiative.
"CARGs have managed to address HIV treatment barriers such as transport costs, stigma and discrimination, improved adherence and a whole list of other positives," he said.
However, Mr Dembure bemoaned the absence of diagnostic machines such CD4 count and viral load machines at initiating sites.
"The absence of diagnostic machines at initiating sites is derailing our efforts in the fight against HIV/Aids," added Mr Dembure.
The CARGs programme was introduced in March 2016 in all the country's provinces except Bulawayo.
However, only stable HIV clients who have been on ART for over six months are the ones who are accepted in the CARGs.
"Pregnant women, children under five and clients with tuberculosis or other opportunistic infections can't be part of CARGs because they require a more exhaustive medical follow-up," explained Sister Marongedza.
With nearly 15 percent of the adult population infected by HIV, Zimbabwe is still one of the countries most affected by HIV/Aids in the world.
The Government remains committed to achieving zero new HIV infections, zero HIV-related deaths and zero HIV-related stigma and discrimination in HIV treatment. The Government also subscribes to the post-2015 Agenda of ending Aids by 2030.