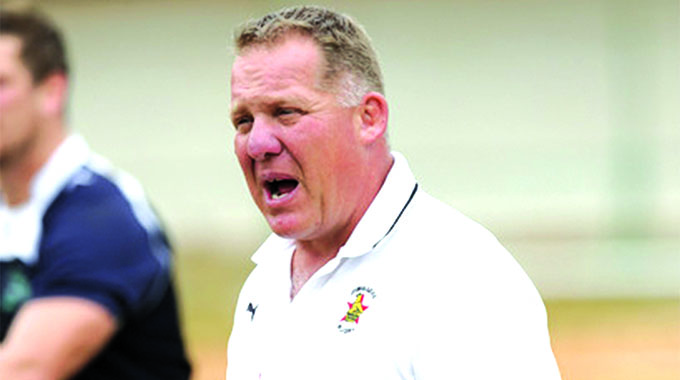 The Sunday Mail
Online Reporter  
BRENDAN Dawson looks to continue his rotation policy, with the Zimbabwe Goshawks head coach making as many as nine changes to the team that beat Boland Kavaliers 23-22 last weekend.
However, the only difference this time is that some of the changes appear to be forced.
The duo of full-back Brendan Marume and Johan Du Preez have been rested, while scrumhalf Kyle Galloway is currently undergoing concussion protocol.
Front-rower Doug Juszczyk has not been cleared for action and fails to make the match-day squad.
Buoyed by back-to-back wins, the Goshawks resume their Currie Cup Division One campaign this weekend when they come up against winless Border Bulldogs at Sisa Dukashe Stadium.
That match will be played on Sunday and kicks off at 3pm.
The Zimbabwe team released their match-day squad on Thursday afternoon, and missing from the team sheet are hooker Declan Ralphs, lock Andrew Evans, flanker Tonderai Chawambutsa, flyhalf Boyd Rouse, wingers Ernest Mudzengerere, centre Marcus Nel, as well as Marume, among others.
They will be replaced by Brian Muntanga, George Saungweme, Biselele Tshamala, Takudzwa Musingwini, Russell Dinha and Conor Kennedy.
Hilton Mudariki is expected to get his armband back from Aiden Burnett, who led the team in the win against Kavaliers, as the former returns to the starting line-up and slots back into his scrumhalf position.
While Burnett did make the squad, the England-based international will have to settle for a place on the bench.
He will be joined by the trio of Bornwell Gwinji, Taku Chieza and Kelvin Kanenungo, who all started in last weekend's match against Boland Kavaliers, but now come in as replacements.
GOSHAWKS SQUAD
Starting XV: Victor Mupunga, Brian Muntanga, George Sipapate, George Saungweme, Godwin Mangenje, Biselele Tshamala, Sean Beevor, Nyasha Tarusenga, Hilton Mudariki, Takudzwa Musingwini, Tavonga Ablant, Marcus Nel, Shayne Makombe, Russell Dinha, Conor Kennedy
Replacements: Liam Larkan, Matthew Mandioma, Bornwell Gwinji, kelvin Kanenungo, Aiden Burnett, Carlos Matematema, Keith Chiwara, Taku Chieza