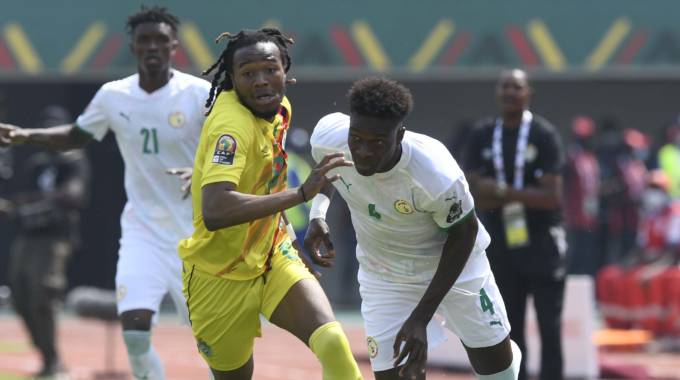 The Sunday Mail
Langton Nyakwenda 
KUNDAI BENYU'S impact on his Warriors debut, at the African Cup of Nations (AFCON) finals was not only felt in Zimbabwe and across Africa, but far away in Iceland where he plays for second-tier side, Vestri. 
Benyu, whose inclusion in the Warriors squad surprised many, won many hearts with a gutsy display, albeit in a losing cause, when Zimbabwe lost 0-1 against 2019 finalists Senegal, in a Group B encounter at the Stade Omnisports de Bafoussam in Cameroon, on Monday. 
He was given an 8/10 rating by some pundits in a game he went toe-to-toe with the likes of Senegal's Idrissa Gueye, who plays for French giants, Paris Saint-Germain FC. 
The 24-year-old sadly limped off in the second half, after picking up an injury, which according to Warriors coach, Norman Mapeza, is not serious. 
He is now hoping for a quick recovery ahead of Friday's do-or-die encounter against Malawi. 
But it was Benyu's performance against Senegal, which left Vestri chairman, Samuel Sigurjon Samuelsson, purring. 
Samuelsson, who signed FC Platinum star, Silas Songani, last week, has suddenly fallen in love with Zimbabwean players. 
He believes Benyu's presence at the AFCON finals will market the Icelandic league. 
"We think it (Benyu's Warriors call-up) is well deserved, because he has been fantastic for us and raised our game," Samuelsson told The Sunday Mail Sport. 
"This call up is good for us and our squad, and Iceland as a country because people will see that we have a decent standard of football. 
"It helps us as a club to have a player in a big tournament, because the world will see that we look after our players and we are ambitious in trying to get the best players and help continue with our development. 
"Kundai's call-up is raising the profile of Icelandic leagues in Africa. We are a very good footballing country, and our FIFA ranking (62 in the world) could be a bit a higher and we showed it in the World Cup. 
"Hopefully, this can attract more players to come and experience our culture.  
"We have just signed Silas Songani for next season. We are a very open club, and want the best for the team and our community to enjoy football and continue our development," he said. 
Samuelsson revealed that Benyu's decision to settle for a modest club like Vestri was a surprise, given the kind of reputation the player carried. 
Benyu once turned out for Scottish giants Celtic, before he was loaned out to Helsingborg in Sweden. 
He was then shipped out before more low-key moves to clubs such as Wealdstone followed. 
The Zimbabwean midfielder is now working his way up again, and his performance against Senegal might have left some of his doubters with egg on their faces.  
"Kundai was a shock to all of us at Vestri and the country because he came with such a big reputation (having played for Celtic before)," Samuelsson said. 
"People were confused at first thinking why Vestri, but after getting to know him we could tell he just wanted to play football and enjoy it. 
"The season (2021) was very good. We played some really good football because of his creativity. His quality on the ball, and the way he moved and passed is amazing. 
"He can play in top leagues in Europe," he said.