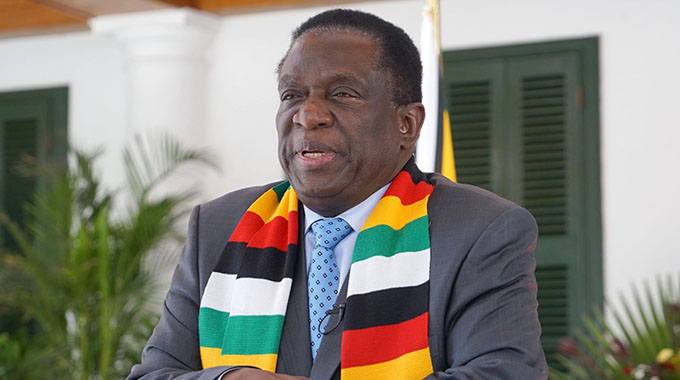 The Sunday Mail
On Monday last week, President Mnangagwa launched the country's new economic blueprint, the National Development Strategy (NDS1) 2021-2025, to guide economic planning over the next half decade and, the document is well crafted.
There is no doubt that NDS1 is what the doctor ordered in terms of addressing economic challenges that the country is facing; it can create the right conditions for sustainable recovery and growth, especially after the successes registered under the Transitional Stabilisation Programme (TSP) 2018-2020.
Minister of Finance and Economic Development Professor Mthuli Ncube, is on record saying that Government ticked all the boxes under TSP, a policy crafted to correct the unsustainable economics of the last half decade that created the mirage that all was well and Zimbabwe could sustain dollarisation with low production, frail productivity and a sprinkling of exports.
One undeniable fact, which made Zimbabwe's economics a casino-like, was that with increasing informalisation, there was less and less abiding by the rules of the game. Everything characterised by arbitrage and speculation, a dangerous direction for any economy. Besides, a dollarised environment was not conducive for sustainable growth, seeing already that the US dollar was too strong for a third world economy such as Zimbabwe's.
This made  prospects for  future domestic growth a grim affair.
The TSP initiated the long journey to normalcy, realistic and practical targets in an environment with strong and effective governing institutions that are respected. Results under the stabilisation programme are beginning to be self-evident, even to the ordinary man on the street.
To name just but a few achievements, TSP restored local currency, giving Zimbabwe control over two critical legs of macro-economic management — fiscal and monetary policies. It eliminated troublesome budget and current account deficits and has stabilised the exchange rate and inflation. Significant reforms in doing business have been registered.
The list is endless, but in a nutshell Government managed to achieve the majority of the targets under the short term programme, which saw massive progress towards global re-engagement, resolution of white former farmers land issue, devolution and restoration of the rule of law.
It is amazing to note just how much the Second Republic has achieved in just a space of three years of its reign, if measured against the challenges that existed from a fractured economy and the hurdles erected by decades long economic sanctions.
But TSP showed that if political will, commitment and stakeholder buy-in exist, no challenge is insurmountable, but more importantly, progress on many fronts in correcting ills of the past have proved President Mnangagwa as a capable leader and a true reformist.
At the  NDS1 launch, the President said Government will continue to implement robust, innovative and responsive strategies while the new policy, which lays a solid foundation for an upper middle-income country by 2030, will continue to entrench democracy, constitutionalism and rule of law.
The most important thing to note is that NDS1 does not prescribe fictitious solutions, measures, targets and objectives, but practical interventions to not only maintain macroeconomic stability, but drive recovery and sustainable growth going forward, provided all stakeholders play their part.
As we mentioned earlier, NDS1 is a brilliant, well-crafted policy document that speaks to Zimbabwe's decades-long challenges and prescribes viable solutions that should result in transformative recovery and growth if its broad prescriptions are followed to the letter.
What this means is that all Government agents, departments and line ministries must be held to account on a regular basis on the macroeconomic targets set against their portfolios and sectors to make sure that misalignments and shortcomings are corrected and targets achieved on time.
No one should sleep on the wheel without consequences.
It is a good thing that Prof Ncube said last week that the Office of the President and Cabinet will be heavily involved in making sure that all targets are met.
Minister Mthuli, refreshingly, said this had been the modus operandi of the new administration since taking over in November 2017, which explains TSP's success. It will guide NDS1, for effective and results-oriented implementation of the new economic plan.
He stressed the point that previous policy prescriptions, though brilliant, suffered from exogenous and endogenous factors in their quest to deliver desired growth for the country as a whole and poverty alleviation among the citizenry. This calls for the pulling of all stops to ensure effective implementation.
Authorities must be applauded for emphasising the position that private enterprise should play a more prominent role in the economy going forward, creating perfect conditions for unhindered job creation, domestic and foreign investment and private sector-led growth.
It goes without saying that the policy framework is anchored in the principle of domestic resource mobilisation, which means annual budgets will be the most critical implementation tools and should yearly targets be met, then NDS1, a product of extensive consultation, will be a resounding success.
Notably, with macroeconomic stability returning thick and fast, one of the major highlights of the new policy strategy is employment creation, with nearly a million new jobs targeted by end of 2025. A running theme across the plan is its emphasis on promoting strong value chains.
Growth targets, average growth rates of at least 5 percent  under NDS1, will be achieved through interventions in key sectors of agriculture, mining, manufacturing and tourism, but will also entail more investments and measures in infrastructure, energy, ICTs and financial services.
Minister Ncube says Government is targeting inclusive and transformative growth, which should see positive impact on the lives of ordinary citizens through stable conditions that allow them to fully exploit their enterprise and maximise benefits of savings.
The next five years will be telling.