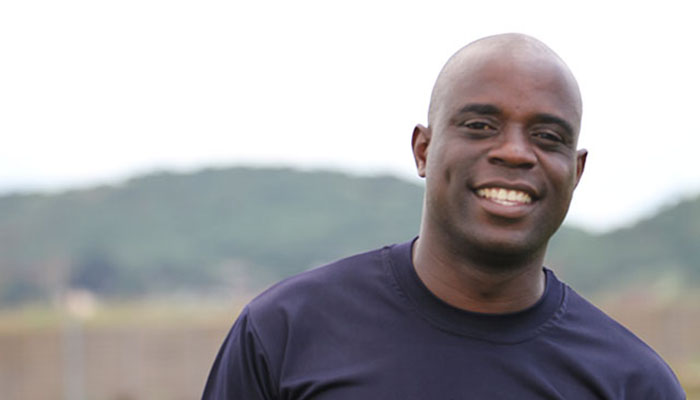 The Sunday Mail
Langton Nyakwenda
Sports Reporter
QUESTIONS are being raised about Tonderai Ndiraya's capacity to take Dynamos to the next level as the youthful gaffer approaches his 60th Premier Soccer League game in charge of the Harare giants.
DeMbare host Ngezi Platinum Stars today at the National Sports Stadium in their 58th league match since Ndiraya was unveiled on April 28, 2019.
He became Dynamos' fifth substantive coach since the departure of Kalisto Pasuwa, who won four straight league titles between 2011 and 2014.
Pasuwa then quit Dynamos in a huff and took a sabbatical before resurfacing in Malawi, where he is on the cusp of guiding Nyasa Big Bullets to their fourth straight top-flight championship title.
The late David "Yogi" Mandigora, a comical gaffer named Paulo Jorge Silva, Lloyd Mutasa and Lloyd "MaBlanyo" Chigowe have all failed to deliver the league title since then.
Dynamos have also failed to win the Chibuku Super Cup since its inception in 2014.
It is increasingly becoming apparent that 2022 could be another barren season for the Harare giants, as DeMbare trail FC Platinum by eight points going into the business end of the championship marathon.
There is no doubt Ndiraya has done well in transforming Dynamos from a team that fought relegation in 2018 to contenders for the 2021/2022 title.
He has reinvigorated the traditional fighting spirit synonymous with the Glamour Boys.
However, the 44-year-old's capacity to win silverware has come under scrutiny, especially after last weekend's exit from the Chibuku Super Cup.
DeMbare lost 4-2 on penalties against FC Platinum in a quarter-final clash at the National Sports Stadium last Sunday.
The Harare giants return to the same venue for a date against another platinum miner, Ngezi, with Ndiraya firmly back in the spotlight.
He has divided opinion at Dynamos on whether he has failed or succeeded given the precarious position Dynamos were in when he returned to the club, having spent time at Ngezi.
His tactics have been questioned, with some feeling the coach is too defensive.
Against FC Platinum last weekend, Ndiraya fielded seven defensive-minded players.
Emmanuel Jalai, Partson Jaure, Frank Makarati, Keith Murera, Shadreck Nyahwa, Tinotenda Muringai and Trevor Mavhunga started for DeMbare in that game.
The team's attacking deficiencies were evident, with Evans Katema often a lone man upfront.
Dynamos unsurprisingly failed to score and the game ended goalless, before FC Platinum won it via penalty shootout.
"We have put the disappointment of being knocked out of the Chibuku tournament behind us, and we are now fully focused on our match against Ngezi Platinum Stars," Ndiraya said.
"We know that it's not going to be an easy match, but we are preparing. There is a lot of history between the two teams.
"We have quite a number of players within our ranks who played for Ngezi Platinum Stars, and that alone is making the whole contest a fierce one, but we are prepared."
Makarati, Jaure, Murera and Godknows Murwira, who caused a stir when he posted a picture of him in Ngezi colours on Facebook last week, are all former employees of the Mhondoro miners.
"We are back together now, feeling strong and hoping to go out there and put up a good fight," Ndiraya added.
Dynamos would really need to put up a good fight if they are to keep pace with champions FC Platinum, although on paper it looks a lost battle for Ndiraya's men.
The coach, whose contract expires in December, could be judged harshly if he fails to deliver the title.
His reign started with a 1-1 draw away to TelOne at Barbourfields Stadium on April 28, 2019.
"We want to raise our standards. This is arguably the biggest team in the country and you want them to play football of the highest standard," Ndiraya told the media after the match.
He made some few additions to his squad during the July 2019 window, bringing in the ageing duo of Simba Nhivi and Archford Gutu.
Dynamos went on to finish the 2019 season in ninth place and a huge eight points behind champions FC Platinum.
It was an improvement given that in 2018 the team finished 11th with 42 points, just six above the relegation zone.
Ndiraya was given funds to beef up his squad and in January 2020 he raided the market in preparation for a season that eventually failed to kick off due to Covid-19.
Jaure returned from Manica Diamonds and was appointed captain, while Tinotenda "Kedha" Chiunye and steady defender Sylvester Appiah arrived from ZPC Kariba.
Big centre-back Byron Madzokere and Nkosi Mhlanga joined from Yadah, while talented midfielder Juan Mutudza was lured from Herentals.
Goalkeeper Taimon Mvula left Hwange for DeMbare, who also brought on board the unheralded duo of Lennox Mutsetse and Tanaka Chidhobha.
Cameroonian striker Albert Eonde was signed from FC Platinum amid high expectations.
On the sidelines of a team-building exercise held at Lake Chivero in January 2020, Ndiraya attributed his team's poor performance in 2019 to lack of quality players.
In fact, in most of his post-match interviews in 2019, he consistently questioned the quality of players assembled by his predecessor Chigowe.
He had no chance to unleash his newly assembled squad as football activities were indefinitely suspended.
Dynamos opened the cheque book once again in January 2021 as the nation prepared for the game's return.
Newman Sianchali, Shadreck Nyahwa, Makarati and Mavhunga were recruited.
In the build-up to the 2021 Independence Cup match against Highlanders, Ndiraya told the media he had assembled probably the best side the team had ever put together in a long time.
Expectations from DeMbare's legion of fans skyrocketed.
By the time the 2021 Chibuku Super Cup kicked off, fans were already dreaming big.
Dynamos reached the semi-final before they were knocked out by eventual winners FC Platinum.
Ndiraya noted with concern his side's failure to score goals and beefed up his attack when the 2021/2022 season resumed in January after the Africa Cup of Nations finals.
Oiled by funds from Sakunda Holdings, who provided US$60 000 for signing-on fees, DeMbare bought attacking midfielder and 2019 Soccer Star of the Year runner-up Ralph Kawondera.
Issa Sadiki — arguably the best dribbler in the league — was also snapped from Yadah, while veteran striker Evans Katema returned home after a stint in Zambia.
Three West Africans — Emmanuel Paga, Martin Ofori (both from Ghana) and Alex Orotomal (Nigeria) — who are all attack-minded were unveiled in January.
However, Dynamos' scoring rate has not improved.
Dynamos have scored 28 goals in 24 league games since January, a rate of 1.2 goals per match.
Katema, Orotomal and Ofori have one goal each since the beginning of the year.
In fact, it still remains a mystery how a player as poor as Orotomal reached these shores.
His dismal performances have thrust Dynamos' recruitment policy under scrutiny.
Of the three West Africans, only Paga, who has scored nine times in the league, has given DeMbare some value for their money.
As a result, DeMbare, who at some point led FC Platinum by almost 10 points, have lost ground and now trail the Zvishavane miners by eight points.
Some questionable boardroom decisions along the way, including the temporary suspension of Ndiraya for unclear reasons in May, have also been cited for DeMbare's slip.
Others are also questioning Ndiraya's team selection.
They wonder why Sadiki, a dribbler and creator, is not playing.
King Nadolo, another gifted player, has similarly had limited game time.
So, as Dynamos prepare for their clash against Ngezi Platinum Stars today, Ndiraya's report book reads as follows: DeMbare have played 57 league matches during his reign, registering 22 wins, 25 draws and 10 losses.
He has managed 91 points out of a possible 171, translating to a 53 percent success rate.
The team has scored 55 goals in 57 league matches, a rate of 0.96 goals per game.
Under Ndiraya, Dynamos have conceded 36 times in 57 matches, a rate of 0.6 goals per match.
Only FC Platinum have a better defensive record than Dynamos since April 28, 2019.
Ndiraya has now had three futile campaigns in the Chibuku Super Cup since his return to DeMbare.
Fixtures:
Bulawayo Chiefs v Manica Diamonds (Luveve), Triangle United v Herentals (Gibbo), Dynamos v Ngezi Platinum Stars (National Sports Stadium)