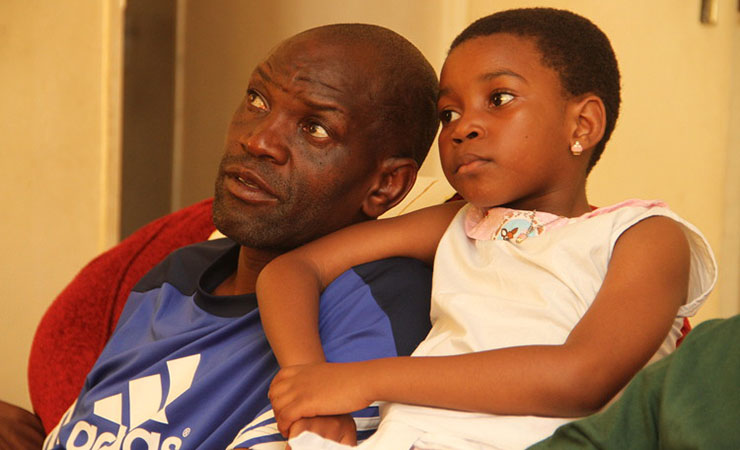 The Sunday Mail
Langton Nyakwenda
DYNAMOS coach Lloyd Mutasa has been crying a lot these days.
If DeMbare, loses Mutasa cries. When the Harare giants win, the gaffer sheds tears, like he did after guiding his side to Uhuru Cup victory on Independence Day last Tuesday.
The Dynamos gaffer's tears and his wardrobe upgrade have left many bemused.
In a bid to solve the mystery, The Sunday Mail Sport visited Mutasa's Greendale, Harare home last Thursday where, in front of his wife and mother-in-law, the much-travelled football coach spoke about his tears and new dress sense.
"There are times you feel let down, times when you feel you are trying hard in adverse circumstances and yet people are not appreciating," an emotional Mutasa said. "Sometimes you feel critics are not being fair. They just talk of Dynamos because they know it as a team formed in 1963 and has won a lot of titles but they do not look at the current settings."
Mutasa's wife, Patience, whom he met in Mutare back in 1990 when he was turning out for the now defunct Tanganda FC, also let out her feelings about Mutasa's job ahead of DeMbare's tricky Castle Lager Premier Soccer League assignment in Hwange this afternoon.
"Being a wife to a football coach is hard, especially if your husband is coaching a big team like Dynamos. You are never settled. Today you hear that he is under fire, tomorrow you hear he has been given an ultimatum, and yet you can still read in some papers he has become the darling of the fans," said the 42-year-old school teacher.
Mrs Mutasa, an Anglican, said she was always praying for her husband's job security.
She fasts on the eve of DeMbare's matches and prepares Mutasa's favorite breakfast – sausage and toast – on match day.
"We have left everything in God's hands. We both go to the Anglican Church but on the days that he is unable to, especially when he is preparing for a game, I pray for him.
The Uhuru Cup victory last week was a result of massive prayers," she said.
As Dynamos brace for the Colliery assignment, Mutasa is aware expectations are high among the DeMbare faithful who witnessed their team beat their two biggest rivals in succession last week.
DeMbare edged city rivals Caps United 1-0 in the Uhuru Cup semifinals at the National Sports Stadium on the Sunday before dismissing Highlanders 3-2 on penalties in the final at the same venue on Independence Day.
A first league win is now due.
"Those Uhuru Cup victories gave fans hope and morale among the boys is also high but there is need to keep our feet on the ground. We are moving in the right direction and the target is to do better than last season," said Mutasa.
Dynamos finished fifth last season, their worst position in a decade, leading to some questioning if Mutasa was the right man for the job.
The bosses at Dynamos have publicly backed him but reports suggest that clandestinely, the Keni Mubaiwa-led executive is skeptical of Mutasa's ability to lift the team.
Mutasa's teams have often been criticised for their lack of defensive discipline but the coach – a follower of Barcelona and Liverpool in Europe – insists that he will never park the bus and believes the best way to defend is to attack.
"Yes, we work on the defensive duties at the training ground but we are not believers in parking the bus. Sometimes it is not about having 10 defenders for you to preserve a lead, it is about your system.
"Look at the substitutes we put in at 1-0 lead against Caps United last Sunday, Vale (Ndaba) and Wisdom (Mutasa), they are natural attackers but still we preserved the lead," said Mutasa.
"That's the reason why I am enjoying working with Biggie (Zuze) because we belong to the same school of football. He likes youngsters and players who move the ball around. Our system is a combination of Barcelona and Liverpool – building it up from the back and pressing high."
It is Mutasa's love for Barcelona and the respect he is given by his players that saw him change his touchline dressing. He has abandoned the tracksuits and is now into elegant suits.
"I said to my family the players call me Father and for them to see me like a true father I have to wear suits. My friends were also pushing me to change my attire. Besides, I am also now inspired by the likes of Pep Guardiola and Luis Enrique's style of dressing," Mutasa revealed.