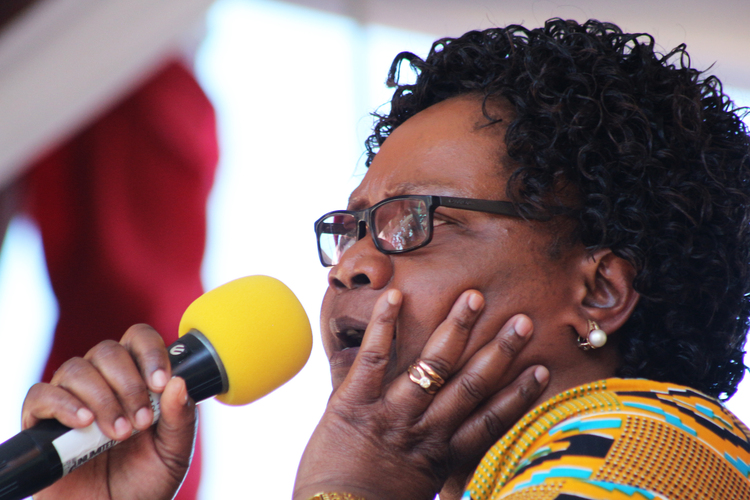 The Sunday Mail
Bulawayo Bureau
ZIMBABWE People First leader Dr Joice Mujuru yesterday said she would turn to the West for guidance on how to lead the country should she find herself in power. Zimbabwe's relations with the Britain and its Western allies soured at the turn of the millennium when the latter opposed Harare's redistribution of land from roughly 6 000 white farmers to around 300 000 historically disadvantaged black families.
Dr Mujuru was part of the administration that clashed with the West over the revolutionary land reforms, but yesterday did a volte face saying: "The problem of Zimbabwe will not be solved by continuous borrowing but by the resuscitation of the productive sector of the country. The only way this can happen is if we restore the relations with the countries which we fought with. We have to resuscitate relations we once had with all these people who we clashed with over the years. We must ask ourselves why our investors are running away from us and solve these very reasons."
Dr Mujuru also claimed she was being haunted by the ghost of the late Vice-President Dr Joshua Nkomo. She was at pains to explain her relationship with Dr Nkomo, claiming she had at no point denigrated the national hero. In 1997, while still Information, Posts and Telecommunications Minister, Dr Mujuru said VP Nkomo was senile after he instructed that she issue Econet with a mobile phone license.
"Dr Nkomo is ageing and doesn't always understand and remember things as well as he used to," she said.
President Mugabe, who was out of the country when she made the remarks, returned and ordered her to apologise and issue the Econet license. "I know a lot of questions have been raised on why Amai Mujuru is launching these rallies in Bulawayo, about Amai Mujuru denigrating Dr Nkomo. I think that is just politicking which should not be used at any platform," she said at yesterday's rally.
She stammered through the background of her 24 years as a minister appointed by President Mugabe, and another 10 as his deputy.
"As I explained earlier, I came from the war as a young 25-year-old and was thrust in various Cabinet positions. The little education which I had had also vanished so you can all imagine my position. You must all note that there are some people who would take advantage of some situations, of which I believe I was a victim," she said.
Dr Mujuru hinted her party was incapable of winning an election and was inclined towards a coalition with other opposition parties. And then she said ZimPF "did not believe in elections". "At People First we don't like people who rush into votes and we won't just rush into talking of elections. We just do not believe in elections."