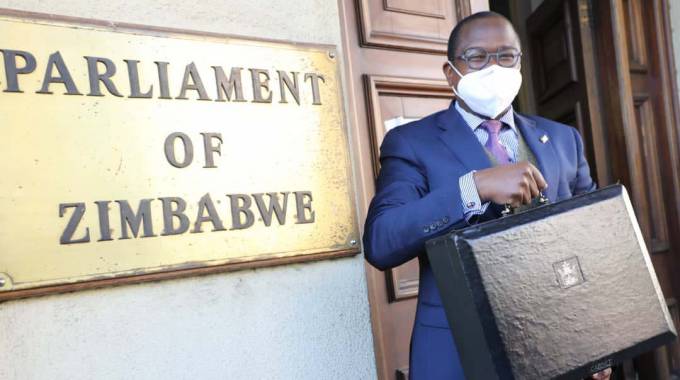 The Sunday Mail
Misheck Ugaro
Finance and Economic Development Minister Professor Mthuli Ncube, presented his Mid-Term Policy Review statement on Thursday and he surprised many people.
The market expected a supplementary budget presentation that would show an out of control position for the government's financial status.
This arose out of negative expectations given the difficult environment that is characterised by a galloping annual inflation averaging above 700 percent (786 percent) in May 2020, a fast depreciating currency reaching above $100:US$1 ($105:US$1 for May 2020) on the parallel market and the effect of expenditure pressures arising from the Covid-19 pandemic.
The anticipation was that the Government would have overshot the planned expenditures and collected less revenues as the economy was reported to be declining.
However, a positive out turn obviated the need for a supplementary budget.
The Minister was happy to announce a midterm budget review statement instead showing a good performance in containing expenditures while collecting revenues.
Overall the budget performance for the first half of the year can be summarised by an achievement of expenditures standing at 46 percent of the annual budget.
This shows that line ministries have contained their expenditures in line with plans. The budget review has notable achievements as can be summary below:
The Good
Budget Surplus of $800m
Revenues consistently performed above target
Domestic debt contained at $8,8 billion
Foreign debt not increasing, at US$10b
The $18 billion Covid-19 stimulus package has not affected budget outturn.
Line Ministries disciplined
An apparent convergence of the parallel and Interbank forex rates
Projected decline in annual inflation to 300 percent
Projected lower GDP contraction of 4,5 percent
Tax threshold reviews and VAT exemption on local tourists accommodation to promote local tourism
Trade balance of payment deficit coming down from US$403 million in the previous comparative period to just over US$300 million
Introduction of the Dutch foreign exchange auction system
Prioritisation of research on the SME sector growth
Front line health sector tax review on allowances.
Consistent non reliance of Government on the Central Bank Overdraft window.
The Ah moment
Tax threshold review provides a relief to the people
Projected GDP contraction appears optimistic.
Support for the agricultural sector
Proposed excise duty review may alleviate fuel prices and feeding through to stable inflation
Recognition of mining's 60 percent contribution to total exports but Agriculture importance needs reinforcing financially
Not so nice
The tax brackets thresholds have ignored the inflation levels
Delays on the timeous release of the Covid-19 stimulus package funds to all sectors and in particular to industry.
Suggestion
The continued support on agriculture is key but a serious re-look at issues to do with land tenure, ownership, and accountability has not been addressed.
This may take away the need for Government to foot the bill but allow farmers to bank their farming businesses. Rent seeking behaviours on agricultural inputs will naturally dissipate.
The Health sector direct intervention aimed at incentivising workers could be indefinite until and only if the Covid-19 pandemic ends, which is not likely to be soon.
The Auditor General's last report action points should still be a major highlight of any budget and updates on progress needed to be provided transparently
Government needs to put in place a well defined guarantee scheme to promote the manufacturing sector to set them up to take advantage of the foreseeable stably currency.
The National Development Strategy should be all inclusive taking into account the potential for Covid-19 to be a permanent feature on the country's economic environment.
Misheck is a former expatriate banker once based in several SADC countries and currently works as a Corporate Advisory Services Consultant. He is the founder of Rucabel Investments Private Limited, an investment company based in Zimbabwe. He is a member and past Vice President of the Zimbabwe Economics Society. For feedback he can be contacted on: (263) 777052004/712808140 [email protected]; Linkedin: https://www.linkedin.com/in/misheckugaro; Twitter: @twitcagan.com