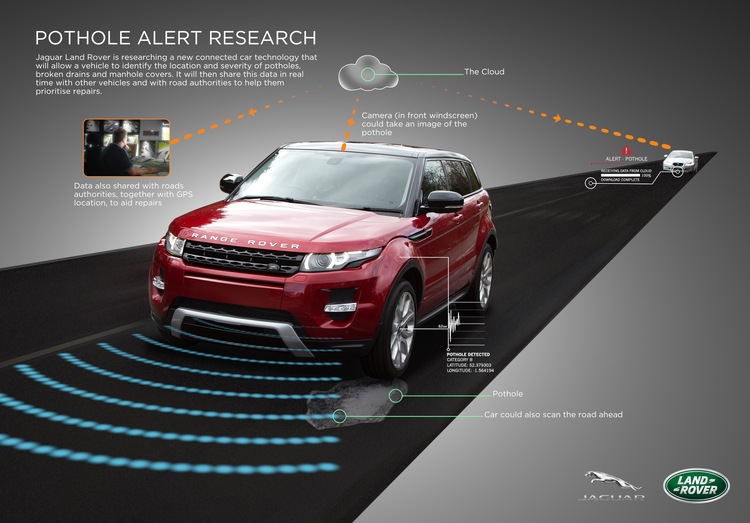 The Sunday Mail
Motoring Writer
Many of our roads are in dire need of repair after falling victim to numerous elements which have led to the manifestation of potholes.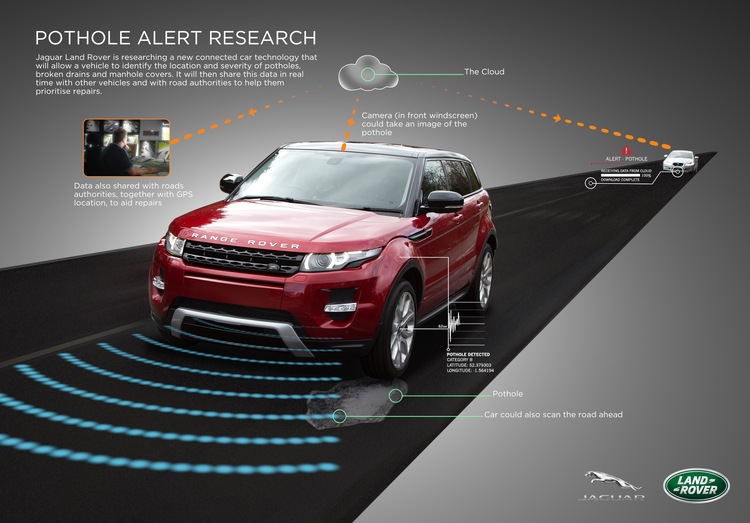 Potholes have become a nightmare to the Zimbabwean motorist, with authorities struggling to fix the problem.
From urban to rural roads, potholes and broken road surfaces are a part of life for motorists, with these hazards not only posing a safety risk but also acting as a catalyst for car damage.
Jaguar Land Rover's pioneering "Pothole Alert" research could provide the solution, which may save motorists from tyre punctures, vehicle damage and road accidents caused by potholes.
After recognising this problem that is being faced by motorists globally, Jaguar Land Rover is continuing its research into innovative vehicle safety systems with a new connected car technology that will allow a vehicle to identify the location and severity of potholes, broken drains and manhole covers.
Data from this system could then be shared in real time with other vehicles as well as with road authorities.
If a car can receive a warning from another vehicle about severe potholes or broken manholes ahead, then drivers would be able to slow down and avoid the danger or the car could adjust suspension settings to reduce the impact and smooth the ride.
This could help reduce the potential for punctures, wheel and vehicle damage as well as road accidents.
Jaguar Land Rover Global Connected Car Director Dr Mike Bell said that their MagneRide equipped Range Rover Evoque and Discovery Sport vehicles feature sophisticated sensors that allow the vehicle to profile the road surface under the wheels and identify potholes, raised manholes and broken drain covers.
MagneRide is a high-performance, semi-active suspension control system that responds in real time to road and driving conditions based on input from sensors that monitor body and wheel motion.
Thanks to a special damping fluid containing magnetic particles the system can respond instantly.
When the particles are subjected to a magnetic field, the viscosity of the damper fluid is either increased or decreased, making the suspension stiffer or softer.
By monitoring the motion of the vehicle and changes in the height of the suspension, the car is able to continuously adjust the vehicle's suspension characteristics, giving passengers a more comfortable ride over uneven and damaged road surfaces.
"While this gives our customers a more comfortable ride, we think there is a huge opportunity to turn the information from these vehicle sensors into 'big data' and share it for the benefit of other road users.
"This could help prevent billions of pounds of vehicle damage and make road repairs more effective," said Bell.
The next stage of the project at Jaguar Land Rover's Advanced Research Centre in the UK is to install new road surface sensing technology in the Range Rover Evoque research vehicle, including an advanced forward-facing stereoscopic digital camera.
"At the moment the most accurate data comes from when the car has driven over the pothole or manhole.
"So we are also researching how we could improve the measurement and accuracy of pothole detection by scanning the road ahead, so the car could predict how severe they are before the vehicle gets near them."
He said that ultimately, sensing the road ahead and assessing hazards is a key building block on their journey to the autonomous car.
"In the future, we are looking to develop systems that could automatically guide a car around potholes without the car leaving its lane and causing a danger to other drivers. If the pothole hazard was significant enough, safety systems could slow or even stop the car to minimise the impact which could all help make future autonomous driving a safe and enjoyable reality."
Jaguar Land Rover's research team will be working with innovation partner Coventry City Council to understand how road profile information could be shared with road authorities, and exactly what data would be most useful for their road maintenance teams to identify and prioritise repairs.
The project will also investigate whether Jaguar Land Rover's experimental camera could take an image of the pothole or damaged manhole — and share this with the road authorities, together with a GPS location.
Pothole Alert joins other projects at the Jaguar Land Rover Advanced Research Centre, which is developing technologies that could be used for autonomous driving and road safety.
Other research projects from the centre include Bike Sense, a concept technology that uses lights, sound, and hepatic feedback to alert drivers of approaching bicycles or motorcycles.
Another concept that makes use of forward-facing camera systems is Transparent Pillar, which improves safety by feeding video to in-car monitors mounted on the A-pillars, giving drivers an unimpeded view of their surroundings.