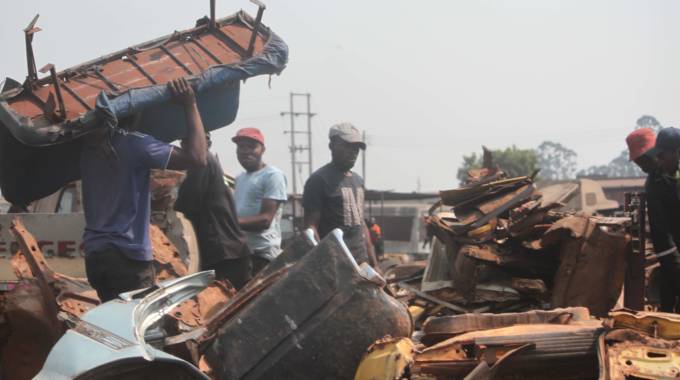 The Sunday Mail
Veronica Gwaze
There is a new spate of crime that is slowly bringing communities, especially in high-density suburbs, to their knees, as thieves target infrastructure and equipment made of metal such as bridges and goalposts.
Investigations by The Sunday Mail Society show that some community football fields and netball pitches in the capital have had their metal goalposts hacked by criminals who are selling them to scrap metal dealers.
Bridges have also been cannibalised of all safety metal barricades, posing serious danger to both motorists and pedestrians.
Among suburbs that have been affected are Glen Norah, Kuwadzana, Highfield, Mabvuku and Chitungwiza.
The criminal activities usually take place under the cover of darkness.
In some instances, communities have been forced to replace the goalposts with wooden ones, which, however, are not durable.
Two goalposts were recently stolen at Budiriro 5 netball ground.
Before that, thieves had also pounced on Chitungwiza's Unit J community netball court.
"We approached the police and they told us to report the matter to council, which we did. Sadly, the posts are yet to be replaced up to now," said Loveness Mushore, a Chitungwiza resident and netball fanatic.
A fortnight ago, criminals stole two goal posts at Glen Norah A community soccer ground.
In Glen View and Highfield, several bridges have been stripped of metal.
"We know some of the culprits and metal dealers who buy these products. Council and police should work with us so that the criminals are brought to book," said one Glen Norah resident.
Authorities confirmed that the wave of metal thefts had become pervasive.
"The rise of such crime is a cause for concern and the public needs to be warned that this is a serious offence and lands one in jail. We will not hesitate to enforce the law on whoever is caught offside," warned Zimbabwe Republic Police spokesperson Assistant Commissioner Paul Nyathi.
The public, he said, had to report to their local municipalities, who, in turn, should alert the police on such cases.
Indications are that a huge chunk of stolen metal is used in the manufacture of fence and sliding-gate droppers.
A pair of stolen goalposts is bought for not less than US$40 on the black market, while two netball posts fetch between US$20 and US$30.
Further investigations revealed that a single soccer goalpost can be used to manufacture more than five droppers.
Informal traders charge at least US$18 for a single dropper and a set is used on each gate.
Reputable dealers charge almost double the price.
There is an exponential demand for the product(s) owing to massive construction projects currently underway.
Apart from being affordable, the public is also opting for black-market droppers as they are deemed to be durable.
However, Government is currently setting up structures to ensure there is shared responsibility in safeguarding and maintaining public infrastructure.
The team will include stakeholders, among them sporting associations, schools, colleges, social clubs and community members.
"It is worrying how some criminal elements choose to steal and destroy infrastructure set up by local authorities for their benefit," Local Government and Public Works Deputy Minister Dr Marian Chombo said.
"We noted that it is best to share the responsibility with various groups so that we have eyes and ears everywhere…working together we can achieve more in stopping these criminals."
Undercover
Working undercover, The Sunday Mail Society last week visited Gazaland in Highfield, Magaba in Mbare and Chikwanha in Chitungwiza purporting to be selling stolen metal products.
These areas are believed to be the biggest consumers of stolen goods.
At Gazaland, we were linked to Lazarus (full name withheld) — a renowned scrap metal dealer — who also manufactures sliding gates.
He is notorious for buying stolen property and has perfected the art of keeping his illegal dealings under wraps.
He does not accept 'merchandise' from suppliers whose identity or referral he does not know.
Lazarus initially refused to entertain us but we eventually managed to sweet-talk him.
"Ok, you need to understand that this is a serious crime and we might get arrested. In fact, you might have come to arrest me," he said.
"I pay US$44 for a pair of soccer goalposts. However, I always prefer or rather feel safe working with people that I know… Most of these posts are made from good-quality metal, that is why I pay more compared to my competitors, but for pure scrap, I pay about US$7 per 50kg."
Simon, his business partner, who keenly followed our conversation, was ready to throw caution to the wind as he was eager to seal the deal.
His only worry was how we were going to transport the stolen items.
"If you have challenges delivering, we have our reliable guys who can do that for you during the night and they charge a small fee. You cannot bring the material during the day as police can easily detect that something is amiss, leading to your arrest," he said.
In the bustling Magaba area, another dealer only identified as Mike was willing to pay US$40 for two goalposts.
"You can either deliver them at night or early in the morning. Or, alternatively, I can have my guys come to your place and scrape off the white paint and cut the posts to easy-to-transport sizes that do not raise suspicion," said Mike.
Harare City Council spokesperson Mr Michael Chideme said theft and vandalism have become the biggest threats to public infrastructure.
"We have received several reports of theft of goalposts and vandalism of property in various communities. We are dealing with the cases and crafting permanent solutions," he said.
Communities believe they now find themselves in this predicament because municipal officials are neglecting their duties.
They argue that some goalposts in community fields used to be stored away or secured overnight.
Local authorities, they say, need to come up with a viable alternative to safeguard the infrastructure.
Chitungwiza Municipality spokesperson Mr Lovemore Meya believes the community also needs to be involved.
"We are grateful to those who are making it their responsibility to replace the stolen or vandalised property and urge them to continue helping us protect this infrastructure," said Mr Meya.
Mr Israel Rukainga, a member of Chitungwiza Ambassadors Football Club, said they are prepared to work with authorities.
"Our club and many other people are willing to work together with the authorities. It is us that benefit from these grounds and we have to play our part in safeguarding them. In some areas, the culprits are known, so as communities we need to stick together and fight this rot," he said.