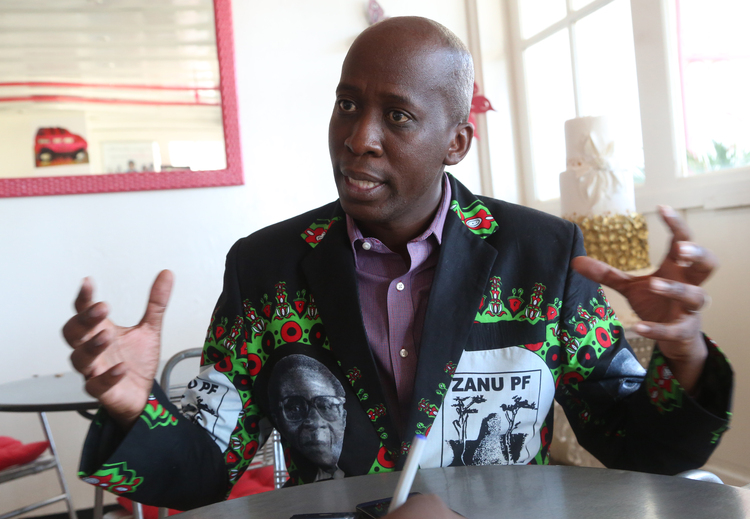 The Sunday Mail
Q: Who is Terrence Mukupe and can you tell us about your political background?
TM: I am a mathematician first by training, but I have been a career banker and my banking career spans across all the continents.
It started off here, and then I spent some time as a Wall Street banker. Again I spent some time in Europe and then I came back to Zimbabwe, but in between, I have been a member of Zanu-PF since 1995 and have been actively involved with the party, starting off in Mufakose.
I actually was born and bred in the high-density suburbs, contrary to popular belief. My political life was grounded in Mufakose, and having been grounded in Mufakose, I actively went through the ranks of party youths activism, but obviously there was a break in some of my activities when I went into the Diaspora, but actually if you even go online, you will see that even when I was in America, I was championing the policies of the President, and I was actually advocating for the land reform programme, it's actually there for all to see online.
When I came back, I was involved commercially with the ruling party and I have been working under Honourable Sithembiso Nyoni, under the secretariat for business development, and that's where l am working up to now, and the department is in charge for all the fundraising activities of the party and it is the one which runs all the party companies and as a result, l am a director of several party companies.
Q: What has been the inspiration to contest in Harare East?
TM: The main thing for me is that I think I have done everything that I needed to do within the commercial sector. I have achieved everything that I have ever wanted to achieve. And when you have been at the top in terms of your professional career you then have to go back to you roots and my roots are within Zanu-PF, my roots lie with the poor people. I was born poor, I was born in a family where at time you would have sadza with sugar and because now I'm in a privileged place and because God has blessed me it is time that I start helping the poor within our society. Look at Harare East, contrary to the belief that . . . yes you have the Highlands, the Mandaras, the Chishawasha Hills, but the majority of the people that live there are people that are living and surviving on less than a dollar a day. Would you believe it that there is a place called Pangola where people are literally using bush toilets, and a hundred metres from there you have got multi-million dollar mansions.
But in that compound you have got over a thousand people that do not have toilets and running water. But when people visit they only see people with fancy cars and all the big houses, people who like to flaunt their wealth, but at the end of the day we still have all these people. For example, we carried out a survey and from that we noticed that the average distance primary school going kids have to walk everyday going to school came up to 5-km every day. You find that the way the constituency was set up was for the home owners. You have schools like Chisipite High, Oriel Boys and Girls High Schools, all these schools are meant for the home owners but the majority of the people who make up a third of the population cannot even afford to go to learn at those schools. They cannot even afford the social amenities that are supposedly in the community. That is what made me decide to try and make a difference:
Q: Can you briefly tell us your promise to the constituency?
TM: According to studies we carried out in the constituency, the majority of the people that are productive, 50 percent are what I would term the helpers and then the other 50 percent are what I would call traders. These are what we call entrepreneurs, and what we are saying is that for those entrepreneurs, we need to come up with policies that boost their productivity and programmes that help them to get access to finance. We are saying we can be able to come up with productive finance. You have got the Seedcos of this world and we are saying they should be able to access those funds.
When we move away from the business sector and look towards the social amenities, there is a lot of free space which was designated for schools in our community. The trend has become that like all the space that has been designated for schools has been going to private hands and those private hands are charging as much as $3 000 a term for tuition, and we are saying we should go back to the original socialistic principles of the party and say that we have got all these kids who are walking to St Joseph's, we are leaving the Anglicans and all these other traditional churches to provide our education. It should be the role of the council; it should be the role of the Government. We are saying that all this land should be used to develop the concept of charter schools, whereby we are saying let's build schools that have got the same quality as Chisipite high but charges the same tuition fees as the church school. That we will be pushing for.
Pertaining to health care facilities, we are saying let build more clinics but not just the traditional clinics but top class clinics that provide medication and doctors. But providing this for the ordinary people.
When you go to an area like Caledonia, for example, there are no roads, there is no running water, there are no ablution facilities, we are saying let's provide that.
We are happy that we have got people that have come forward that have bought into our vision.
They have provided things like bricks, as we speak we are constructing bridges, there are people who have donated their graders and also poles for electricity.
If you go into Caledonia, there are 300 square metre stands, where on each stand they are using wells for water and they are also using blair toilets and that is a recipe for a health care disaster. We are saying let's provide boreholes, let's provide tanks.
We want to go back to the principles of the founding fathers of Zanu-PF.
When they formed ZPF we were a socialistic leaning party, and we want to move away from the point where we have people who are turning our party into a Money PF. Let's move away from the situation where we have got land barons who are now dictating policies of our party.
We are saying let's have a situation where we say we are a communal society, we are a cooperative society so let's all come together and provide socialistic leaning services to our people.
Q: Harare East has posed some difficult challenges to the post congress Zanu-PF, what are you going to do to unify the constituency?
TM: It's actually easier than what people think. On the ground, you see that every chairperson of every district has been present at our rallies. Of course we had some misguided elements that were in supposed leadership positions who felt that some of us could be bought, who expected us to pay them so that we could get into leadership of the people, but we cannot be bought, the people cannot be bought. The electorate, they are resonating with our message of our leader president Robert Mugabe. They believe in the principles of Zanu-PF and that is what we are saying to the people. If you are to come onto the ground we are united as a party and in the words of one of our founding fathers Dr Nkomo who would always say "Unity, Unity Unity" and that is the gospel that we are preaching.
Q: Harare East has been the face of the homeless in Harare considering that it encompasses Caledonia, are you not intimidated to be taking a constituency with such a legacy?
TM: That is actually the message we are preaching. We are saying some of us who have been privileged let's go and help all those who are poor, and not let the land barons come in and rape the poor and take advantage of the poor.
This business of people going to the poor masses and promising land in the name of Zanu-PF whilst they are opening offices to line their offices, we are saying Pasi Navo. No-one should use the name of the party to go and solicit money from poor people and promising them land that is not there, they should go to jail.
And I can guarantee you this once elected into parliament all those people who were taking money from the poor people in the name of the party are going to find themselves in prison.
Q: Some might argue that you a political green-horn and that Harare East is too big a shoe, how would you answer them?
TM: MaComrade ese akabva kuhondo were younger than me. There is no old person who is in Nyadzonya, there is no old person who is buried in Mozambique.
At what age was General Tongogara the leader of the armed wing? At what ages were the entire cadres who crossed into Mozambique? We are saying this is a new revolution, an economic revolution. We need young blood to carry out this revolution, so it nonsensical to say that we are young. Because if we are young and we had taken that notion with the liberation of this country then probably we will still be under colonialism.
Q: What is your take on the emergence of youthful legislators in the party, do you honestly think that the party is undergoing a renewal process?
TM: What happened is there was a period when some of the gamatox had taken control of the party, they were afraid of young people coming into Zanu PF, they felt that Zanu PF was "chinhu chaunochengeta mupocket mako" and you can move around with it.
That is why you find that there was a time when a lot of young people were disenfranchised with the party and a lot of people started moving into the MDC. That is why you find that the MDC was being propped up by young people. It is not that those people supported Tsvangirai but they were disillusioned, they felt that the party was not accommodative of young people. But we are thankful that the leaders realised that and they have become more accommodative. The party has to be progressive, we are preparing the legacy yavaMugabe, the legacy yava Mnangagwa, the legacy yava Mphoko, it has to live on.
So we have to come in now vaMugabe vachiri vapenyu toyenda pane that fountain of wisdom tomora humbowo hwavanawo. Then we learn the party ideology so that we become grounded in that ideology. This party, a thousand years from now should be singing the same songs that we sang during the struggle. We have to come in now into the trenches topihwa gwara kuti pavanenge vachinwa tea isuwo tichidongorera mumahwindo madhara edu achironga achitipawo mainstructions. That is why we are here where we are now.
Q: What's your prediction, come June 10?
TM: There is only one way where we are going. There is this one thing that has been going on in our constituency; you will be surprised at the number of youngsters that were moving with the MDC who have now gravitated back to Zanu-PF. Because the message we are preaching resonates with everyone.
We are going to have a record number of people coming out to vote for us because the massage is undiluted; the message is a message that was the message of the original Zanu-PF.