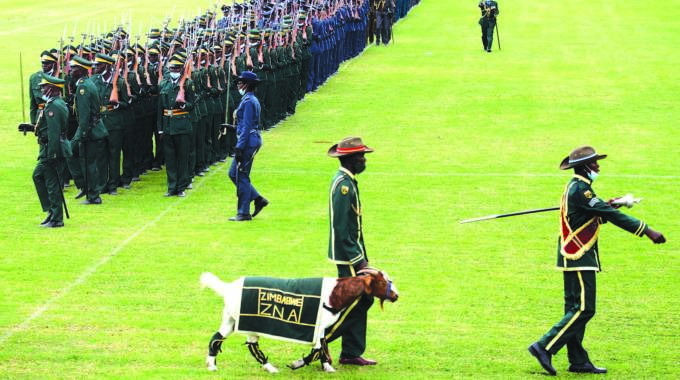 The Sunday Mail
Emmanuel Kafe
Imagine a goat — yes, a real goat — that has a rank in the army, earns a salary and is even entitled to receive full military honours when it dies.
Well, this is the amazing story of Junior Private Khumalo, the pet goat which won the hearts of many Zimbabweans during Independence Day celebrations in Bulawayo on Monday.
"That goat you saw during the Zimbabwe National Army (ZNA) Independence displays is not a mere animal, but an equivalent of some military personnel — it's a regimental mascot," a top army official told The Sunday Mail.
Jnr Pvt Khumalo, which was accompanied by its handler, performed military drills during the displays.
Neatly clad in army regalia, the dexterous goat did not miss a step, as it executed military manoeuvres with gusto, marching in lock-step with other soldiers.
This elicited wild cheers from the bumper crowd that witnessed the Uhuru festivities at Barbourfields Stadium.
As the goat went about its business, ZNA spokesperson Colonel Alphios Makotore, who was also the master of ceremonies, jestingly remarked: "This goat is a most disciplined soldier… I think the mascot is now due for promotion."
Jnr Pvt Khumalo unsurprisingly went viral on social media, with most Zimbabweans effusively gushing at the mascot's apparent discipline and skill.
"We call them regimental mascots, and we don't only have goats, but quite a number of animals. Each animal has its own role and signifies something," said Col Makotore in an interview with The Sunday Mail.
"The goats get promoted according to age, good behaviour or years in service. Every animal that is a member of the army also gets its monthly salary.
The money is used to buy the animal's food provisions as well as its general well-being.
These animals go for medical check-ups. The animal's veterinary doctor gets paid with money deducted from the animal's salary.
Veterinarians treat the animal's wounds and injuries, and inoculate the mascots against dangerous diseases."
When the mascots die, he added, they receive the same military rites accorded to soldiers.
They also have their special burial place at the army's barracks.
"They have their own form of a 'Heroes' Acre' at One Commando Barracks where they are interred.
They receive the same treatment like any soldier in their rank."
If they misbehave, they can be demoted or dishonourably discharged from the army.
And get this: When they are promoted, soldiers of a junior rank are obliged to salute them as a sign of respect.
Col Makotore added: "If you check all the barracks, they have mascots that represent them.
One Brigade has an elephant, Two Brigade has a rhinoceros and Three Brigade has a buffalo.
On the other hand, Four Brigade has a lion, whilst Five Brigade has a leopard, each with its own meaning and significance to a certain regiment."
A local veterinarian, Dr Ishmail Rukunhu, who runs livestock and vet services in Harare, said mascots such as Jnr Pvt Khumalo were specially trained.
"The main difference between mascots and normal animals is that mascots are trained to take and follow orders.
They receive special training care, and, in the military, I understand they are paid or promoted. But they are also expensive to take care of. They need specialised health check-ups every now and then, which differentiates them from other animals," he said.
Throughout history, animals have accompanied soldiers in the military.
The animals have fulfilled a variety of roles, including carrying men and weapons, evacuating the wounded, performing guard duties, carrying out search-and-rescue operations, detecting explosives or serving as protectors and companions.
Over 16 million animals reportedly served in the First World War.