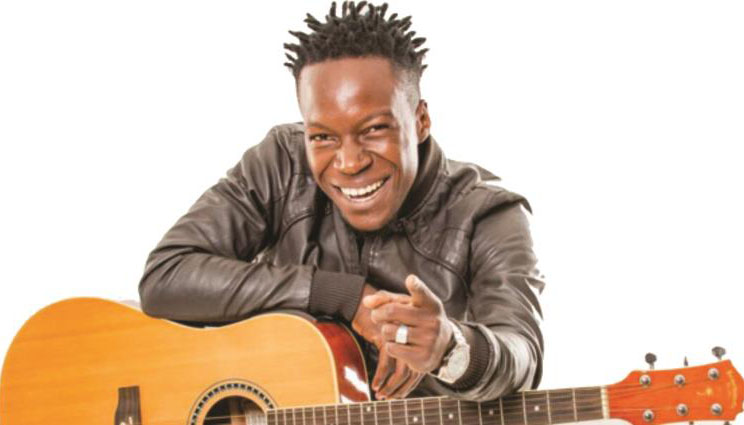 The Sunday Mail
WHAT is automatically capturing on Ashton "Mbeu" Nyahora's debut 10-track album "Hatizvimirire", which was launched recently, is his bravura voice.
Mbeu's easiness on the microphone proves that the lad is not a slave, but a master of his art.
He sings effortlessly and maintains pure floating vocals, a phenomenon that makes him an exception in the music industry.
At no time does one pick strain in the singer's vocals, be it on the album or during live performances. The budding artiste is simply a natural. So good is Mbeu's intonation that at first digestion of the album, one is somehow not so keen on analysing the depth of his lyrics.
It is only after realising the singer's episodic use of thought-provoking verses that one tries to make sense of the message being conveyed.
It does not end there!
Still in the midst of processing the lyrics, a quick thought forces a listener to notice the smooth blend of vocals and instrumentation.
Bang! Everything makes sense thereafter.
Results on the project justify the two or so years that Mbeu and his Mhodzi Tribe spent fine-tuning the compositions.
However, one thing that is certain on Mbeu's project is that his work is not the kind that produces instant hit tracks. The compositions have to grow on the listener over time since the Afro-fusion tracks are more suitable for serene listening. There are no outright party-songs on "Hatizvimirire". The songs soothe the heart and mind in a unique way.
The other artiste who produces such music is Garry Tight.
Mbeu is proving to be a good student, having grown under the mentorship of internationally acclaimed music superstar Dr Oliver Mtukudzi at Pakare Paye in Norton. Perhaps this explains why the rising star has had the confidence to perform live years before dropping his debut album.
For those not in the know, Mbeu now has a sizeable following, better than a number of artistes that have numerous albums on the market.
"Hatizvimirire" opens with "Ziso", an affection jam in which the musician describes the co-ordination that exists between the eye and the heart in explaining love. Part of the lyrics that come laced with some massive drum rolls and pulsating guitar antics goes like, "Ziso rinoudza moyo zvaraona, moyo wotsvaga, moyo wotsanangura."
In "Ndione", the singer pleads with the Almighty for clarification on some issues so that he can make informed decisions.
Tempo is lowered on "Kuti Unzi", a song that treads between reggae and Afro-jazz resonances. This experimental track is fascinating. It is a unique sound that Mbeu should focus on.
The title track "Hatizvimirire" is a statement of intent from the singer. He announces that he will not stop music production for whatever reason when he sings, "Hatizvimirire zvavanotaura kuti chimbomirai kugadzira mangoma, mangoma kubika hatimire isu."
Other tracks on the album include "Njila", "Wakakosha", "Mumwe Wangu", "Hazvineyi", "Papa Do You Know" and "Handina Kuziva".
Despite possessing a powerful voice, Mbeu remains alive to the fact that he also needs meaningful messages for his package to be complete.
And each of the 10 songs on "Hatizvimirire" proves that the artiste has no deficiency in this regard.
However, there is still a long way to go for the Norton-based musician. An old adage, nevertheless, says a journey of a thousand miles begins with a single step and Mbeu's baby steps are on track.
Probably what he needs to be wary of in future is the need to break monotony. He might be tempted to trail the "Hatizvimirire" template in future productions following favourable reviews. But music is dynamic and the singer should continue exploring fresh ground if he yearns for longevity in the cut-throat industry.