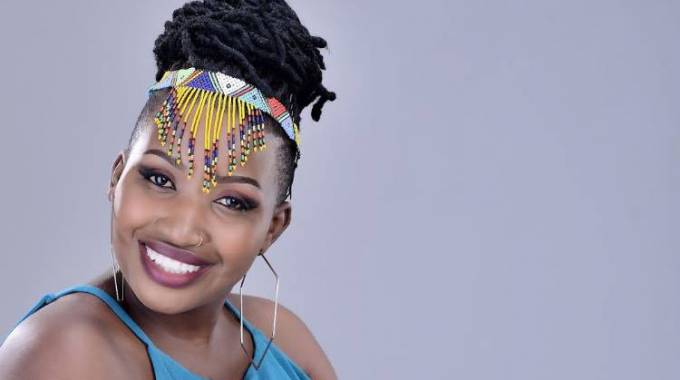 The Sunday Mail
Society Reporter
AFRO-fusion singer Masa Caroleen's debut album "Pamusoroi'"appears to have created new waves for the artiste.
The three-month-old production has seen the singer secure more bookings with each passing week since the album was launched in August. Also, she is receiving favourable airplay on national radio stations.
The 10-track effort is winning the hearts of many.  Since launching the album, Masa has performed at the Okavango Music Festival in Botswana. She has also exhibited her stage skills in Bulawayo as the headline act for Intwasa Arts Festival's Women, Wine and Words.
Her notable performances in Harare were at the Jacaranda Music Festival and the Harare Jazz Festival.  Masa has also teamed up with The Musical Expression Sessions, Naletha Media Phenomenal Lighting and Virnew Music. The partnerships will see her holding the "Masa Summer Concert" this Friday, December 6, at Alliance Francaise in the capital.  The budding singer, real name Caroleen Nqobile Masawi, reckons it is now all-systems-go. "Everything seems to have fallen into place following the launch of 'Pamusoroi'. The reception is just amazing. Over 50 percent of the tracks on the album are playing on urban radio stations," said Masa.
The song "Mazhet" has been on three chart shows for close to eight weeks while "Paye" has become a signature tune at weddings courtesy of its love theme. "I'm glad the music off the album is making notable strides on the market, be it on radio or other social gatherings.  The album has made it possible for us to perform across borders, where we are having an amazing experience.  However, I'm not new to the stage. l started doing live shows way before my debut album hit the market," she said.
Other tracks on the project include  "Ndiwe", "Wandigona", "Ndega",  "Nzelo'",  "Tochema", "The River",  "Dai Ndiri Shiri" and "Haagare".
According to Masa, all the tracks are inspired by real-life stories.
"I don't just sing. I'm inspired by other people's tales and that is how I come up with my compositions," she said. The budding singer quit her profession in the hospitality industry to pursue music full time. "I urge our fans and other music lovers to grace our December 6 gig at Alliance Francaise. They will not be disappointed. We will be delivering the usual best," said Masa.