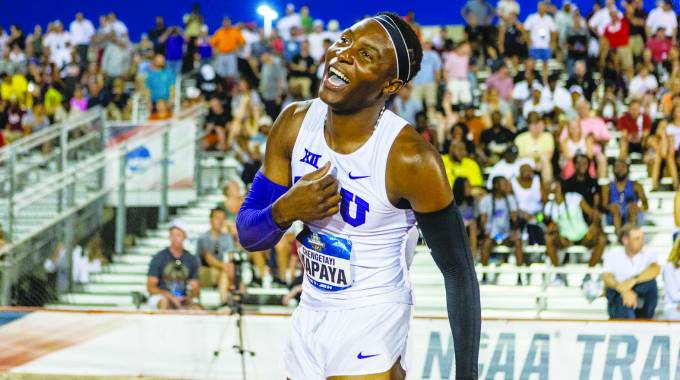 The Sunday Mail
Tinashe Kusema
IT has been a bitter sweet couple of weeks for United States-based triple jumper Chengetayi Mapaya.
A shin injury almost came close to ruining his hugely anticipated homecoming.
"The tone of my homecoming has been largely positive. After all it's been almost 18 months since I was here, and it's been great seeing my family again," said the Texas Christian University Sophomore.
"My time back home has been largely spent seeing my family, catching up with old friends and visiting my old school, St George's College.
"That is where the "Du" clap brand originated from and I go there every once in a while to try and give back and meet some of the old and new faces there," he said
Speaking on his injury Mapaya said:
"I really can't go into detail but it's on my tibia, and occurred during the course of the season.
"I had a good season, jumping some of my best leaps and that apparently strained my muscles. Luckily, the healing process has been good, and while a bit expensive this side, rehab has gone on well.
"I'm fully healed now, and training once again,'' Mapaye said.
However, it has not been all gloom and doom. The 20-year-old looks likely to pick up from where he left off when he returns to the United States.
Already a Collegiate champion in the US as well as an indoor and outdoor record holder with TCU; Mapaya can now look forward to next month's World Athletics Championships in Doha, Qatar.
Mapaya qualified for the world meet, which is slated for September 28 to October 6, courtesy of his 17.13 jump at the National Collegiate Athletics Association (NCAA) Outdoor Track and Field Championship earlier this year.
This comes as a small but impactful consolation to missing out on last month's World Junior Athletics Championships.
"I had also qualified for the World Youth and junior Championships, but could not go to Namibia due to a clerical error. I'm not sure if that is the right word, but the thing is the National Athletics Association here failed to process my documents on time.
"I'm not really sure why that happened, but it has been very devastating. lt still painful talking about it.
"The good news is that I will be attending the senior championships next month. I am really looking forward to that. "I will be lining up against some of the top jumpers in the world, most of whom I used to watch on TV growing up and searched on YouTube as a means to improve my game.
"This will be my chance to meet some of them, learn from them and compete against them.
"It will also be a chance to qualify for the 2020 Summer Olympics in Tokyo, Japan. I am not taking that lightly," Mapaye said.