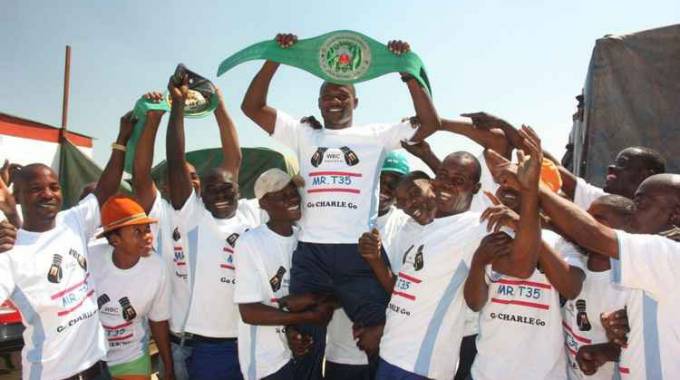 The Sunday Mail
Langton Nyakwenda
Sports Reporter
HE might have hinted on plans to retire from the sport but Charles Manyuchi, who is arguably Zimbabwe's biggest boxing name at the moment, feels rejuvenated when he reflects on an international career that clocked exactly seven years last Sunday.
Manyuchi's road to stardom began on June 28, 2013 when he won the African Boxing Union welterweight title — his first international title — in Ouagadougou, Burkina Faso.
Against all odds, a then 24-year-old Manyuchi stopped Burkinabe boxer Patrice Sou Toke at Le palais des Sports de Ouga 2000, to become the new African welterweight champion.
Sou Toke had lost once in 18 matches and had not been defeated in Burkina Faso for nine years before facing Manyuchi.
"That was a grand arrival on the international stage. Nobody gave me a chance back then, but I was so determined to put Zimbabwe on the international boxing map,'' Manyuchi said.
After defending his ABU title against Ghanaian Isaac Sowah, Manyuchi moved a notch higher in March 2015, when he defeated Patrick Allotey for the vacant World Boxing Council International welterweight title.
He registered his first win in Europe and retained his WBC International title on July 18, 2015 after beating Gianluca Frezza at Sequals, Friuli-Venezia Giulia in Italy.
That victory attracted both national and international attention.
The late former President Robert Mugabe was charmed by Manyuchi's exploits and invited the pugilist to State House, where he gave him a US$50 000 token of appreciation.
"Through boxing I managed to meet a lot of influential people. It was through this sport that I met former President Mugabe; it was such a great honour.
"Boxing helped me to realise most of my dreams, especially being someone who grew up in a poor family," Manyuchi said.
As Manyuchi's profile grew, he also began to catch the eye of renowned matchmakers.
His handlers then, Oriental Quarries Boxing Promotions of Zambia, also did a splendid job in setting up lucrative fights for Manyuchi.
One such fight was the WBC Silver welterweight title bout against Dmitry Mikhaylenko of Russia in Ekaterinburg on May 6, 2016.
Manyuchi claimed the vacant title via a unanimous decision and upon his return home, thousands of boxing fans thronged Robert Gabriel Mugabe International Airport to welcome their new hero.
"I rose from zero to hero and I guess I have represented Zimbabwe quite well. I have had good and bad days in the ring, but overall, I am impressed with my career. Now I am preparing for my retirement, that's why I am into projects like livestock farming.
"But, all this would not have been possible if I didn't get money from the ring."
At one time, Manyuchi was ranked among the top five welterweight boxers in the world.
The World Boxing Council even listed him as a mandatory challenger for Floyd Mayweather's gold belt while some matchmakers dreamed of a possible Manyuchi vs Mayweather fight in Africa.
Sadly though, Manyuchi's boxing world crashed on March 25, 2017 when he lost his WBC Silver belt to Qudratillo Abduqaxorov of Uzbekistan in Singapore.
His fighting style was suddenly thrown under scrutiny.
Analysts blasted his style of fighting without a guard while others castigated the boxer for showboating.
"I won a lot of fights with that style and I was praised. I also lost a match using that style and I was castigated, that's the nature of this game.
"You win some and you lose some. I am also susceptible to public scrutiny because I am a national star."
It all looked gloomy for Manyuchi until the Mutoko-bred boxer found another opportunity to redeem himself.
His new promoter, Prosper Chibaya, masterminded what became known as the "Restoration Fights" for Manyuchi in 2019.
Manyuchi beat Pablo Ezequiel Acosta to land the vacant GBU and UBC middleweight titles at the Harare International Conference Centre (HICC) on May 26, 2019.
He then claimed the World Boxing Federation middleweight title with a TKO win over Diego Gallardo of Argentina at the HICC on September 28, 2019.
Manyuchi now holds the GBU, UBC and WBF titles.
"It has been a fruitful boxing journey, but I wouldn't have achieved this if I didn't meet some important people along the way.
"Appreciation goes to my promoter Prosper Chibaya who took over from where Oriental Quarries left. I must say Oriental Quarries helped me a lot.
"They played a crucial role in my career," Manyuchi said.