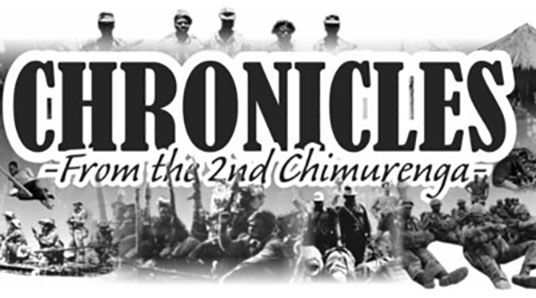 The Sunday Mail
In this week's edition of Chronicles of the Second Chimurenga, we focus on national hero Cde Kenneth Vhundukai Manyonda, who died on November 9 and was buried at the National Heroes Acre yesterday.  THE late national hero, former Buhera North Member of Parliament and ex-Deputy Minister of Industry and International Trade has been described by family members and those who worked with him as a unifier and peacemaker. Cde Manyonda, who was also serving as Chief Nerutanga, died after a long illness. He was 88. The veteran nationalist was also the former Manicaland Governor. Those who worked and interacted with him spoke glowingly about his selflessness and passion for development. Below are excerpts from people who shared the important role he played in mobilising people against colonial rule.
*********************************
Cde Misheck Mugadza (ZANU PF Central Committee member, Mutasa South MP and Cde Manyonda's nephew):
Since 1991, I lived in the same neighbourhood with him in Mutare.
He is a younger brother of my father and was my only close relative – from my father's side – who was living here in Mutare.
I am what I am today because of him. Actually, it was him who drew me into politics. Before I went into politics, I was enjoying my practice as a lawyer. I became a member of his campaign team in 2009.
For 20 years, he was my political mentor, and I learned a lot from him. He taught me how to speak at political gatherings. Before that, I was a quick speaker and I often addressed gatherings as if I was a disc jockey or master of ceremonies. He mentored me to speak like a politician.
At home, he was a strict disciplinarian. He shunned corruption at all costs. Although he had a short temper, he was a kind-hearted, caring, loving and very hardworking man.
Cde Manyonda introduced self-help projects not only in Buhera but also throughout the province.
When he was the Manicaland Provincial Governor, he was a member of the Manicaland Development Association (MDA), serving as its board chairperson.
The MDA owned several service stations and grocery shops. Some of these business entities are still running.
He was the Manicaland Provincial Governor for 10 years. During those days, the tenure of provincial governors was renewed after every two years. The fact that his tenure was renewed on five different occasions speaks volumes about his capabilities.
After 10 years in office, Cde Manyonda went to the then-president (Cde Robert Mugabe) and asked him not to renew his tenure as a Governor. He wanted to contest the Buhera North parliamentary seat.
The late MDC leader, Mr Morgan Tsvangirai, was contesting this seat, so Cde Manyonda felt that he was the best person to beat him in an election.
The late Tsvangirai wanted to use the Buhera North seat as a springboard to his presidential ambitions. Cde Manyonda wanted to derail Tsvangirai's plans by beating him in an election. He successfully thumped him in the 2000 parliamentary election and this saw him getting the nickname "Shumba yaTsvangirai".
After beating Tsvangirai, he became the Deputy Minister of Industry and International Trade.
Although he was a strict disciplinarian, he was a sociable character, who interacted well with other family members.
He was close to my mother. For whatever reasons, he called my mother Chiramwiwa and my mother called him Mambombowa. The name, I later gathered, was given to him after an incident that happened when he was still in secondary school, I think during the late 1940s.
According to what I gathered, Cde Manyonda had a nasty encounter with a teacher. The short-tempered Cde Manyonda nearly beat up the teacher, who ran for dear life.
He was a fountain of wisdom and I miss this wisdom. He died at a time when I needed him the most. If I had a choice, I would have given him, if it was possible, 10 of my years of my life so that he could continue to mentor me.
*********************************
Cde Gift Kagweda (Chairperson of the Zimbabwe National Liberation War Veterans Association, Manicaland chapter):
I worked very well with Cde Manyonda from the time I was the ZANU PF Manicaland provincial political commissar.
I also interacted with him when I was an instructor with the National Youth Service. Cde Manyonda worked hard and made sure that a number of youth projects came to fruition. He was a good and humble man.
Cde Manyonda shunned factionalism and concentrated more on community development.He is best remembered for initiating the Manicaland Development Association, which established self-help centres across Manicaland. He also initiated many development projects like market gardening and brick moulding, among others.
The Chitepo Training Centre in Nyanga is one of the MDA initiatives.
********************************
Extracts from Cde Manyonda's autobiography published for the Institute of Commonwealth Studies Library, University of London:
Kenneth Vundukayi Manyonda was born in 1934 in Buhera, in Southern Rhodesia (now Zimbabwe). After completing his education, he worked in various jobs in the industrial and commercial sector.
He became a member of the African National Congress of Rhodesia not long after its formation, and then joined the National Democratic Party after the banning of the ANC, becoming the local branch secretary of the NDP in Gwelo (now Gweru).
After a short period working in Livingstone, Northern Rhodesia (now Zambia), Manyonda returned to Gwelo (Gweru) in 1962, where he was asked to become chairperson of the Gwelo (Gweru) branch of ZAPU. Also at this time, Manyonda first became involved in trade union activity.
He obtained a post as an accounts clerk for Charles W Hall Ltd, a hosiery manufacturing company, and when workers at the factory decided to form themselves into a branch of the Textile Workers' Union of Rhodesia, Manyonda was elected their chairperson. At a national meeting in Gatooma (now Kadoma), the union's name was changed to the United Textile Workers Union of Rhodesia, and Manyonda was elected president.
Following the split in ZAPU and the formation of ZANU in 1963, Manyonda joined the latter organisation. He became vice chairperson of the Gwelo (Gweru) branch and was increasingly involved in both political and trade union activities.
In 1966, he was arrested and began what turned out to be over two years of detention.
On his release in 1968, he found himself unemployable in industry.
Instead, he obtained a full-time position with his union, first resigning his presidency which had continued during his detention. Manyonda organised the publication of a union newspaper, which led to his election as publicity secretary for the African Trades Union Congress.
However, he then made the decision to leave Rhodesia, having obtained a British government grant to study industrial relations in the UK.
He arrived in Britain in 1970 with his two young sons and wrote the autobiographical account while there.