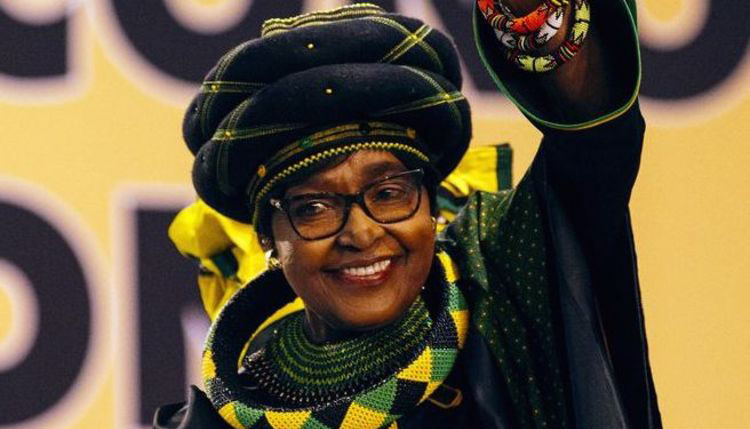 The Sunday Mail
The following is President Emmerson Mnangagwa's condolence message following the death of South African independence heroine Mama Winnie Madikizela-Mandela (pictured right) last week.
***
The death this week of Mama Winnie Madikizela-Mandela has been keenly felt by most in our whole Southern African region, and even more so by all of us drawn from the ranks of freedom fighters and liberation movements who regarded her as doughty fighter for freedom and a fearless comrade-in-arms.
A stalwart of the internal dimension of the broad struggle to end racism and apartheid in South African, Cde Winnie suffered long spells of privation as a wife of an incarcerated nationalist, and acute, systematic harassment as a woman in struggle, both at the hands of forces of the obnoxious apartheid system. Yet she never wavered, attesting to her sheer fearlessness and inexhaustible inner will to resist injustice and beat despondency and defeat, defining attributes which made her such a formidable opponent to the vicious racist system which daily stalked and haunted her, and continued to harass her even well after its formal end in 1994.
Today our whole region grieves at the passing on of this unbowed and strident voice of the voiceless whose inspirational message, without doubt, continue to ring loud across generations and beyond borders, all the time consistently making a case for the poor and downtrodden of our region and beyond.
Her rich bequest is thus to all humanity.
As we mourn her passing on, our best tribute to her work is to apply ourselves true and harder, and in unison, for the realisation of her vision for genuinely free, democratic, non-racial and egalitarian Southern African which becomes a just home to all, regardless of race, colour, class, creed or gender.
On behalf of people of Zimbabwe, Zanu-PF, and on my own behalf, I wish to convey my heartfelt condolences to the Madikizela and the Mandela families on this saddest loss which is ours to bear and suffer together. May her family draw some solace from, and be consoled by, her illustrious record as one of foremost mothers of our African struggles, a record which nothing whatsoever can diminish.
Equally, I convey my deepest condolences to my brother and colleague, His Excellency President Ramaphosa, to all the comrades in the African National Congress and to the people of South Africa on this irreparable loss.
As we mourn Mama Winnie, we nevertheless join the ANC in celebrating her iconic life of struggle against apartheid and for the deliverance of our African from the double bondage of settler colonialism and apartheid.
May her dear soul rest in eternal peace.