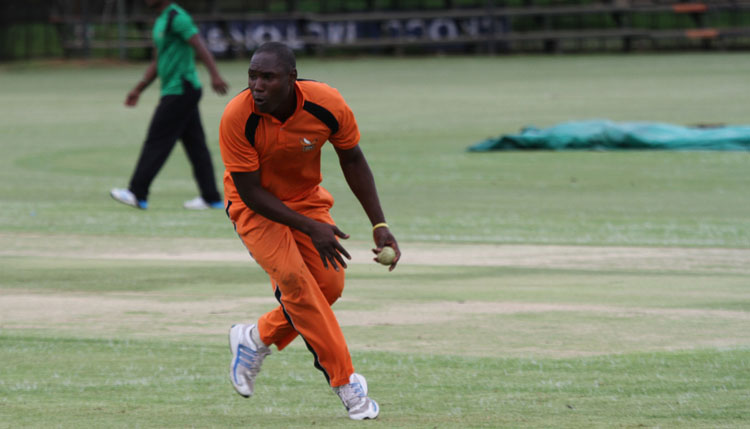 The Sunday Mail
AS 2017 gave way to 2018, Cephas Zhuwao was told that something big was coming his way.
The man who told Zhuwao this was none other than Walter Magaya, leader of one of the largest Pentecostal churches in Zimbabwe.
"Prophet Magaya is my 'dad' and he told to me to stay patient because something big will happen in my cricket career this year," says 33-year-old Zhuwao.
There is no questioning that Zhuwao has had a storming start to the year.
The left-handed batsman has been in terrific form and is knocking loudly on the national team door. Last week Zhuwao bludgeoned a 51-ball 132 — his maiden List A tonne — in the first ODI of the ongoing series against Kenya in Mutare.
In the second game, the man nicknamed the Big Bully, hit a quick-fire 44 off 22 balls as Zim A took a 2-0 lead.
That knock included a massive six which had local juniors coach Reginald Mutare going gaga on Facebook.
"Zhuwao has just hit a big six that has landed in Kenya," posted the former Churchill High School coach.
While one can only speculate about the "big" thing Magaya spoke of, Zhuwao is praying that it is a return to the Chevrons set up.
"Maybe that thing is a call to the senior side. I don't know," he says. "But I will just stay patient and continue performing. I trust my 'dad' because everything he says comes to pass. He has said I will break records and I know that I will break them, I just have to be patient and stay loyal."
Zhuwao only has one ODI cap, earned against Ireland nearly a decade ago. He also has five T20 internationals under his belt, with his debut coming in against Canada in 2008.
The Big Bully is the leading scorer in the Logan Cup this season with 664 runs from 12 innings at 55,33. The batsman also boasts of the highest Logan Cup score (265 versus Mid-West Rhinos December 2017) and third highest First Class score by a Zimbabwean behind Ray Gripper (279 not out against Free State, 1967/68) and Dave Houghton (265 against Sri Lanka, 1994/95).
"I am at a stage where I understand my game," says Zhuwao. "I think this form started in England where I played club cricket for Lashings and Sleaford last year. Having guys like Tino Best, Wasim Jaffer, Kirk Edwards as teammates has helped me big time. "They helped me understand my game and more importantly they taught me to handle and adjust to situations."
The good news for Zhuwao is that national team coach Heath Streak is on the lookout for inform players. Speaking from the UAE, where the national team are touring, Streak said he would not hesitate to drop non-performers players ahead of March's World Cup qualifiers.
"If the guys here are in poor form then performers in the Kenya series will be considered for sure," said the Chevrons coach.