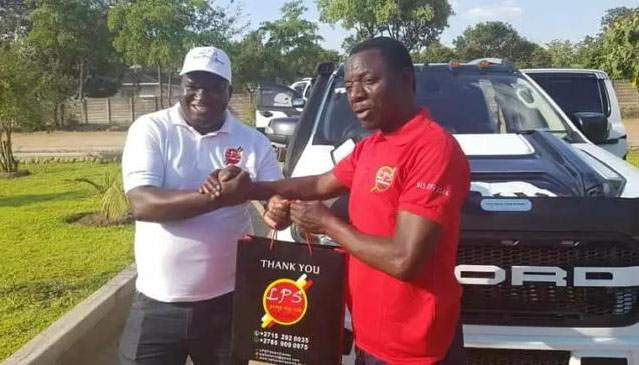 The Sunday Mail
Laston "GP" Murerwa and Alick Macheso have navigated the treacherous journey of stardom together, arm-in-arm, for more than a decade now.
Their last joint experiment, Last Power Studio, was not exactly the definition of a commercial success but that did not deter their relationship.
When Macheso acquired a Ford Ranger in the middle of the year as part of his 50th birthday celebrations, Murerwa was somehow tickled.
Murerwa, the brains behind the LPS brand in Limpopo province, South Africa, particularly in Musina and Polokwane, wanted to surprise his long-time friend and partner.
So when Macheso went to Beitbridge on October 26 for a live performance, Murerwa was there too, not necessarily for the live act.
He wanted to check if Macheso could allow him to take his latest acquisition, the Ford Ranger, for a "spruce-up".
"It was a gamble, I was not sure if he would agree," recalled Murerwa last Sunday as he presented the pimped ride back to Macheso at Jongwe Corner.
Given their shared history, Macheso had no problem and had to hitch a ride in one of his band members' cars back to Harare.
And it was only around midnight last Sunday, after his performance at the Jongwe family show, that Macheso got to see his car, all spruced up, for the first time.
"We had the car for a good two to three weeks, to work on it. We wish we could have more time with it but what kept us on our toes was that someone was missing his car. This is our birthday present to Macheso and we hope he will enjoy the pimped ride as much we enjoyed revamping it," said Murerwa.
For his part, Macheso could not hide his emotions, openly admitting that he never thought his car would be transformed like that.
"When he said he wanted to change my car, I just gave him the benefit of doubt. I was saying what change can he do to a new car. But I am overwhelmed," the sungura artiste said.
Murerwa, whose LPS is headquartered in Polokwane, said he is opening a new fitment centre in Musina to cater for Zimbabweans.
"There are many factors, some don't have the time and some fear for their cars deep down in South Africa, so we will be opening a 24-hour fitment centre to cater mostly for Zimbabweans."
In addition to pimping Ford Rangers, LPS also specialises in the Toyota Hilux range, making any model look like the recently released models.
"As we grow our market, we are looking at including the SDX into our portfolio, there are many people who still have sentimental memories of their SDXs and we are looking at the option of making them look very modern," explained Murerwa. Meanwhile, Murerwa's offer to pimp Macheso's ride for free is testimony of the immense endorsement opportunities that are available for artistes, musicians in particular, if only they can keep a humble disposition.
Recently, Nash Paints painted his home for free. There have been online campaigns led by Tinashe Mutarisiri, the owner of Nash Paints, to have a doctorate bestowed on Macheso for his artistry. The campaign has gathered considerable support, proving that musicians, with the right focus and attitude, have the potential to shed off the tag that music is only for rascals.