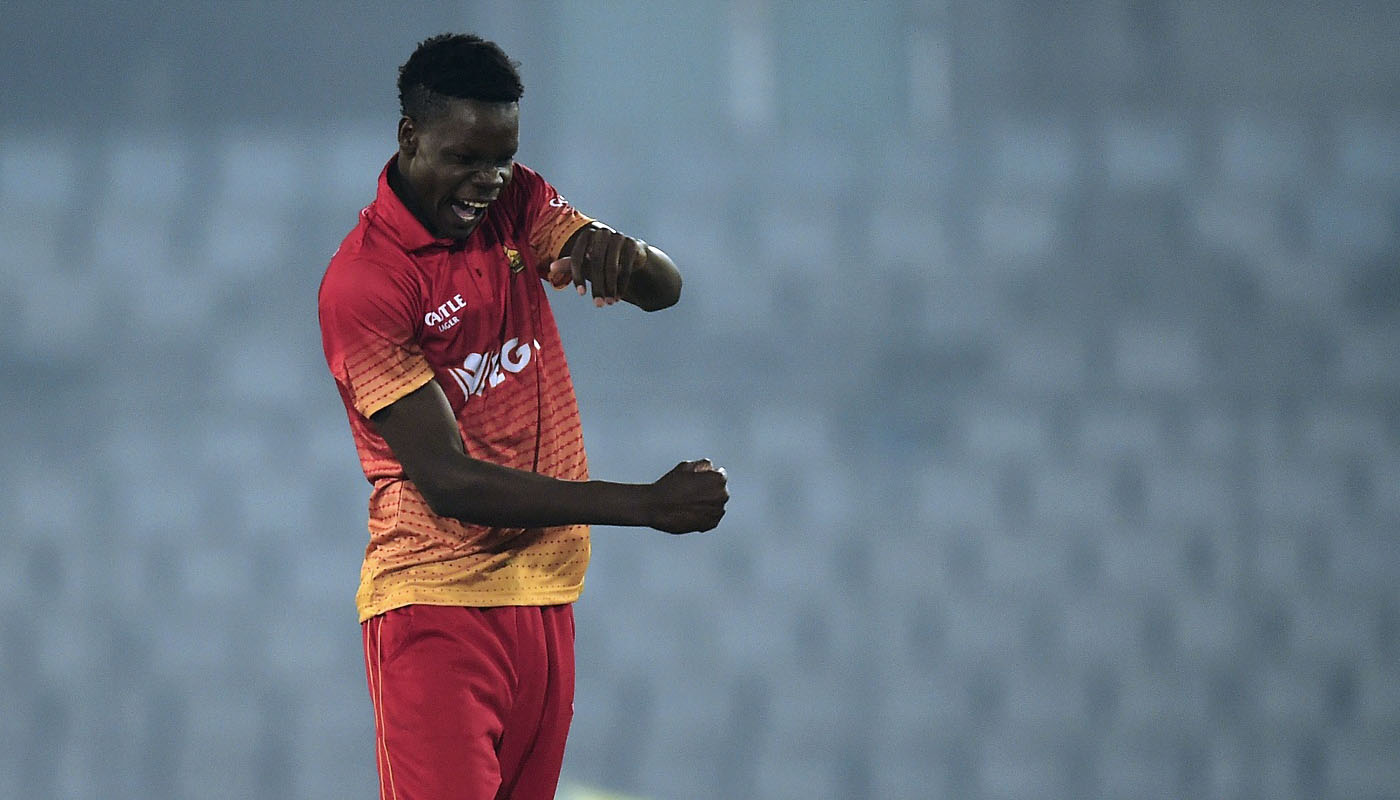 The Sunday Mail
Tinashe Kusema
TO say that Blessing Muzarabani has gone through quite the transformation, since calling time on his international career to try his hand at county cricket in the UK, would be a gross understatement!
Yes, the 22-year-old is still very much the tall, humble, withdrawn and hugely talented youngster from Highfield that we have grown to love over the years.
But in the time since signing with Northamptonshire last year; Muzarabani has transformed from bering the darling of the locals to a mere fond memory, as evidenced by his sombre and subdued homecoming some weeks ago.
Infaras his game is concerned, there is a renewed swagger about the way Muzarabani goes about business these days.
The former Rising Stars quick now prefers to spend most of his free time alone, and spends most of his days either at practice or at games with Eagles – having signed on as an overseas player – or holed up in his apartment located somewhere in the Harare Business District.
The apartment is a secret, you see, and not many of his friends or even family know its exact location.
He fancies himself quite the batsman now, and dreams of turning into an all-rounder someday.
However, the most important thing about his transformation is how "Mabhunu" is now more comfortable in his own skin and has no regrets about quitting international cricket.
"Yes, I have no regrets," said Muzarabani.
"It was not an easy decision to make and one I did not take lightly; I consulted a lot of people, both family and friends, and a couple of cricket people whose opinions I hold dear.
"They all seemed to point me in the one direction.
"Obviously, I cannot mention each of them by name, right now, but believe me I thought long and hard about it," he said.
The former Rising Stars pace bowler recently returned home to little pomp and fanfare – having just completed an injury-blighted season with Northampton-                  shire.
"It was a good season, inasfar as debut seasons go, but there were a couple of challenges here and there," said the cricketing starlet.
"Adopting to the new environment was the biggest challenge, as there are always things you want to do all at once, but that is not really practical.
"There is the need to assimilate one's self into a new country and league, endear yourself to your new teammates and, most importantly, contribute on the pitch itself.
"Luckily, I have been there (UK) a couple of times before, playing club cricket, and so I was familiar with the terrain.
"My new teammates were very welcoming and as such that helped me adapt faster," he said.
Muzarabani paid special tribute to West Indies Test skipper Jason Holder, as the 28-year-old Barbadian cricketer became a pillar of strength and guidance for Muzarabani.
"The senior players in the team were very helpful and I learnt a lot from guys like Temba Bavuma and Jason Holder.
"Holder, in particular, was the person I leaned to the most, for help, guidance and advice.
"He is a very talented all-rounder and he really helped me with my batting.
"I have improved in confidence and technique, so much so that I now harbour aspirations of becoming an all-rounder myself," he said.
Muzarabani took the first steps into turning that dream into reality, earlier this month, when he scored maiden first-class half-century a fortnight ago.
His only regret, so far, is that he did not play enough games, having injured his back before he could truly make his mark in county cricket.
"I'm okay now, but I had a back problem a few months ago and it cost me a huge chunk of the season.
"That was by far the hardest part of the season; watching from the stands and being powerless to help.
"It was really bad, and I remember being told I could even come back to Zimbabwe and rest, as it was mostly a strain and all I needed was rest," he said.
That said, Muzarabani still looks forward to getting back to the UK and making up for the disappointments of his debut season.
He has not even ruled out returning to international cricket once his contract is done.