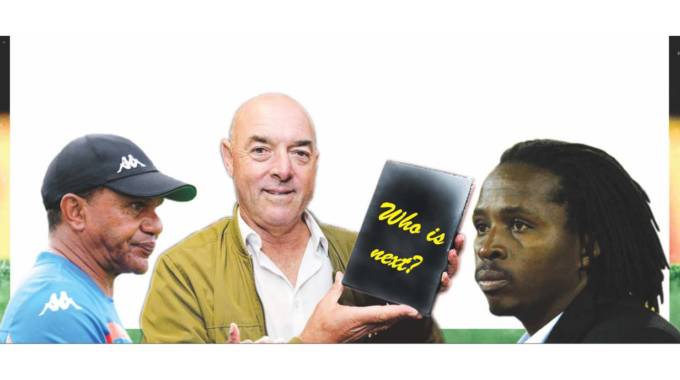 The Sunday Mail
Petros Kausiyo and Langton Nyakwenda
A DESPERATE ZIFA leadership, with their backs against the wall, converge in Harare today for a crisis indaba in which they are expected to seal Zdravko "Loga'' Logarusic's fate and agree on their next target for the Warriors' coaching job.
Although there had been speculation that the ZIFA board was due to meet on Friday, the indaba could not be held in the absence of two key members.
Association president Felton Kamambo was at the Harare magistrates' court for his bribery allegation case.
Another key member of the executive, Bryton Malandule, only returned to the country yesterday after travelling to Durban, South Africa where he was on Confederation of African Football duty in the Champions League match between AmaZulu and Nyasa Big Bullets.
By virtue of being the board member development, Malandule chairs the technical and development committee, which evaluates and also recommends the appointments and dismissals of national team coaches.
The Sunday Mail Sport has it on good authority that Malandule's committee had after the Warriors' disastrous COSAFA Cup campaign, recommended the axing of Loga.
But the 55-year-old Croat was spared the axe by the board with former skipper Benjani Mwaruwari instead, being drafted into the coaching set-up to placate an angry football family that has long lost confidence in Loga.
It also emerged that in sparing Loga the axe, the board set him a target of winning four points in the World Cup qualifiers against South Africa and Ethiopia.
Loga could, however, only manage a point from the Warriors' lifeless 0-0 draw against South Africa before they slumped to a 1-0 loss in Ethiopia, which virtually meant he had failed.
Malandule declined to discuss reports that ZIFA have already drawn a shortlist of possible successors which includes Bruce Grobbelaar, Charles Mhlauri, Joey Antipas, Norman Mapeza, Moses Chunga and Kalisto Pasuwa.
"I cannot comment on that (the search for a new coach) as l would be pre-empting tomorrow's board meeting,'' Malandule said.
While Malandule was coy about Loga's fate, another ZIFA board member, Sugar Chagonda, has already lashed out at the Croat.
Just like the Sarajevo assassination, which historians described as the matchstick that lit up World War One, Chagonda's explicit letter from Bahir Dar, Ethiopia last Tuesday, has sparked unrest in local football.
Chagonda's no holds barred letter, penned soon after Zimbabwe's embarrassing 0-1 defeat to Ethiopia in a Group G World Cup qualifier, is the catalyst that has expedited the fall of Logarusic.
Chagonda, who was the head of delegation in Ethiopia, described Logarusic as "a liability and an albatross on our neck" before calling for his immediate sacking.
The former Sudan coach has one win in 14 matches since taking over in February 2020 and the outcome of today's meeting is eagerly awaited by millions of local football followers with most anticipating his sacking.
Although ZIFA might not immediately announce a replacement, a number of administrators and former national team players told The Sunday Mail Sport that they want the association to appoint a local coach.
Calls to invest in local football
In fact, the Warriors crisis, highlighted by Loga's failure, has also badly exposed ZIFA for the football mother body's ill-advised decision not to invest in local football.
ZIFA have in recent years done very little to capacitate local coaches and lately they have also abandoned local players leaving the Warriors at the mercy of the Diaspora cartels of agents. Those cartels now influence selection of players into the national team without even a set standard by ZIFA on who qualifies to wear the country's colours.
Black Rhinos secretary, Edward Mutukwa, urged the ZIFA board to put more faith in local coaches and the local game.
"I am fully behind Sugar Chagonda's sentiments. We have reduced our nation to a football circus.
"Notwithstanding the fact that we have not been active for some time, this is not an excuse for us to accept the mediocrity that Logarusic has brought to our football.
"The rot at our football administration house needs to be cleansed. Let's focus on our local coaches and give them the necessary support and see if we can't produce results," Mutukwa said.
Former Arcadia, CAPS United and Warriors player, Carlos Max, said he would be surprised if by chance Loga escapes the axe again.
"He has got one win in 14 games and there's no coach that survives such a predicament.
"Football is about results and the coach is there to make sure that the team gets results and its quite clear that the current coach is not getting the results.
"Obviously, the structure they have there is not working and we need a change but the change has to be in the right direction.
"They (ZIFA board) should not appoint people willy-nilly, getting ourselves another mistake again. It's only right that if there are no results then somebody has got to walk. The head coach is accountable for such," Max said.
"It will be difficult replacing Logarusic at such a late stage in the competition but you know our local coaches are not given enough chance to do their thing.
"Even if they do get the position they don't get the same privileges and rights that we give foreign coaches, the same packages, the same access to the players. This has got to be looked at before they approach the next coach".
ZIFA Masvingo provincial chairman, Naboth Magwizi, said football fans in his area are not amused with the way the Warriors have slumped under Logarusic.
"We are always on the ground and we hear people's sentiments. What I can tell you is that supporters here in Masvingo are not happy with the Warriors' performances under Loga," he said.
"If a coach fails then arrows will naturally be pointed at him and in this case the Warriors coach has failed.
"Of course, as the provincial leadership we will support whatever decision is made by the ZIFA board because we are the ones who elected it, but we expect the board to appoint a local coach.
"It's not a secret that local coaches have taken us to the AFCON finals before and the current coach Logarusic has not endeared himself well with the fans".
ZIFA Northern Region chairman, Martin Kweza, is however, concerned with how the ZIFA board will handle the contractual side of the crisis.
Logarusic's contract is due to expire in February 2022 and if ZIFA fires him today, they will have to pay him out.
"The ZIFA board can decide to fire him and maybe pay him out if they have the money or they might decide to run the coach's contract down.
"But, I think the ZIFA board now needs to make some serious decisions as the leadership," said Kweza.
"If they are to fire Logarusic, then my choice would be a local coach. We have enough local coaches able to take charge of the Warriors.
"Norman Mapeza, Charles Mhlauri and Pasuwa (Kalisto) are capable. We have the Chicken Inn gaffer Joey Antipas, he is also capable of coming in and rescuing the situation.
"Sunday Chidzambwa can also be persuaded to come out of retirement and do the fire fighting.
"What we don't want is to hire another foreign coach who doesn't know our players, our game and our culture, to step in and take over when we have games coming soon.
"But, it all depends with the ZIFA board".
Uproar over Young Warriors
As if the Warriors crisis was not enough, the ZIFA executive are also in the eye of a storm over their decision not to register the national Under-17 and Under-20 teams for the COSAFA tournament.
Those responsible for identifying and nurturing talent such as Bheki Nyoni and Farai Dhliwayo have hit out at the move to deny age group players a chance to compete and gauge themselves against their peers in the region.
"The problem we are currently having at the moment in terms of players is a result of poor planning of the administration which came into office from 2010 up to today.
"If we look at the countries which have been successful, they would have invested in their youth national teams.
"The last time we had an Under-17 team going to AFCON was in 2009 and now whenever we send an Under-17, Under-20 or Under-23 side for a competition, the selection of players is more of an accident or based on connections. Of late British Brigades regardless of whether they are good or not, as long they are connected, we will fly them to join the team.
"Whenever ZIFA claim they have a challenge of funding, the first to be affected or withdrawn are youth teams so how are the young players going to get exposure and experience necessary for the senior level?'' Nyoni said.
Both ZIFA communications manager Xolisani Gwesela and Malandule defended the decision to withdraw the Young Warriors from any competition claiming that there are no players ready to represent the country.
"Football has been suspended for two years and our leagues were not in action. You cannot put up a competitive team at this moment and go and participate in tournaments… we will be embarrassed.
"So we have resolved as ZIFA that should there be any resources, they should be put into good use by setting up competitive youth leagues. Only then will we are be able to build a competitive and indefatigable team for the future,'' Gwesela said.
Dhliwayo, whose Challenge Football League is a coalition of academy teams that compete against each other, blamed ZIFA for wrong policies in which they do not see value in the local game and the youth despite receiving an annual grant from FIFA meant for development.
"ZIFA are right in saying that they have not invested any resources into junior player development especially during this current regime.
"However, they are wrong in suggesting that we do not have talented young players who are ready to represent the country at Under-17 and Under-20 tournaments this season.
"Football academies and organised community teams have been developing the players with their own resources all these years.
"The failures the junior teams have endured are from ZIFA not having an understanding about developmental football and developmental players.
"Selection of Premier league coaches who spend the year away from junior leagues and players is an example of flawed thinking by ZIFA.
"There is also no will by ZIFA to engage the development coaches who are organised and happy to work together to come up with the best available players,'' Dhliwayo said.
"We need to find a way to keep tabs on players who receive junior national caps and ensure they progress through all age groups until they are ready for the Warriors.
"We cannot develop without playing and competing. We have to participate regardless of circumstances and gauge ourselves, it is not only about results''.