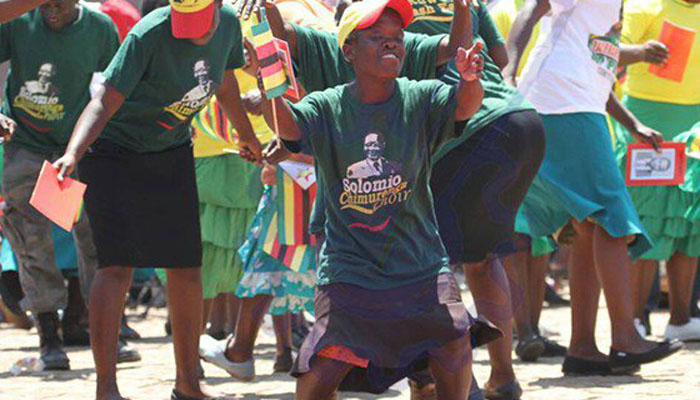 The Sunday Mail
PRESIDENT MUGABE'S ADDRESS
The President acknowledges the presence of ministers,politburo members as well as mourners
12:15hrs – On behalf of Zanu-PF, and Government, I say to the Muvuti family, Don's death is our loss together.
12:16hrs– Don was selfless. He used to stay at the Zanu-PF headquarters, working for the party.
We used to see him, with a pen in his hands, writing. And would like to see all those writings in our library.
We took him to India for treatment. That is where he also went for education earlier and he obtained those degrees you had about here.
11:25 – Cde Muvuti worked with the late Cde Chitepo in Tanzania in setting up the new country's judiciary system: "We had our one lawyer, Herbert Chitepo who was requested by Nyerere to go and help them to set up their judiciary systems.
They had just one lawyer, and they wanted Chitepo to help them. Chitepo had not been a prosecutor before, but he was able to go and help.
Tanzania had had an all white judiciary bench. So, we could not deny Tanzania the assistance of Chitepo, so we released him.
Chitepo then used to send his wife back home…to Sikombela, where we were in jail.
And it is at Sikombela where the idea of dare reChimurenga was born.
later on we then said, we need the assistance of our laywer, Chitepo. And we requested him to help. From Tanzania he managed to mobilize our comrades, Cde Tongogara, Kadungure and others . . .and dare reChimurenga was set up to start the war from outside the boarders. This was now in Zambia, which had just attained independence. 12:33hrs – "All this, I am saying because Don was involved," says President Mugabe.
12:34hrs – "Our military wing for the armed struggle now had the likes of Tongogara, Mayor Urimbo and others . . .to fight colonialism.
"We had our camps in Tanzania. We had already separated from ZAPU. There we called our educated people, the likes of Don Muvuti, and this is how we fought our war.
"I have to tell you this so that you understand our history and were we came from. It was a difficult journey as it was difficult to get help. Relatives in Zambia, helped us a lot. They assisted us a lot, and that we should not forget.
"Later on, we were ordered to stay in tanzania as liberation movements and from there we mobilized friendships with countries like China, Russia, Yugoslavia and others as we mobilized for arms to drive the liberation war. That was in Tanzania, where we worked with the likes of Muvuti.
12:40hrs – Our Liberation War was not fought by one person. Don, whom we are burying here today was more of a writer. He had left his family to join the liberation struggle. Our families struggled.
"Our mothers were pained to go for years without seeing their children who had joined the liberation struggle. But they were happy to see some coming back . . . and others failed to come back. That is what defines the struggle.
12:43hrs – "The war was fought, and people died. The war was fought and it led into several negotiations. You will remember we then went for the Lancaster meeting. Margaret Thatcher was then president for Britain, and we negotiated to have our land back.
"We assigned Tongogara to meet the other guys, Solomon Mujuru and others to advise them to cease fire. We were now in Maputo as he came home to carry out that assignment. Unfortunately on his way, he died in a car crash along the way, and it pained us.
 12:46hrs – "He (Tongogara) had told me that, President, we are now going back, but not all of us will get there . . .I did not understand what he meant during that time. But after hearing of his demise, i asked myself why he had said this.
"Don Muvuti we came back with him.
12:48hrs – "Later on his health deteriorated.  . . . and we heard it had became worse, and we lost him. But there is nothing to do as we have to follow God's wishes. We then decided on what hero status to accord him . . . it is our wish to have all our heroes here, but because of space, we end up with others being accorded provincial hero statuses.
"But for Don, we decided to have him here. You would not supervise him. He knew his work. He was a workaholic. Everyday, he would be writing.
12:51hrs – "We mourn with the family. As we mourn, we are also happy that he played his part for the nation.
12:52hrs – "We thank ZAOGA, for the sermon and prayer. We thank pastors for reminding us of the importance of God. All pastors should keep doing the good work. They should be preachers who preach the word of God, and not those other ones who are after money. We hear there are some churches where drums are filled up with cash, when our people are struggling for cash.
"We are a people able to read and understand the Bible ourselves. But some are still cheated into donating into those drums with false promises of getting rich overnight.
12:56hrs – "People go there, and get false prophecies,  . . .some go there and are told, you are going to be the next vice-president. Others go there and are told, you will be the next President . . oh…oh…"
12:57hrs – "Anyway, for that people can be forgiven. What we can not forgive are rapists who rape toddlers after being promised that they can become rich overnight. Such people should rot in jail.
12:59hrs – President Mugabe also bemourns the rising murder cases in some parts of the country, touching on the recent murder of a catholic nun in Msami.
13:05hrs– President Mugabe thanks all for attending Cde Muvuti's burial,  and advises those who are bent on dividing the country along ethnic lines that Zimbabwe is for all.