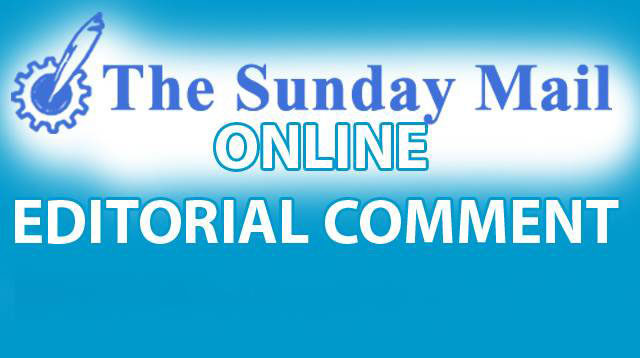 The Sunday Mail
THE first Covid-19 case in Zimbabwe was only a matter of time and there will be more (Zimbabwe recorded its second case yesterday), even though this first patient seems to have been particularly prudent, as the coronavirus that causes it has reached almost every other country in the world.
By being among the last countries to record a case we have managed to make a lot of preparations and we can learn from those who have, with various degrees of success, coped with the infection.
The authorities can do quite a lot, and our medical authorities and Government have done quite a lot, but even more depends on us, the people, being ready to follow good advice and co-operate with both each other and with our medical experts.
To put matters into perspective. If Zimbabwe is ever hit as hard as China then we can expect a little under 1 000 confirmed cases, plus probably a few more where the infection was so mild that tests were not done, and somewhere between 35 and 40 deaths in total, a tragedy for those families but roughly what we lose in road accidents in a single week.
If, on the other hand, we let the virus get out of control to the level it did in Italy then we will reach a stage when more than 100 people a day are dying. The major difference between the two countries is that Chinese people largely followed the advice they were given from nearly the beginning, as irritating and as irksome as it might have been with social life severely curtailed, personal hygiene raised to exceptional levels and friends and relatives greeted with a wave of the hand.
The way to limit the spread of the coronavirus is simple. We need to avoid close contact with other people, especially if they are coughing and sneezing; we need to make sure we keep our hands clean and avoid touching our eyes or mouth after touching surfaces and the like; and we need to stay away from others if we start coughing and sneezing, even if it is just an "ordinary cold". None of this is difficult, just irksome.
Our first case offers a good lead. He arrived back after visiting a hard-hit country. He followed advice and stayed at home.
He started coughing and sneezing but instead of running around Victoria Falls sneezing on everyone as he raced to a doctor, he stayed at home and phoned his doctor.
He is still at home and is getting better. We have already, as a nation, started taking precautions. Gatherings of more than 100 people are banned; schools are closing in three days and will reopen when everyone has had a good think about how to do this safely; everyone entering Zimbabwe is screened for fever, to limit the number of new centres of infection; hospitals are limiting visitors so the vulnerable people in their wards face much lower risks. Larger formal businesses are coming on board, doing everything from providing washbasins at bus termini to hand-cleansers at supermarket entrances.
But not everyone is taking this advice. They need to. As could no doubt be expected, things like hand cleansers are rocketing in price, are in short supply and no doubt will be offered on the black market by dubious people for high sums. But soap is still cheap, so hand-washing is easy. If fancy imported cleansers are not available, then surely a couple of our brighter manufacturers can whip up a formula using largely cheap local raw materials after getting some sensible advice from the medical authorities for something that works and will not poison users. We do not always need fancy chemical preparations. We should remember that one of the ways we beat cholera was putting a capful or two of laundry bleach into a bucket of water and waiting an hour, cheap and easy but effective.
For younger and fitter people, Covid-19 is a dose of bad flu, very unpleasant but rarely life threatening.
For older people and people with a range of pre-existing medical conditions, it is more dangerous. And for older people with pre-existing conditions it is bad news. So we ned to protect our old people. Doing the shopping for your grandmother or elderly neighbour is not a backbreaking chore and you can help keep them safe.
Public transport could be a problem. But if sick people stay at home and bus and kombi owners keep their vehicles disinfected, the danger recedes sharply. Zupco can obviously enforce rules on its fleet and its franchise holders, but kombi owners need to follow advice as well; for a start they will find they have more customers if their vehicles are clean and smell of disinfectant.
Flea markets and others in the informal sector will find business better if there is no sneezing and if everything gleams clean and smells disinfected.
All businesses need to think how to space customers better in queues and start trusting employees. If someone gets the symptoms of a cold they should stay at home until they are better or until it is obvious they need medical attention.
Sick notes will not always be possible, so that is why trust is required.
In many countries prisoners are a potentially vulnerable group living together in large numbers.
Zimbabwe is working out details of an early release for some groups of non-violent prisoners.
That could be accelerated but the Government could also consider some new options for these groups, such as commuting the shorter sentences to community service, which will largely be cleaning public places with a scrubbing brush and a bucket of soap and water.
Basically, as China shows, Covid-19 can be handled with moderate disruption through a batch of simple rules followed by all, and that does mean all, and authorities who are clued-up and offer proper advice.
Our Government and Ministry of Health and Child Care are in the clued-up category but sometimes our people are not all that co-operative.
They now must be.
If we all accept the advice we can cope with this new virus until the day comes when effective vaccines are developed and are available or until the world has eliminated it in some other way in every country.