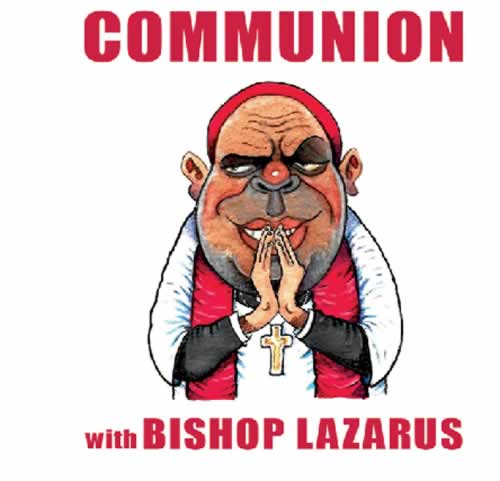 The Sunday Mail
"If anyone thinks he is religious and does not bridle his tongue but deceives his heart, this person's religion is worthless," says James 1 verse 26. James 3 verse 5 is even more explicit: "The tongue is a small thing, but what enormous damage it can do."
Those who have been hurt in love will tell you that "the tongue has no bones, but it is strong enough to break a heart. So be careful with your words." Someone say amen!
Greetings dear congregants on this day that Psalm 118 vs 24 says "…is the day the LORD has made. We will rejoice and be glad in it." Today's sermon will be littered with so many scriptures from the Holy Book because July 30 is over and it's time for Zimbabwe to rise and shine.
Let's give Nelson Chamisa the credit — he put up a very good fight in the just-ended harmonised elections. He surprised many by putting up such a brave fight. Garnering 2 147 436 votes when contesting against a shrewd politician like President-elect Mnangagwa and when pitted against a mean machine called ZANU-PF, is no joke. Add something that political scientists call the power of the incumbency and you will understand why we need to give Chamisa a big, honest and sincere pat on the back.
No wonder why your Bishop is convinced that Chamisa didn't lose the July 30 election. He didn't. Yes, he got fewer votes than the 2 460 463 that ED garnered, but still Chamisa won. Allow Bishop Lazarus to quote 2 Timothy 4 vs 7-8: "I have fought the good fight, I have finished the race. I have kept the faith.  Now there is in store for me the crown of righteousness, which the Lord, the righteous Judge, will award to me on that day—and not only to me, but also to all who have longed for his appearing."
They say dzokororo ine simba and so let me go over the same verse in Shona: "Ndakarwa kurwa kwakanaka, ndakamhanya makwikwi angu ndikapedza, uye ndakachengeta kutenda kwangu. Kubva iye zvino, kune chiremba chokurarama chandakachengeterwa chandichapihwa naTenzi iye mutongi aka rurama pazuva iroro. Handisini ndoga ndichaitirwa izvozvo asi navayawo vose vakanga vakamirira kusvika kwake vaine rudo."
There is no doubt that Chamisa "fought the good fight, finished the race and kept the faith." The pre-election period was peaceful as candidates criss-crossed the country campaigning, the voting went on smoothly and surely let's give the politicians the credit they deserve. Zvava kuita kunge zvaiva nyore nekuti zvakayendeka, but look further in the rear view mirror of our politics and you will see very ugly and ungodly scenes.
Indeed, "there is in store the crown of righteousness, which the Lord, the righteous Judge will award" to Chamisa and all the other politicians who cleansed July 30 to be peaceful. And it's not only the politicians "vachaitirwa izvozvo asi navayawo vose (all peace-loving and God-fearing Zimbabweans) vakanga vakamirira kusvika kwake vaine rudo." I just wish all politicians could know and understand how much Zimbabweans are longing for the good old times.
While many, including some in ZANU-PF know that Chamisa didn't lose the election because he learnt a lot and matured a lot, there is a very big and real danger that Chamisa can lose this election soon after winning it. This is why I started this sermon by quoting James 1 verse 26 and James 3 verse 5. I went further and preached about the tongue having no bones but being strong enough to break a heart.
Father I pray that Chamisa bridle his tongue with the full knowledge of the damage it can cause. Make him choose his words carefully and wisely because of the crown of righteousness that You will award to him. Lord, Father I pray that the people come first in his judgment.
Proverbs 19 vs 11 says: "Sensible people control their temper; they earn respect by overlooking wrongs," while James 1 vs 19-20 adds: "Understand this, my dear brothers and sisters: You must all be quick to listen, slow to speak, and slow to get angry. Human anger does not produce the righteousness God desires."
However, I particularly like Colossians 3 vs 8, 12-13. "But now you must put them all away: anger, wrath, malice, slander, and obscene talk from your mouth . . . Put on then, as God's chosen ones, holy and beloved, compassionate hearts, kindness, humility, meekness, and patience, bearing with one another and, if one has a complaint against another, forgiving each other; as the Lord has forgiven you, so you also must forgive."
I know the mischievous lot in my congregation will start spreading lies that Bishop Lazarus is calling on Chamisa to forgive ED for staging what the MDC-Alliance leader is calling a "coup." Not at all.
My point is — this election, like any other election was never going to be perfect. President Mnangagwa and the Zimbabwe Electoral Commission never promised to hold a perfect election. They never said that because it's not possible. All they promised were free, fair and credible elections. No wonder why some argue that, "a revolution is easy and democracy is difficult."
And so Chamisa has to control his temper because that will earn him a lot of respect. He should be quick to listen, slow to speak and slow to get angry. With the way Chamisa performed during the July 30 elections, he deserves much better than what anger, immaturity and resentment are doing to him.
I also know there are some in the MDC-Alliance and other prophets of doom who are making it appear as if the world has come to an end for Chamisa and are urging him to put up a fight, but as a pastor, Chamisa should be familiar with the story of David and his son Absalom.
When David's son Absalom decided to attack Jerusalem, David had to make a wise decision. He could have stayed in Jerusalem, armed his soldiers and fought back his son Absalom, but he didn't do that. 2 Samuel 15 vs 14 tells us that instead, David ordered everyone to flee the city. He knew that if they stayed Absalom would have overtaken and brought ruin to the entire city.
Yes, Chamisa can try to put up a fight because backing down is not always easy, especially when pride takes over, but David was wise enough to know that his son would brought ruin to the entire city. Proverbs 16 vs 18 says, "…a prideful heart always leads to destruction."
It is just as courageous to back down for the sake of others as it is to stand and fight. Chamisa should know there is a time to fight and a time to back down and save the fight for another day.
For goodness sake, Chamisa is just 40. Chamisa should know that where you are is not who you are. Your situation is not your destination. God willing, Chamisa still has many elections ahead to contest. My good brother, Walter Magaya of the Prophetic Healing and Deliverance Ministries would say "am I talking to someone?"
Well, if I am not talking to someone, then let me throw in some home truths. Since the announcement of the election results by ZEC, it's clear that Chamisa has failed to show any social power. This despite concerted efforts to tell his story.
Regai tiwonesane mbichana. Social power is defined in terms of the control exercised by one group or organisation over the actions and/or the minds of another group, thus limiting the freedom of action of the others, or influencing their knowledge, attitudes or ideologies.
After the announcement of the election results, Chamisa and his handlers have tried to show some social power but looks like it's only themselves and the local privately-owned media who are seeing some traction in their fight. Chamisa has called the presidential results are "coup against the people" but his story has found no much traction.
The international media is clearly looking elsewhere while known pro-opposition bodies like the Zimbabwe Election Support Network have thrown Chamisa under the bus by declaring that the ZEC results were consistent with their own projections. As if that is not bad enough for Chamisa, congratulatory messages have already started pouring in for ED.
Chamisa could be banking his luck on countries such as the US and the UK, but a few notes from history would help him understand how the capitalist world operates.
Following the industrial revolution, Karl Marx that revolutionary German philosopher and the founder of the Communist movement believed that capitalism contained the seeds of its own destruction because of the exploitation of the proletariat by the bourgeoisie. As a result he predicted that the continued exploitation of this underclass would create great resentment, eventually forcing the proletariat to revolt against the bourgeoisie.
Well, Marx died in 1883 and now we are in 2018, but that revolution has not yet taken place and there is no sign of any proletariat-led revolution about to start anywhere. Chamisa should ask himself why.
Maybe Chamisa needs to read the book, "When Capitalists make a Choice" so that he understands that his hoping for salvation from the Global North is a sheer waste of time. The capitalists have already made a choice.
ED's re-engagement and Zimbabwe is Open for Business mantra puts the pieces of the capitalist puzzle in place. There won't be any revolution and there won't be any support for Chamisa's election stance, though some sprinkles to plant some fallacy may be thrown around in these early days after July 30.
Chamisa should know that a 40 year-old who is penniless and whose party has no structures and no strategy can never lose an election. He wins the election by learning, maturing and preparing to fight another day. Imi ana Biti musafurire mwana mhani!
Bishop is out!