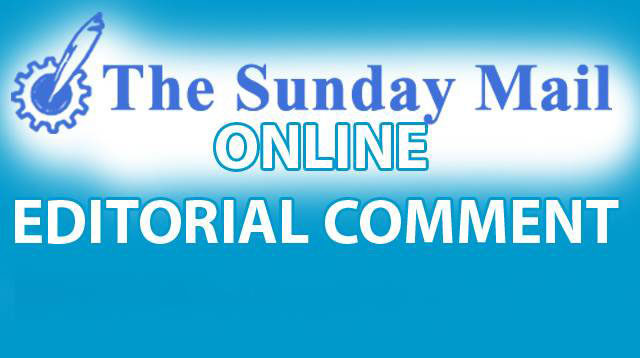 The Sunday Mail
HEAVY rains have been falling throughout the country since the New Year causing seasonal flooding in some areas and blocked drains spawning localised flooding of streets and homes in urban areas.
Rains are, of course, welcome following a prolonged dry spell towards the end of last year which resulted in the early planted crop suffering from moisture stress forcing some farmers to replant at the onset of the current wet spell. The Meteorological Services Department has been issuing periodic updates to farmers regarding the weather forecasts while the Department of Extension Services has also been advising farmers to plant short season varieties since the rainy season has been shortened.
Rains started in October last year, but petered out in November and December disrupting the normal flow of the rainy season and adversely impacting on the early planted crop. Zimbabwe is still expected to receive normal to above normal rains this season and projections are that another bumper harvest is in the offing.
However, the current heavy rains have come with their own set of problems for farmers chief among which is leaching which causes nutrients and fertilisers to be washed away or seep deeper into the soil depriving crops of much needed nourishment. This causes stunted growth and yellowing of crops leading to poor quality and reduced yield. There is a nationwide clamour for the Ammonium Nitrate top dressing fertiliser which maize farmers are desperate to get hold of for their fields. The fertiliser is a "finisher", meaning it ensures that the crop concludes the race towards maturity on a strong footing and can be applied to maize, sugar beans, wheat and tobacco.
We have reported extensively on the work of extension workers in various parts of the country where they are advising farmers on the best course of action given the current heavy rains. The rains, which are accompanied by strong winds, hail, thunder and lightning, have also left a trail of destruction in many parts of the country.
The Department of Civil Protection has already activated its structures across the country in readiness to deal with calamities which come with heavy rains. These include destroyed infrastructure, homes and flooding. Low lying areas prone to flooding every year such as Muzarabani, Mbire and Tsholotsho are being prioritised.
Villagers in these communities have persistently been urged to build their homes on higher ground away from rivers, but Government pleas have largely fallen on deaf ears with people willing to take risks just to be near their fields.
In urban areas, heavy rains have caused localised street flooding due to poor drainage. Blocked storm water drains are a problem in almost all major urban centres in Zimbabwe because residents continue to drop litter in the streets.
This coupled with inept councils which are falling short on service delivery is causing flash flooding in cities and towns. Residents who built their homes on wetlands are also bearing the brunt of floods with their properties taking in water and destroying their household goods. Last week, the CPU reported that more than 300 homes had been destroyed by heavy rains since the beginning of the rainy season.
It said 10 districts which include Chiredzi, Hwange, Gokwe North, Gwanda, Mwenezi, Muzarabani, Chirumhanzu, Kwekwe, Mudzi and Shamva had been affected by flash flooding with 320 homes including five schools suffering serious damage due to the rains. On Monday last week, heavy rains in Gweru resulted in most suburbs around the city being affected by flash floods.
OK Supermarket in Gweru CBD had its goods drenched in water while some residents in western suburbs such as Mkoba 1, 5, 9, 11 and Woodlands had to temporarily abandon their properties as fast flowing water found its way into houses. In Beitbridge, Masulungane, Tshamnangana and Kwalu primary schools had their classroom blocks and staff houses damaged by heavy storms last week. The chairperson of the CPU in Beitbridge, Mrs Sikhangazile Mafu-Moyo, said 46 homesteads were affected by heavy rains.
In Matabeleland North, heavy rains have exposed Victoria Falls municipality's poor drainage system after flash floods swept through houses and damaged roads in various suburbs. Residents lost groceries in properties that were submerged in water to knee level while some were stuck in their houses which were completely surrounded by water.
With the Met Department forecasting more heavy rains in the coming weeks, it is important for all districts in the country to be prepared for any eventualities. We are glad that all CPUs across the country are fully stocked and ready to deal with incidents associated with rains.
We also urge communities to heed the advice of authorities and take measures to mitigate damage caused by excessive rains. Crossing flooded rivers is not advisable. CPU committees should speedily assess damage caused by heavy rains so as to ascertain the needs of communities and cost of damage to key infrastructure.
This information should be expeditiously relayed to central Government to facilitate mobilisation of resources. In the same vein, farmers should continue working closely with extension officers who are ready to give advice on the best course of action to take when faced with heavy rainfall. There is also the menace of pests such as fall armyworm which come with heavy rains. Farmers must be prepared to deal with such challenges by stocking enough pesticides.