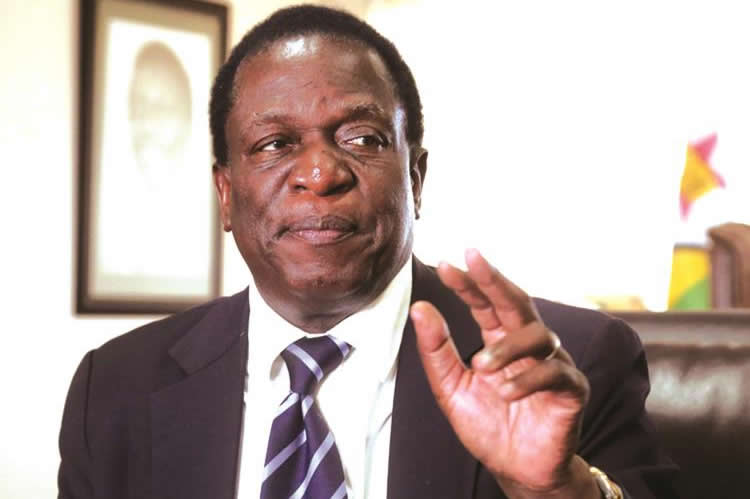 The Sunday Mail
George Maponga in Masvingo
The business environment Zimbabwe's new Government is creating will spur economic revival and citizens should anticipate good times in the not too distant future, President Emmerson Mnangagwa has said.
President Mnangagwa said this at yesterday's burial of his nephew, Garikai, at Mnangagwa Farm in Masvingo.
Garikai died in a road traffic accident near Nyika Growth Point last Thursday.
The Head of State and Government said, "We have been saying that Zimbabwe is open for business and I can assure you that something is happening as we go into the future.
"Yesterday (Friday) I was in Mutare opening a US$40 million factory (Willowton Group Refinery, which manufactures soap and cooking oil) and a few days before, we had witnessed the signing of a US$4,2 billion investment (in platinum production) that will create more than 15 000 jobs for our young people.
"Every day something is happening in our country and things will continue to improve. But we must be peaceful for us to fully enjoy benefits of improvement in our economy. Yes, of course, problems might be there, but at the end of the day, we are all Zimbabweans. That is my message these days: that Zimbabwe is open for business."
The President implored Zimbabweans to remain peaceful in the lead-up to and during the 2018 harmonised elections.
He advocated unity in the ruling Zanu-PF, which he said was the only political party genuinely committed to building a prosperous Zimbabwe.
"(Zanu-PF) decides the country's future, but we need unity in the party if we are to do that. We need unity and peace in the whole country. Zanu-PF is our home and yes, there may be others who might support other political parties. But Zanu-PF is our home.
"I am happy that I have been in the party since I was 18-years-old and I have never done any other job outside the party. My appeal to others is that it is important for you to also get into the party structures."
On Garikai's death, he said: "God has the final decision when it comes to our life on Earth. If it were primary elections, many people would come forward and submit their names to contest a given constituency.
"But when it comes to life, nobody is ever prepared to volunteer to give his or her life; God has the final decision at the end of it all."
He also said, ''I am very happy that he was a member of Zanu-PF and that he was even serving as a branch chairperson. His young life has been lost and it's very painful to us, especially the Mnangagwa family, who have lost one of their own; but we have to accept that it is God's decision.
"He was the one in charge of operations here (at Mnangagwa Farm) and … It's a big loss to us. We had to dispatch one more person to help him run operations here after we realised that he was being overwhelmed, but he was doing an excellent job.''
First Lady Amai Auxllia Mnangagwa said Garikai had been like her own son.
"… when I received news about his death, I could not do anything. I just got stuck on my sister, waiting for Baba to return from Kigali where he had gone on Government business.
"I know it is very painful to lose a young soul like Garikai and some of the people who are here might not know who he was, but came here to commiserate with us on the loss of a young child, a gift from God. Once a child is born, he or she becomes everyone's child."