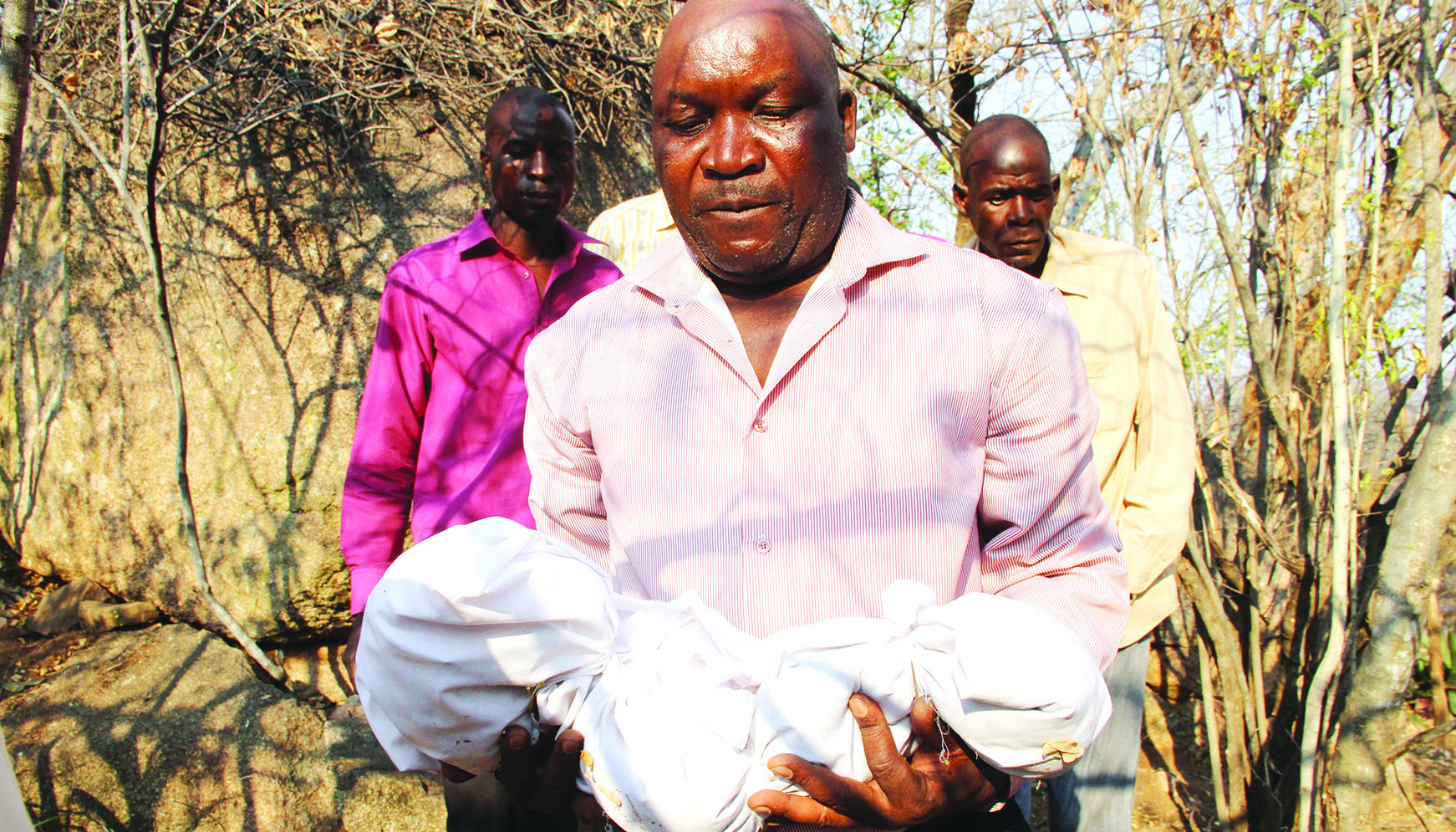 The Sunday Mail
Dr Dennis Magaya
EVER year the Heroes Day celebrations bring extreme and deep mixed feelings for me. It is a time to reflect on the bravery and sacrifice made by our heroes who died for the birth of our beloved Zimbabwe.
That alone brings loads of excitement to me and in particular, the fact that my late father, Cde Soul Sadza had to pay the ultimate price when he died in battle. My mind says, "be proud and blow your trumpet  loudest such that wherever Soul Sadza is, his smile can light up a whole mid-night of darkness because his mission was accomplished."
But in the same vein, my heart sinks with sorrow because I know deep down, his soul is restless on some kind of mezzanine spiritual floor. In fact, there are many like him, whose remains are still in shallow graves and are crying very loud but with soundless voices asking us why we have forgotten them. In the time that I have interacted with war veterans, I have heard that "a Cde is always a Cde." I therefore remain positive that on one of these Heroes Days in our lifetime, we will be gathered to welcome the remains and souls of these comrades whose spirits are wondering out there.
Cde Soul Sadza whose family name was Arthur Magaya, was born on 1st February 1949 in Chivhu, Daramombe District. He left to join the liberation struggle after completing Form 6 at Tegwani mission in 1972. He left behind two sons and a wife. He went via Botswana, connected to Zambia and eventually Tanzania. He was trained at Mgagao camp and was eventually appointed an instructor in 1973.
The ZANU Chairman, Cde Herbert Chitepo and Dare Rechimurenga, appointed him to be the Deputy Representative for ZANU in East Africa.  Cde Soul Sadza was also appointed a permanent member of the OAU African Liberation Committee (ALC) representing ZANU.
Reports say Cde Soul Sadza was a co-author of the Mgagao Declaration and was responsible in lobbying the OAU and the African Liberation Committee to accept the document. After the 1974 Détente and the death of Chairman Herbert Chitepo and the imprisonment of ZANLA leadership and Dare Rechimurenga in Zambia, the liberation war had practically stopped. ZIPA was responsible to restart the war on 20th January 1976. Cde Sould Sadza was the Director of Finance in ZIPA. The ZIPA High Command divided the country into 3 provinces namely, Tete Province, Manica Provice and Gaza Province. A decision was made that all the ZIPA Directors apart from the big four were to lead the deployment of about 700 ZIPA soldiers into the 3 provinces.  Cde Soul Sadza was the ZIPA Commander assigned to lead the deployment of 150 soldiers and the setting up of the first liberation war operations in Manica Province.
He later died during a battle in 1976.
The search for Soul Sadza's remains has taken us more than 30yrs. In 1980, my grandfather searched for his beloved son in every assembly point and visited all the officials that could give him five minutes to listen at what was ZANU PF HQ , 88 Manica road, Harare but without success.
The breakthrough came in 2006 when we fortunately met Cde Simbi Chinembiri (Mr A Nhepera), who had met Soul Sadza a few days before his death. More importantly, when the battle happened he was about 15 km away on the other side of the valley and could see the helicopters.
We have walked in valleys, mountains and rivers searching. I recall after getting a lead, we went to a district heroes acre at Bessel bridge and searching through the hundreds of graves looking for a tombstone inscribed Soul Sadza.  My heart beating faster, a little bit of sweat on my forehead, a tear in the corner of the eye and a distant voice urging me to walk faster as I imagined the next grave with a bigger tombstone could be his. My hopes came to a cruel dead-stop when I realised that half of the graves were unmarked.
I am grateful to the several comrades who have come forward with information and organisations that have supported us in this journey. I personally made several trips to Zimunya, and during the last visit together with some Cdes we spend 4 days in the bush searching. At that stage we had met Cde Shambakumanja who was at the actual battle when it took place. All the villagers came and together with Cde Shambakumanja, gave a detailed account of the battle which turned out to be the biggest to be fought in the area.
What we gathered is that in May 1976, Cde Soul Sadza went to the front in Manica province for the second time to assess the effectiveness and operations of the war on the ground. He was very dedicated and wanted to be part and parcel of the soldiers fighting the war in Zimbabwe. On 1st June 1976 the Rhodesian forces brought 3 helicopters to attack the base where Cde Soul Sadza was in Zimunya, Chimhenga village, Manicaland Province.
Cde Shambakumanja said that Cde Soul Sadza's assistant's head was blown up to pieces by a gunship. The 3 helicopters sprayed bullets on the comrades while the ground force advanced. The comrades managed to fire back, shooting down 2 helicopters at which point more airforce arrived from Grand Reef.  Cde Shambakumanja survived by lying on the underside of a dead cow, pretending to be dead. He saw Cde Soul Sadza being shot into the stomach and his intestines hanging out as the battle ragged.
Despite this detailed account we still struggled to identify the remains. With the help of the Fallen Heroes Trust and a spirit medium one day we were taken through a trail that Cde Soul Sadza walked leading us to the cave where he died. This is where we found "his remains."  Villagers from the area and a family that later settled near the cave testified that a comrade was buried there.
We later met Cde Mapfumo who was one of the sectorial commanders during the time that Cde Soul Sadza had returned from the front to Nyadzonia having captured an Italian Rhodesian and stayed for 2 weeks before returning to the front to fight together with his comrades. Cde Mapfumo confirmed receiving a report about Cde Soul Sadza's death and the account given collaborated our earlier findings.
Despite all the information we had which was reasonably conclusive, we couldn't meet any of the comrades that actually buried him. As a result, in 2016, with support from the Government, ZANU-PF and the Fallen Heroes Trust, we exhumed the remains. It was the emotional time for me. I recall as we arrived in Mutare, a comrade asking me; " From here where are you taking the remains?" The majority of people were convinced beyond any doubt that we had finally found my father. However, to be 100 percent sure, we eventually took the remains to Parirenyatwa mortuary so that DNA testing can be done.
We approached the Ministry of War Veterans who facilitated the DNA testing.  Unfortunately the tests were not conclusive because the local system can't detect DNA since the remains were exposed to all kinds of weather for about 40 years. Since then we have been trying to find an overseas company that can do the DNA testing. Although this has been an exhausting and long journey, we will continue working until we find closure.
The Government of Zimbabwe made huge strides when the War veterans Act was signed into law.  The Act defines a war veteran as any person who underwent military training and participated, consistently in the liberation struggle in Zimbabwe and neighbouring countries between the 1st January, 1962, and the 29th February, 1980.
However, the Act does not articulate how issues to do with people like Cde Soul Sadza should be dealt with. In the same vein, the National Peace and Reconciliation Commission (NPRC) is still to provide a roadmap on such matters. As a result our prayer is that one day there will be a policy framework and a process that we can follow.
As a family, we don't seek any benefits and we certainly are not seeking any entitlement. I went to school on social welfare programme for orphans after my grandparent rightfully turned down the proposal that we be taken to an orphanage if he couldn't afford to support us.
I am not an orphan but a son of a liberation war hero. We never received a teaspoon of soil or a Zimbabwean dollar in compensation or benefit. I am a firm believer that when Cde Soul Sadza left us in 1972 he never expected to be paid and was not on a salary. His mission was to restore our dignity and get back the most basic and fundamental unit of economic production, our land. This was achieved and therefore there can never be any better reward than that. We therefore simply seek support in finding closure in this matter. Every day it feels like we are so near but yet so far away. We will never get tired. Long live Heroes Day. Long live Cde Soul Sadza and all the other comrades whose remains remain out there!
Dr Dennis Magaya is Cde Soul Sadza's son. He can be contacted on 0717770666.