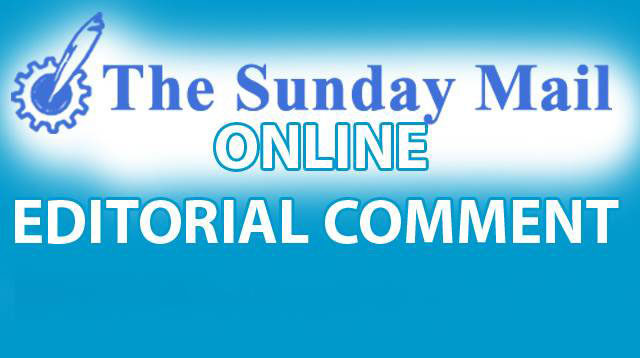 The Sunday Mail
PARENTS and guardians are usually prepared to do anything for their children to make the most of their lives.
They typically spare no expense to ensure they afford their children a chance to lead better lives than they did.
And, as has always been the case, education is considered the most viable and vital staircase to a better life.
Unfortunately, there are some in our midst who consider this effusive parental love as a weakness that can be conveniently exploited for material gain.
The main story in our Society section is a sad tale of how parents are being wrung dry by greedy schools and teachers, who are designing elaborate schemes to rob them of every penny they have.
It is actually worse for parents with learners who are starting the Early Childhood Development (ECD) stage, Grade One or Form One at a new school, as they are most often than not forced to buy school uniforms at extortionate prices relative to those obtaining in formal retail outlets.
In some instances, they are variously charged amounts between US$200 and US$300 — strictly in foreign currency — for a full set of uniforms produced by tailors of questionable competence.
It would have been understandable if these uniforms were produced by the schools themselves, as the money would accrue to the institutions' accounts, but outsourcing these services smacks of ulterior motives that are obvious.
In addition, the parent has to contend with ridiculous school development levies.
The overall bill, including school fees, becomes obscene.
However, this is just the beginning of the nightmare.
Once schools open, some teachers come with their own requirements.
We have heard of instances where parents are being prodded to pay for extra lessons for learners at ECD level.
This would be laughable if it was not tragic.
Because of the additional requirements of the new curriculum, parents are also forced to buy educational materials such as toys, bond paper and hula-hoops.
Overall, this may cost upwards of US$80.
Some "enterprising" teachers, however, have come up with a "solution" to lessen the burden. They are selling materials that would have been left by the previous class at discounted prices.
For the upper grades, extra lessons are leaving parents US$10 to US$15 poorer every month.
While they are not mandatory in the strictest sense of the word, non-payment can result in learners not being given the attention they deserve, which might have disastrous outcomes.
So, in a way, the extra lessons, which are invariably not sanctioned by the Ministry of Primary and Secondary Education, are mandatory.
Put differently, the learners are being held to ransom.
National Association of Secondary School Heads president Mr Arthur Maphosa could not have put it any better when he said last week: "The blame is often thrown into our faces as heads because it is our responsibility to supervise teachers. Some of the teachers often neglect normal classes in favour of extra lessons . . .
"The culprits should be reported. Some of the activities do not fall in line with both our association and Government's policies."
But even as the Government, unions and parents are unanimous that such practices are both unethical and illegal, they are still continuing.
It is a cancer that is slowly metastasising.
There is, however, a real danger that if such abhorrent practices are entrenched, they will become difficult to unlearn, particularly as schools
and teachers become increasingly reliant on such an easy way of making money.
Those who cannot afford these outrageous and absurd demands would naturally become the ultimate losers, which risks derailing our educational aspirations as a nation.
We cannot afford to make our education elitist, nor leave behind the vulnerable and underprivileged, who have a role to play in our shared future.
So, this calls for decisive action to systematically deal with this growing problem.
Inaction will be expensive in the long run.
We urgently need to restore the integrity of our institutions and professionals.
Everyone — the Government, teachers and parents/guardians — have a role to play.