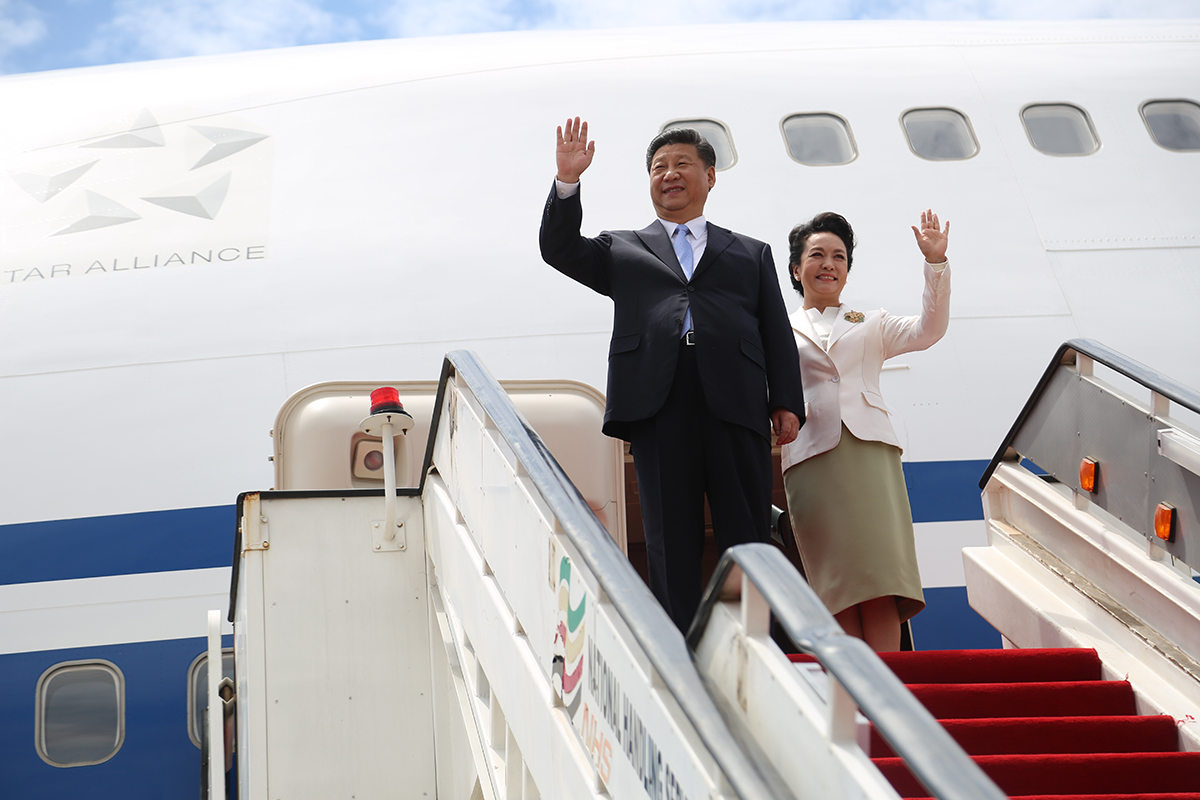 The Sunday Mail
Chinese President Xi Jinping arrived in Harare this morning for a historic visit that is set to catapult relations between Zimbabwe and his country to greater heights.
President Mugabe and First Lady Grace Mugabe welcomed President Xi at the Harare International Airport after his plane landed a few minutes before 10 am.
A host of Cabinet Ministers, several diplomats, senior Government officials and hundreds of jubilant Zimbabweans were among those who welcomed the leader of the Oriental State.
Soon after emerging from his Boeing 747-400 plane, the Chinese leader, who is affectionately referred to as Uncle Xi by the people of China, charismatically waved to the large crowd which in turn responded with wild cheers. After setting his first step on the red carpet, President Xi exchanged warm greetings with President Mugabe, before greeting First Lady Grace Mugabe and Vice Presidents Emmerson Mnangagwa and Phelekezela Mphoko.
A 21-gun salute, which is the highest military honour reserved for a visiting Head of State, was performed in honour of President Xi. He then inspected a guard of honour mounted by the Presidential guard before proceeding to a local hotel. Addressing journalists soon after welcoming the Chinese leader, Finance Minister Patrick Chinamasa said President Xi's visit would give great impetus to Zimbabwe's economic recovery. Minister Chinamasa said a number of agreements will be signed between the two nations in order to boost power supply and end the country's electricity shortages.
"We are going to be signing Hwange 7 and 8, which when undertaken is going to add 600 megawatts into the national grid.
"China is also funding the expansion of the Kariba South extension, which when complete in 2018 will add another 300 megawatts. "There are also 3 other power projects which are going to be funded by the Chinese and these are private sector driven – the Makomo Resources, China Sunlight and also Lusulu. "Each one of them will add 600 megawatts when undertaken and a lot of them are near financial closure. I think in the first half of next year we should see two of those reaching financial closure." While Zimbabwe and China have had friendly ties even before independence, the visit by the Chinese leader is set to enhance economic relations between the two countries. "The visit is very significant. It (the visit) is deepening, broadening, strengthening and widening our economic cooperation. As all of us know, we have had a long relations with the People's Republic of China, dating back to the pre-independence days.
"As we speak, Chinese investors are becoming quite strong in terms of their investments in Zimbabwe. Zimbabwe is a safe and viable destination for investors."
Signing of corporate agreements between the two countries is expected to commence today.
The deals will be signed in other sectors that include transport, road construction, infrastructure development and agriculture.
President Xi is also expected to tour the National Heroes Acre today, while a state banquet is expected to be held this evening.
The Chinese President ends his two-day state visit tomorrow and will proceed to the Forum on China Africa Corporation summit which will be held from December 4 to 5 in South Africa.