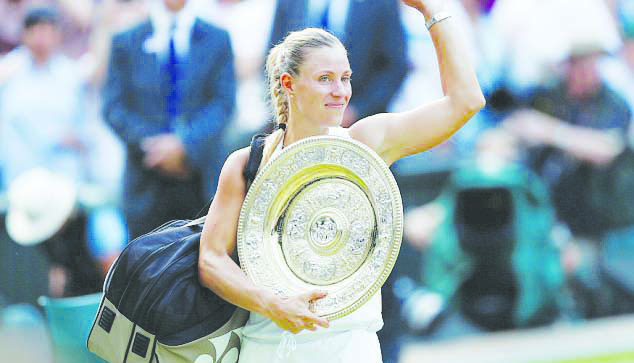 The Sunday Mail
The Duchesses were there, and so was Tiger Woods, but no matter who Serena Williams had in her corner, she could not complete a remarkable comeback with victory at Wimbledon.
The 36-year-old American was stopped in her tracks by a brilliantly composed performance from Germany's No. 11 seed, who prevailed 6-3, 6-3 in an hour and five minutes.
Kerber is the player photographed this week humbly taking the bus home after eating out. Not only does she take the bus, she can park it too.
After a controversially delayed start, she defended her baseline brilliantly to extract 24 unforced errors from an often wayward Williams and clinch her third Grand Slam title.
She remained ice cool at the end and held her nerve, providing another coaching triumph for Belgian Wim Fissette, who this time last year oversaw the run of Jo Konta to the last four.
For Williams, faced with a resolute opponent, winning four matches in six days looked beyond her at this stage of the return following the birth of her daughter.
Kerber has shown before that she is not afraid of Williams, notably in the 2016 Australian Open when she caused a shock by winning in three sets.
She also put up a strong showing in their 2016 SW19 final.
Even with her impressive A-list supporters in the player box, such as Anna Wintour, she was not to be intimidated and made a strong start after they finally got going more than two and a quarter hours late.
A superb natural athlete in the Steffi Graf mode, she can make opponents play one more ball than they would like, and broke straight away with the American looking static.
Williams dialled in quickly, however, and soon 0-2 became 3-2, sealed with a 125 mph ace.
However, there was no doubt that the American was unusually tight, and amid a surfeit of errors she was broken twice, while at the same time was unable to make much impression on the German's vulnerable serve.
The first set was over in just thirty minutes, and Williams knew she needed to step up a gear.
She willed herself to do that by turning up the volume of her grunting to send a signal and played a scarily aggressive game to hold for 1-1.
The crowd clearly wanted to see history being made and any support Kerber had was subdued.
Yet she remained within her bubble and took advantage of the unforced errors coming her way to break again at 3-2 on a second opportunity when she ran down a forehand and rifled it into the corner.
From there, she never flinched and was a deserved winner.
"It's obviously disappointing but I can't be disappoinited, I'm literally just getting started.
"I'm just me and that's all I can be, I tried, but Angelique played really well, out of her mind, and I look forward to continuing to be out here. I'm really happy for Angelique, it's amazing,' said Williams.
"It's a dream come true, you are such an inspiration for all us, that's amazing and I'm sure you will have your next Grand Slam title very soon, ' Kerber told Williams.
"I knew I had to play my tennis. I'm the first German after Steffi to have won, that's amazing." — Dailymail