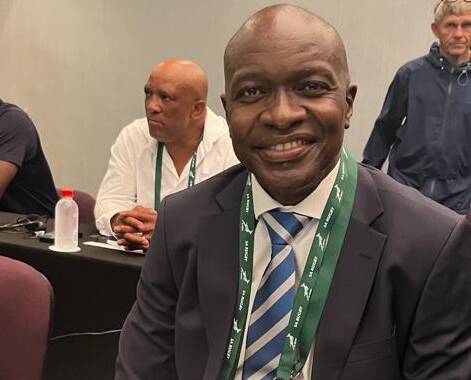 The Sunday Mail
Sports Editor
AFTER initially serving as a committee member, Zimbabwe Rugby Union (ZRU) president Aaron Jani took a giant leap in the administration of the game on the continent after he was voted Rugby Africa's treasurer.
The continental body's leadership met in Cape Town, South Africa, yesterday for their annual general meeting (AGM), where Ghana's Herbert Mensah was elected the new president.
Jani had previously also headed the influential Rugby Academy sub-committee.
Two years ago, he was also named in the African Women Rugby Advisory Board.
Yesterday, he went a step further when he edged Democratic Republic of Congo's Herman Bhonyo for the treasurer's post.
Jani, who is credited with turning around the ZRU, polled 17 votes, two more than Bhonyo. He was naturally happy to be given a much bigger responsibility.
"I am elated and grateful for the privilege and honour to serve Rugby Africa in my new role as treasurer. A big thank you to Africa," Jani told The Sunday Mail Sport from Cape Town.
"Although I have been a committee member before, this election comes with an added responsibility."
It emerged that soon after the poll results were confirmed, the new executive committee then went into a closed session for their maiden indaba.
Details of that executive committee's resolutions were, however, not immediately available. But Jani will serve on a committee that includes outgoing president Abdennaceur Bougja. The Moroccan needed a technicality to retain his place on the executive committee.
He had been tied on 16 votes apiece with Ivorian contender Tono Oi Elvis Tano for vice president.
He, however, used the presidential vote to win. Ghana Rugby Football Union president Mensah won with a popular vote, thumping his rival Andrew Owor of Uganda 30-1.
Mensah has been elected for a four-year period. Yesterday's AGM in Cape Town was the first time in the history of Rugby Africa that the election for president was contested.
Mensah, a Ghanaian businessman and seasoned sports administrator, was nominated by the Nigeria Rugby Football Federation to run for president.
Just like Jani, Mensah had until his election yesterday been a member of the executive committee.
He has also been lauded in Ghana for transforming that country's rugby since being voted the union president in 2014.
He is also highly regarded for significantly increasing awareness around the sport while injecting enthusiasm for players and officials, as well as encouraging the youth to participate in rugby through numerous initiatives and activities.
He was instrumental in spearheading the Ghana national team's qualification to the World Sevens Series after they won the West Africa competition, before moving on to the African championship.
Rugby Africa election results
President: Herbert Mensah (Ghana) — 30
Andrew Owor (Uganda) — 1
Spoilt papers — 1
Vice president: Abdennaceur Bougja Morocco — 16
Dr Tono Oi Elvis Tano (Ivory Coast) — 16
Incumbent President casting vote — Bougja wins
Treasurer: Aaron Jani (ZIM) — 17
Herman Bhonyo (DRC) — 15
Secretary-general: Urie Roux (SA)
Elected unopposed