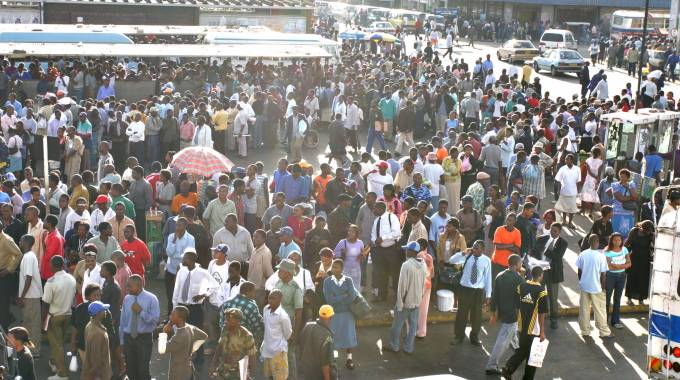 The Sunday Mail
Harmony Agere and Tanyaradzwa Kutaura
Since the pricing madness of October 2018, fuel has been one of a few commodities whose prices has largely remained the same.
Only recently, Government increased the excise duty on diesel and paraffin by 7 cents per litre while duty on petrol went up by 6,5 cents. Yet transport costs have almost doubled with operators now charging a minimum of 75c for local routes, up from 50c.
This has triggered an outcry in the commuting population, which questions the justification of hiking transport fares when fuel prices have not gone up.
"(Transport operators) are charging whatever they want depending with the situation," said Harare resident Ms Dorcas Tswatswa.
"In the morning they charge you $1, in the afternoon you can negotiate for 50c, and if you are lucky you pay 75c in the evening. How do you get three different charges for the same route inside a day? How is that justified?"
Ms Tswatswa, who works in Msasa, says she now forks out close to $9 every day for her and her two children's transport costs. Passengers Association of Zimbabwe president Mr Tafadzwa Goliati said touts and operators were colluding to distort transport fares.
"The real problem are touts, they are responsible for gazetting prices at the expense of the Government and this in turn burdens every citizen," he said.
"Government should step in and restore the control of bus termini to operators, not the touts. Generally, we, as a passenger association, are not happy with what is taking place. We urge all operators to be responsible and not engage in profiteering."
Operators have defended the hiking of fares saying fuel was not the only cost driver.
Urban Commuter Operators of Zimbabwe president Mr Simbarashe Ngarande said spares — the main cost drivers — were being charged in foreign currency.
"If you go around you will notice that the prices of spares have risen significantly and we are purchasing these spare parts in foreign currency," he said.
"The result is that we are forced to look for the foreign currency from the black market. Let's take a closer look, from 2012 we have been charging 50c although fuel rose from about 90c to $1,30. The reason for such a scenario was that spare parts were not affected.
"For a Toyota Hiace, service kits range from about $250 to $300 and we often take our vehicles for service once after every two weeks. A set of brake pads is now pegged at $70 and that amount is what is received after a day's work."
According to some operators, a commuter omnibus makes an average of $100 daily, which translates to around $2 800 per month if the vehicle is on the road every day.
About $700 is set aside for labour monthly, and $500 goes to servicing the vehicle. Operators incur additional expenses such as license fees, insurance, rank disks and regulatory other fees.
Harare Residents Trust director Mr Precious Shumba said while they wanted lower fares, they understood the difficult situation the sector was operating in.
"Vehicle maintenance is costly, and from what the kombi crews have said, their major challenge is that the vehicle parts are being sold in hard currency," he said.
"The residents are concerned that the fares being charged on most routes are not reflecting the real incomes of residents."
Mr Shumba admitted that there was collusion between operators and touts.
"The commuter omnibus operators, and their touts are combining to make a living out of the suffering masses. The operators allow their touts to dictate the fares, and these touts just cause problems."
This has re-ignited demands for an organised public transport system that can absorb economic shocks.
"The Government has a duty to revive the Zimbabwe United Passenger Company, and develop a mass public transport system that ensures the safety of its citizens," said Mr Shumba.
"The National Railways of Zimbabwe should be providing public transport to Chitungwiza, Budiriro, Mabvuku, Tafara, Marondera and Norton so that the heavy congestion and the high charges being charged by errant commuter omnibuses do not continue.
"One of the residents' major suspicion is that some influential government officials are heavily involved in the transport business, hence they would not want to see Zupco and NRZ fully revived. Their businesses would suffer if the Government intervenes with a mass public transport system."
Local Government, Public Works and National Housing Minister July Moyo last week told Parliament that 22 investors had expressed interest in Zupco.
"Zupco is an area where business, labour, and Government are interested to ensure that public transport is consistent, and we have looked at the Chinese, Scandinavian, and British models, where privatisation of public transport was disastrous and expensive," he said.
"We ended up deciding to go for partial privatisation of Zupco to get some investors, and already, 22 potential investors, both local and international, are interested in coming in because they know that this is big business."