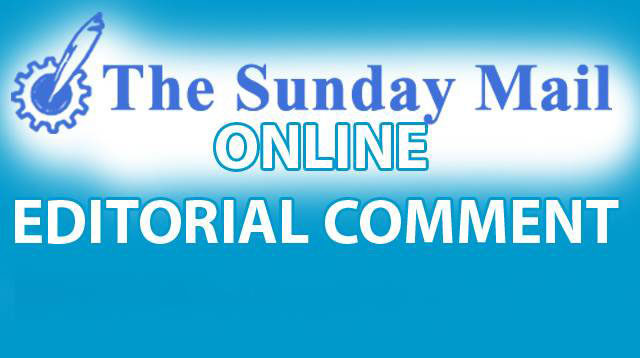 The Sunday Mail
WE now seem to have become used to bad driving, which we witness every day on our roads.
It seems to be worse in the capital, Harare, where there is a burgeoning vehicle population.
It has become so bad that it is not uncommon to see a car overtaking a vehicle already overtaking another.
It is madness!
Some motorists breeze past red traffic lights at busy intersections or even drive against oncoming traffic.
Others carelessly mount road kerbs or just inexplicably stop and temporarily park in the middle of a busy road.
And there are those who have the temerity to disregard police that would be controlling traffic at intersections.
They even angrily or contemptuously gesture at police after they have committed what amounts to a serious traffic offence. Such infractions are too many to mention.
If road users cannot observe simple rules and regulations, it would be fanciful to expect them to have the courtesy that is needed to share the road with other motorists.
It is fair to say our roads have literally become a traffic jungle.
But this has to stop.
Far too many lives are being needlessly lost on our roads. On October 14 last year, six learners and one teacher died while many others were injured when a Tynwald High School bus overturned in Nyanga. It is alleged the driver, who has since been arrested on culpable homicide charges, was speeding.
But behind these statistics are grieving families who are still struggling to come to terms with the loss of a loved one. On Tuesday last week, two buses – Zebra Kiss and Rimbi Tours – were filmed dangerously racing along the Harare-Nyamapanda Highway, resulting in a fatal accident that claimed the life of the Rimbi bus conductor.
What made the incident revolting is that it clearly could have been avoided.
One life lost is one too many.
In a meeting with the Zimbabwe Passenger Transport Organisation just before the December holidays last year, the Zimbabwe Republic Police acting officer commanding operations in Harare province, Assistant Commissioner Tawonei Nyazema, indicated that most of the carnage we are seeing on our roads can be attributed to human error.
"We have also seen that of all the fatalities and injuries recorded, most of them were from public transport accidents. The behaviour of some bus drivers leaves a lot to be desired.
"Imagine, one would drive against one-way (restrictions) with a 75-seater bus laden with passengers?" said Asst Comm Nyazema.
"Given that human error accounts for the majority of our road carnage, it is high time each driver decidedly practices self-restraint and responsible driving . . . Speed thrills, but kills."
As a society, we really have to introspect and reflect on such societal aberrations that need to be cured.
Why are we letting loose such maniacs masquerading as drivers on our roads? Are we training our drivers well enough to appreciate the importance of observing road rules?
Are our laws punitive and deterrent enough to discourage rogue behaviour?
Getting behind the wheel comes with a lot of responsibilities, especially for operators of public service vehicles.
Not only are drivers responsible for their own safety, but the safety of passengers and other road users as well.
In other jurisdictions, traffic offences such as illegal parking, driving without a seatbelt, talking on the phone while driving, driving without a licence and drink driving can attract onerously steep fines that can be as high as US$320.
We, too, need to send a strong message to both repeat and would-be offenders.
It is comforting that our courts have begun to impose proportionate penalties.
Late last year, two convicted drivers were not only caged but had their licences cancelled as well.
The Government has already announced that it will be introducing a new driver's licence penalty points system that will see reckless drivers and habitual offenders either losing their licences or having them suspended.
Through the envisaged plan, the penalty points given to the offending drivers will depend on the offence committed, with offences such as going through a red traffic light having relatively fewer points than the serious offence of driving while intoxicated. It is equally comforting that preparations for the deployment of an electronic traffic management system — a computerised platform that is expected to result in the bulk of road traffic fines being paid electronically, including reducing direct interface between police officers and motorists — are now at an advanced stage. Deployment of hi-tech policing equipment and 24-hour live cameras across the capital, as well as speed traps and breathalyser machines, will go a long way in dealing with the current scourge.
All these ambitious projects need to be expeditiously implemented.
We have the law and moral capital on our side. It is high time Government lays down the law.