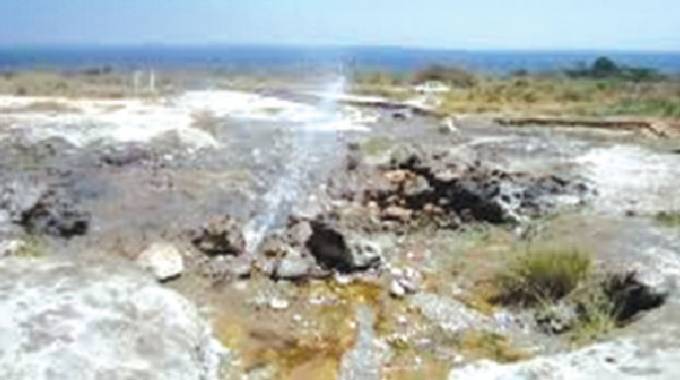 The Sunday Mail
Francis Mupazviriwo
LOCATED in Matabeleland North, it has stayed hidden from the world — untainted by urbanisation and other economic developments.
But now, Binga is a growing investment destination in Zimbabwe, whose potential hinges on the successful rehabilitation of the area's road network, an endeavour that has already started.
The road to Binga, which is a mixture of carpeted stretches and some badly damaged sections, desperately needs resurfacing for the district to profit from tourism, fishery and mining, which constitute the cornerstone of its economy.
Besides infrastructure, Binga and generally Matabeleland North Province, could soon come under threat from human activity, especially deforestation which has wreaked havoc in most parts of the country in recent years.
However, its natural habitat remains largely untouched.
Border Post
Tucked south of Lake Kariba, Binga provides a key gateway to Zimbabwe's neighbours outside existing exit points, Victoria Falls and Kazungula Border Posts.
Binga is situated close to Victoria Falls, Zimbabwe's prime tourist destination and Hwange (National Park), which provides one of Africa's ultimate wildlife experiences.
Ordinarily, this overshadows Binga despite its vast tourism opportunities.
If tourism thrives in Binga, its primary inhabitants, the Batonga people, could benefit through employment creation.
Batonga are exceptional craftsman and they could earn money from the sale of coveted local arts and crafts which serve as memorabilia for the spending tourist.
Apart from a variety of flora and fauna, according to traditional leader, Chief Siansali, the district takes pride in its "intact Batonga culture, which has stood the test of time".
Like its "twin" Kanyemba in Mashonaland Central on the border with Zambia and Mozambique, Binga has in recent years become the centre of Government's economic revival efforts.
In March, Vice President Kembo Mohadi toured Binga to monitor progress made in the attainment of key priority projects under the Rapid Results Initiative (RRI) within the district.
The projects are being spearheaded by the Ministries of Home Affairs and Cultural Heritage; Women Affairs, Community, Small and Medium Enterprises Development, and Environment, Climate Change, Tourism and Hospitality Industry.
VP Mohadi toured the border post, Binga Craft Centre and the Batonga Community Museum.
The border post is a landmark development for Zimbabwe.
In 2010, Zambia commissioned the Namafulo Border Post (on its side) to "ease movement for Zambians crossing to Zimbabwe on Lake Kariba".
Matabeleland North Minister of State for Provincial Affairs Richard Moyo underscored the importance of the border post, especially in terms of facilitating the ease of doing business and interaction between the Batonga people on both sides of the Zambezi.
"If this border is now working, they (Binga community) just cross to meet their relatives and even to do business," said Minister Moyo.
The Binga community, led by Chief Siansali, expressed its desire for the border post to be named "Kasambabezi", a Tonga word meaning "only those who know the river can bath in it".
However, this will require official processes to be followed.
According to the National Museums and Monuments of Zimbabwe curator in Binga, Joshua Chikozho, Zambezi is believed to be a corruption of Kasambabezi.
Scholarly accounts indicate that the Zambezi River was a "narrow canal infested with crocodiles and hippopotamus amongst other dangerous animals".
"Access to water fishing and let alone a bath required comprehensive knowledge of the river. The Batonga people had knowledge of spots that had few or no crocodiles where they could 'steal' a bath or fetch water, leading to the name Kasambabezi," according to authorities.
The Zambezi River holds spiritual significance to the Batonga people.
According to Chief Siansali, the border will provide an economic boost to the district which is a stone's throw away from Zambia, but which currently depends on Bulawayo wholesalers for goods and services.
Chief Siansali said an official opening of the border would need to be accompanied by a festival, which brings together "relatives from both sides of the Zambezi".
"Through the colonial system we were cut into two. We always meet at funerals, cultural festivals and family matters. We have a cultural and biological connection with our Zambian counterparts," said Chief Siansali.
In March, before the closure of the border due to Covid-19, a temporary structure manned by the Immigration Department had been put in place pending commencement of inception works for a fully-fledged border post, manned by various government agencies.
The deployment of immigration officials to Binga marked a formalisation of the port of entry which was previously being run by the Zimbabwe Republic Police.
In an interview, the Permanent Secretary for Home Affairs and Cultural Heritage, Mr Aaron Nhepera, said the border post is vital for the development of Binga.
"This is a project that has been on the cards for quite a long time … it is a project that is dear to the people of Binga, we are enthusiastic about the coming of this border."
According to the chief director for immigration, Mrs Respect Gono, the operationalisation of the border post was a "culmination of several years of serious advocacy and lobbying by communities from both sides of the Zambezi valley".
Tourism
Further to facilitating business between Zambia and Zimbabwe, the border is set to provide a key gateway for regional and international visitors as well.
This explains the optimism by the director for tourism development and facilitation in the Ministry of Environment, Climate Change, Tourism and Hospitality Industry, Dr Douglas Runyowa, during the tour.
"It (border post) gives an opportunity for more regional tourists to be able to travel to Binga. Access is everything in tourism. It gives another opportunity to be able to link the country with Zambia, apart from Chirundu, Victoria Falls and Kariba," he said.
With momentum having been built, plans to revitalise Binga, however, rest on a cocktail of measures which apply to the tourism industry as a whole.
These include infrastructure rehabilitation, investment promotion, competitiveness and marketing. Binga's long term tourism plans are linked with other tourist destinations such as Kariba, which connects through the Zambezi channel.
Providing linkages between Kariba and Binga requires resuscitation of ferry services, which in the past connected the two areas before docking at Mlibizi Resort.
Presenting a case for the revival of tourism in the district during Vice President Mohadi's tour, Dr Runyowa indicated that a resumption of ferry services "will allow visitors to transport their vehicles along the Zambezi River to Binga, for subsequent connections to other resort areas like Victoria Falls, Hwange and Matopos, among others."
Apart from road connectivity, an upgrade of the Binga aerodrome, which has a one kilometre-long runway, stands to attract traffic which would allow options for tourists to fly in from other resorts.
With attractions such as Chibwatatata Hot Springs, Chijalile Pass, Zambezi River viewing, a sand beach and natural rock outcrops — Binga provides key sightseeing views which are integral for its "Project Restart" after Covid-19.
Geographically, Binga's relative proximity to parts of the Midlands and Mashonaland West Provinces gives it another advantage, to be fully enjoyed through road rehabilitation.
In a recent interview, Matabeleland North Minister of State for Provincial Affairs Moyo underpinned the importance of the rehabilitation of Karoi-Binga and Gokwe-Siabuwa roads which connect to Binga.
A rehabilitation of alternative routes will significantly cut the distance from Harare to Binga by 300 kilometres, which stands to make the district more accessible.
Such a development stands to foster domestic tourism in particular, in an environment where tourism is generally viewed as an elite industry.
The project to tar Karoi-Binga Road, which Government reported to be under the second phase recently following the completion of the first 10km stretch, is crucial for Binga's increased accessibility.
Apart from reducing the distance, the ongoing rehabilitation works make it easier for "drive through tourists" and people from areas such as Gweru and Gokwe to have a day excursion to Binga.
Binga has potential to become a key destination for visitors outside the traditionally preferred resort areas, which include Victoria Falls, Hwange and Kariba.
Francis Mupazviriwo is the communications and advocacy officer in the Ministry of Home Affairs and Cultural Heritage.