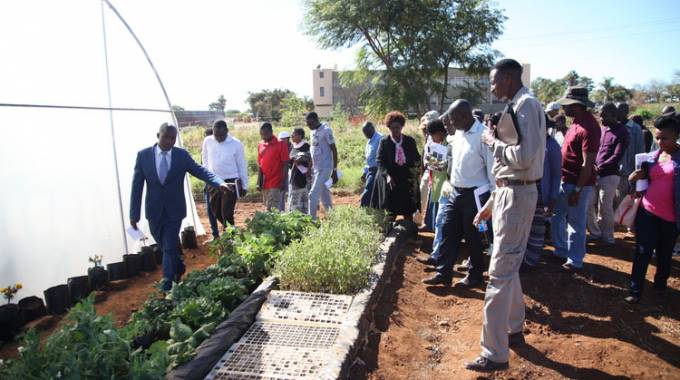 The Sunday Mail
Garikai Mazara
When the land reform programme began around 2000, some were quick to dismiss the initiative, probably one of the most admirable success stories from the First Republic, as a political gimmick.
Almost two decades later, the scramble for agricultural land is even higher than it was back then – as many have seen the light.
Coupled with this appetite for land is an equal thirst for farming knowledge, which has seen a number of workshops, field days and exchange programmes being over-subscribed.
Among several such initiatives, the Scientific and Industrial Research and Development Centre (Sirdc), recently held a one-day workshop on horticulture agronomy, which saw farmers drawn from across the country, and even some from Mozambique, attend.
The workshop covered irrigation water management, seedling nursery, preservation and post-harvest management for vegetables, onions, peas and greenhouse tomatoes.
Dr Jean Nzuma, a principal research specialist with the Biotechnology Research Institute, one of the 12 arms of the Sirdc, presenting a paper during the workshop noted the myriad of challenges that face today's small-scale farmer, the most defined being access to markets, refined agricultural knowledge and overcoming productivity barriers.
"Most of our farmers have weak market arrangements whereas success in horticultural production hinges on well-researched market trends. A farmer should not farm just for the sake of it, hoping that the factors of supply and demand will favour them, rather a farmer should farm for a specific market, which he/she should have enquired on the trends."
She added that for farmers to achieve better yields, the starting point has to be an informed knowledge of the farm's soil pH scales, so that soil-tested fertiliser applications are employed, and any possible liming, if there is any need, is done.
The other impediment to higher yields, she noted, was that farmers often use recycled seeds, which is not even recommended.
Success is also achieved through following a properly planned and adhered to crop rotation schedule, and knowing which crops should follow each other in a given piece of land.
"Cabbages, in any case any brassicas, should not be planted where tomatoes were, as nematodes will kill the cabbages. If such a cycle is to be followed, the use of nematicides should be employed. But again, we are imploring farmers to employ cost-effective horticultural practices."
Filimom Chiveia, an agronomist with ISPM, an agricultural college on the outskirts of Chimoio, Mozambique, said he has always followed training programmes offered by Sirdc and attends from time-to-time.
"This is not my first time here and every time they have something of interest, my college makes it a point to send me over. This time I have been accompanied by one of general staffers from the college, so that they also learn first-hand how to manage a horticultural project."
He said the information and education that he has derived over the several courses that he has attended is too invaluable.
"I urge those who are serious into farming to look for such courses, whether by Sirdc or by any other recognised institution. The experience on the farm should be complemented by such kind of theory classes."
Presenting on post-harvest management, Miss Dorothy Nhepera, a research scientist with the Biotechnology Research Institute, advised farmers on the benefits of practices such as cooling, humidity control and separating produce that emits high levels of ethylene such as ripe and bruised fruits and vegetables from unripe produce, in controlling post-harvest losses.
She also outlined the benefits of packaging in protecting and branding produce as well as the benefits of value addition in boosting a farmer's income-generating potential.
Isaiah Mketiwa, the course co-ordinator, said the day-long horticulture agronomy workshop is just one of several initiatives that Sirdc undertakes from time to time to interface with farmers, especially resource-poor small-scale.
"Our courses are tailor-made to improve efficiency, productivity and incomes by farmers and we hold such workshops regularly. In the coming weeks we would be holding another one to link farmers with export markets and we have invited Agribank, as a financier, to come and educate farmers on the financing options available to them; and ZimTrade to speak on the export opportunities that are present to farmers."
Also billed to participate is the Plant Quarantine Services (for permits and licences), Agricultural Marketing Authority, whilst the Sirdc will present a paper on the marketing opportunities for peas and chillies.