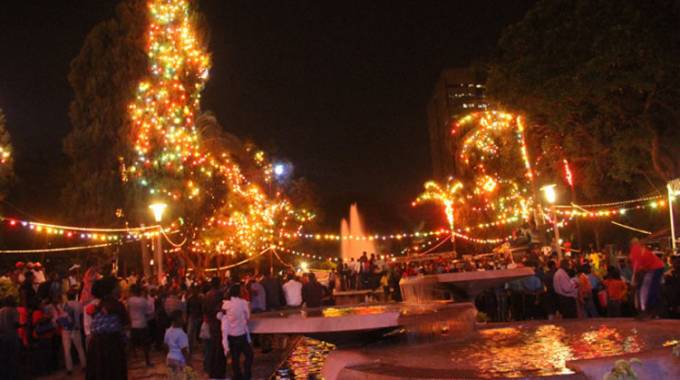 The Sunday Mail
Veronica Gwaze
NOT so long ago, most Zimbabweans would make a beeline for their rural homes during Christmas and New Year holidays.
For many, the festive season was a time during which families would meet, eat, drink and make merry.
Some families are still travelling to their rural homes, but the number has dropped markedly.
For some, it is now trendy to either spend the holidays in resort areas — away from relatives and friends — or to stay put at their homes. The gaiety normally associated with the Christmas and New Year is noticeably waning.
It was not uncommon that during this time of the year, departmental stores would have adorned their premises with Christmas trees and lights, while spicing the ambience with soft-playing Christmas carols in the background.
Normally, the City of Harare could not be left behind in the festive cheer as they almost always took time to elaborately decorate First Street Mall and Africa Unity Square with Christmas-themed lights. It was all a cue that the festive season was upon us.
All that, however, seems to have changed. And it is making those who are more than 35 years nostalgic about the way they used to celebrate the holidays back in the day.
Pastor Blessing Makwara of Revival Ministries reckons the challenging economic circumstances and societal changes are making it difficult for people to make merry as they used to do.
"The failure by most families to travel to their rural areas during Christmas is a clear sign that the family foundation has been shaken," said Pastor Makwara.
"During our time, we enjoyed Christmas. We had the money to buy goodies and to travel. It is different now since we are facing economic challenges," he said.
Prophetic Ministry International Church (PMI) founder Prophet Advocate Joshua Chirambwe believes the younger generation has lost out.
Christmas, he said, is however not a time of gluttony and bingeing, but of celebrating the life of Jesus.
"Christmas is not about drinking. Instead, it a time to celebrate the life of Jesus," he said.
But 20-year-old Annah Mlambo has already made plans for Christmas.
"My father is a disciplinarian and does not allow us to go out. It is only on Christmas and New Year's Day that my father allows us to go out and enjoy ourselves. I am looking forward to going out with my friends," he said.