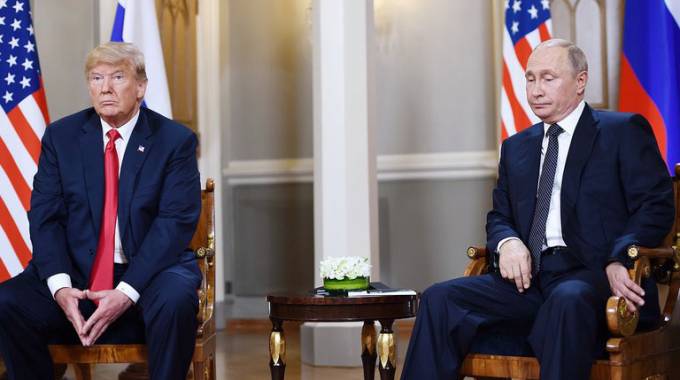 The Sunday Mail
Liu Ying
Ten years ago, in the spring of 2009, the new president-elect Barack Obama and Dmitry Medvedev, who had been in Kremlin for less than a year, held their first meeting in London, marking the beginning of a "reset" of US-Russian relationship that fell into a trough due to the 2008 Georgian war.
With the signing of the "New Strategic Arms Reduction Treaty" (New START) as a breakthrough, the US and Russia showed a flexible and cooperative attitude on the issues of anti-ballistic missiles, NATO's eastward enlargement, the Afghan war, and Iran nuclear issue.
They hoped to turn the page of the Cold War and ushered in a new age of bilateral relations.
However, the "reset" plan has not yet been fully implemented before it was declared "dead" following Putin's third term as Russian president.
Since Trump took office, the US-Russian relationship has been moving forward under the constant threat of a "new Cold War" and another "reset" of bilateral relations.
On May 14, against the backdrop of an intensifying Sino-US trade war, escalation of the US-Iran conflict, and declining pressure on Trump thanks to the final "Russiagate" report, US Secretary of State Pompeo visited Russia and met with President Putin and Foreign Minister Lavrov.
Both sides expressed their wish to repair bilateral relations and rebuild cooperation in many fields.
This is another attempt by Washington and Moscow to improve relations after the failure of another "reset" of US -Russia relations in the early days of Trump administration.
Some media claim that the Sino-Russian relations have reached "natural limits."
Even though the two countries are unlikely to form alliances due to US pressure, they need to find new ways of cooperative development.
Therefore, there are speculations that if the United States and Russia pull off another "reset" of relations, Sino-Russian relations may be affected, and the trilateral relations between China, the US and Russia may change.
I believe that there is only limited room for improvement of US -Russian relations, while Sino-Russian relations are rooted in a distinctive development paradigm.
The three countries will maintain a relationship featuring both competition and cooperation for the foreseeable future.
First of all, another "reset" of US-Russian relations is unlikely to happen across the board.
Both countries will try to maintain the status quo of "limited rivalry."
Ten years ago, a "reset" enabled the two countries to reach a certain degree of cooperation on issues such as arms control and Iran nuclear issue.
However, recently there are signs of retrogression: both countries withdraw from the INF Treaty; the renewal of New START is going nowhere; Russia questions the US policy of "maximum pressure" on Iran; Washington and Moscow can't see eye to eye on issues such as Ukraine, Syria, and Venezuela.
As long as the structural contradictions in US-Russian relations still exist, it is difficult to fully achieve another "reset."
Besides, the "limited improvement" of US-Russian relations will not have a material impact on Sino-Russian relations.
This year marks the 70th anniversary of the establishment of diplomatic relations between China and Russia.
With fruitful cooperation in politics, economy, security, culture and other fields, the Sino-Russian strategic partnership has entered a new stage of development.
The driving force for cooperation between the two countries is derived from not only common development goals and values, but also the principles of equality and mutual respect that China and Russia have always adhered to, as well as the code of conduct for strengthening coordination in major policies and actions to jointly maintain regional and world peace and stability.
It is true that China and Russia also have differences in the understanding of policies, strategic priorities, and behaviours.
However, both sides can recognise and effectively control differences, and at the same time continue to expand common grounds and use mutual support in international affairs to cushion the impact of negative foreign policies.
This is the underlying reason why Sino-Russian relations can enjoy steadfast development in an ever-changing world. It is also the reason why it is difficult for external forces to drive a "wedge" between China and Russia.
Moreover, China, the US and Russia will maintain a mixed relationship featuring both competition and cooperation. With the end of the Cold War and the deepening of globalisation, countries have become ever more interconnected and interdependent.
Although competition and even confrontation between major powers are common in geopolitics, military security and ideology, these countries also have broad common interests in economic and trade cooperation, global governance and security where they need bilateral and multilateral cooperation.
Therefore, the juxtaposition of cooperation and competition is the hallmark of relations between major powers today.
Under the new circumstances, factors such as competition, interdependence and autonomy are redefining the interaction between major powers.
This also means that there will be no "see-saw" policy in which two countries are ganging up on a third country as is seen during the Cold War.
Ten years ago, in the bullish atmosphere created for the "reset" of US-Russian relations, the then US Secretary of State Hillary Clinton and Russian Foreign Minister Sergei Lavrov symbolically pressed a red button labelled "Reset" in English and Russian.
Ironically, the Russian word on the button was incorrectly written as "Overload" due to mistakes made by the American staff.
It couldn't be more prophetic.
Ten years later, although another "reset" is hopeful, it is under too much of a "load."
The unstable pattern of relations among China, the US and Russia is no evidence that Kissinger's theory of "strategic triangle" in the Cold War still applies.
The three countries need to review the sticky issues between one another and find the correct way to build a new type of relations between major powers.
Liu Ying is an associate professor at the Institute of International Relations (IIR) of China Foreign Affairs University.