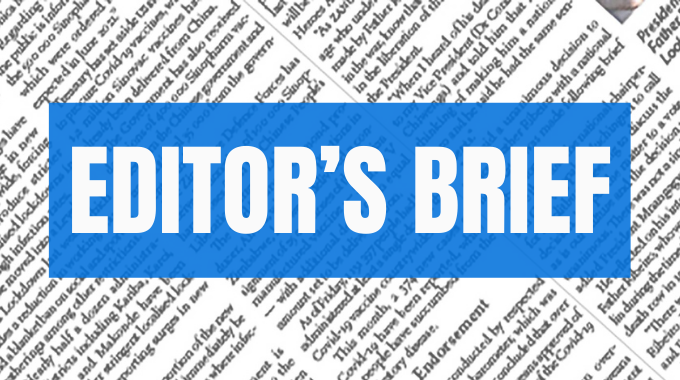 The Sunday Mail
Victoria Ruzvidzo
The International Monetary Fund is not exactly the most generous of institutions in terms of economic growth forecasts for some of its members and Zimbabwe has always emerged a victim of its seemingly harsh stance.
But the story has changed. The Bretton woods institution has given this economy a thumbs up and when you see it revise upwards its previous economic growth forecast then you know that indeed things are happening. Last week this august body projected projections for Zimbabwe to a whole 6 percent! This is great news by all accounts. It is just slightly lower than our own projections as a country of 7,8 percent.
"Economic activity is recovering in 2021, with real GDP expected to grow by about 6 percent,reflecting a bumper agricultural output, increased mining and energy production, buoyant construction and manufacturing activity and increased infrastructure investment," said the IMF in its end of the Article VI mission.
It states further: "The IMF mission notes the authorities' significant efforts to stem inflationary pressures. In this regard, contained budget deficits and reserve money growth, higher monetary policy rates, and more flexibility in the RBZ auction exchange rate, are policy measures in the right direction".
Such vote of confidence by the IMF will surely augur well for this country, especially in view of the Covid-19 pandemic that has adversely affected social and economic activities.
This forecast is even more impressive against a background of economic regression or stagnation in other economies.
It is easy to discern the factors for this projected growth — increased agricultural production, greater capacity utilisation in manufacturing, improved energy supply, elevated mining output, rebounding
construction activity, better foreign currency availability and stability and coherent monetary and fiscal policies and interventions
This economy is in ascendancy and has proven to be resilient in the face of formidable challenges.
The National Development Strategy 1 has set the tone for a growth-focused and inclusive economy.
Africa's economies have been hit hard by Covid-19, fragile as most were prior to the pandemic.
The ordinary man can see and feel positives in the economy with receding inflation, barring the slight increase last month, improved availability of foreign currency, assured food security and infrastructural developments.
These are tangible benefits in an economy on an upward trajectory.
Monetary and fiscal authorities have been proactive in coming up with policies, mechanisms and interventions.
However, the growth forecast should not lull us into complacency. There is still a lot of work which needs to be done.
It is an auspicious start by any means, but it bids us to work even harder.
We need not just maintain this growth, but improve on it.
Agriculture can still do better, notwithstanding its impressive rebound and there were lessons to be learnt during last season. So the sector can produce more locally.
Our imports are still worryingly high, manufacturing has to supplied with inputs, mining is promising and more ventures and partnerships are envisaged while prospects for tourism have improved significantly as the pandemic appears to recede resulting in an ease of travel restrictions.
Currency stability and availability is unerringly always an issue. The central bank has moved in to settle outstanding payments on the auction market.
Import substitution has to be robustly addressed to enable foreign currency to be channelled to compelling priorities such as electricity, fuel and medicines.
Inflation recedes which is positive, but lower figures are attainable.
Construction is picking up and the infrastructural developments are expected to continue.
Those roads that are already done are a joy to drive on. We hear that those that ply the Harare/Beitbridge road are having a time of their lives on the smooth rehabilitated road. This increases confidence and boosts economic activity.
Ease of doing business is a constant theme and there have been significant improvements. We have gone up the rankings, but clearly, this is work in progress. Company registrations for example still take prolonged periods, but we know the Government is at work to improve all this.
So then, we celebrate the highly commendable milestones.
There are always competing priorities in any economy.
We have the fundamentals in place, we have fiscal and monetary policies in sync.
This should just be the beginning. We can escalate the growth of our economy.
All hands on deck, in our respective spheres.
We appreciate the Government's efforts, for this did not just happen on its own.
It often takes punishing schedules to change the economic trajectory, underestimated in instances. But we have done well as an economy.
We have agriculture, manufacturing, mining, tourism and service sectors underpinning this growth.
It has to be buttressed and requires everyone to bring their A-game.
We also address the structural issues.
We have policy clarity, consistency and predictability.
The Zimbabwe we desire is taking shape and work is cut out for us.
Zimbabwe's economy looks set to achieving the 7,8 percent growth envisioned for this year. The average annual of 5 percent as envisioned by NDS1 looks set to be surpassed over the next few years.
Power supplies have been a major sore point in the past few weeks by zesa Holdings executive chairman Dr Sydney Gata has allayed any fears.
"I want to assure Government and our country that we are not gasping for strategic responses to the challenges that I have highlighted. We have strategic responses to the current emergencies and our contribution to NDS1.
"By 2024 we want to clear the 300 000 customer backlog of connections. Agriculture load has increased by 53 percent in the last year mostly in winter wheat irrigations and we want to satisfy that reliably and what we see as continued expansion in that sector," said Dr Gata.
Only this week, Afreximbank signed US$78 million worth of deals with three local banks to support the energy and productive sectors of the economy.
This can only feed into the positive growth trajectory the economy has taken.
These deals will help zesa to import power and increase generation capacity.
Performance of key sectors of the economy that include agriculture, mining, manufacturing and tourism depend on availability of power hence the deals signed on the sidelines of the Intra-Africa Trade Fair held in Durban South Africa last week will have a phenomenal impact on the economy.
Outside increased power supply, Zimbabwe is said to have harvested more deals running into million and the IATF.
The vibe is definitely on and who would blame the IMF for catching onto it. The hugely conservative institution has been left with no choice, but marvel at developments in this economy.
We should also take note of a few concerns and advice proffered on areas that the economy needs to work on to realise its full potential.
In God I Trust!
 Twitter handle: @VictoriaRuzvid2; Email: [email protected]; [email protected]; WhatsApp number: 0772 129 972.