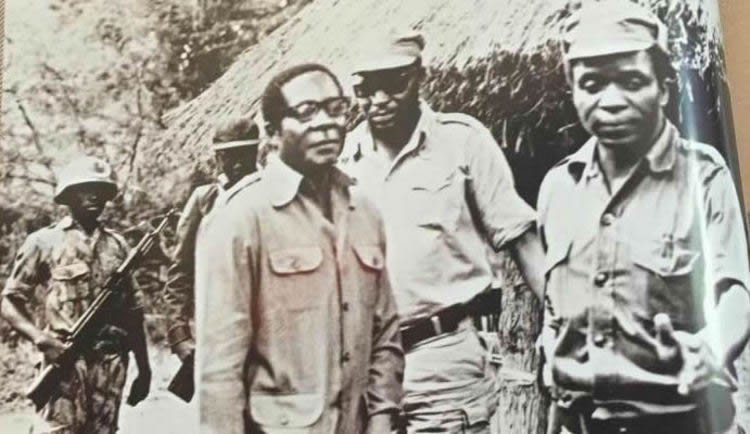 The Sunday Mail
Hon Vice-President Emmerson Mnangagwa
Fellow comrades of the Press, let me through you, indicate that, after consultation with my President, I have decided to address this Press conference in my capacity as both the Vice-President and Second Secretary of our revolutionary party, Zanu-PF, and Vice-President of the Republic of Zimbabwe.
The party's National People's Congresses and various National People's Conferences have, over time, made emphatic resolutions dissuading Party cadres from discussing the Party's internal matters in the public domain.
Subsequent Politburo and Central Committee meetings have equally called on members to discuss contradictions and concerns within the framework of established Party organs and forums.
More importantly, these fora have affirmed and reaffirmed the leadership of the President and First Secretary of our party, Cde RG Mugabe, both in the party and in successive elections, including in 2018.
His Excellency, the President and First Secretary of the Party while addressing a gathering of party members at Zanu-PF headquarters on July 27, 2016 stated that "if accused, it is also up to us to tell the people that the accusations are false".
It is against this background that I have decided to address you today, specifically in relation to the emerging worrying national developments within our Party, as well as the various innuendos being made which may be interpreted as maligning me, both in my personal and official capacities.
His Excellency, the President and First Secretary of the party, has often underscored the importance of leadership as an embodiment and tool for unifying the membership of the party and, by extension, the nation.
In this regard, he has repeatedly spoken about desirable party leadership traits some of which include discipline, the ability to unify the membership, loyalty to the ideals and leadership of the party, consistency in word and deed as well as the need for leaders to be servants of the people.
However, I have recently witnessed a disturbing and alien trend whereby party cadres concoct unfounded, unproven, blatant lies, and callous utterances and accusations against me with the ultimate objective of deprecating and maligning my person and standing. I have further observed with grave concern as members of the party at various levels exhibit untoward behaviour and make utterances contrary to the dictates of the party constitution and protocol.
Equally, some fellow Government ministers have made statements based on unfounded, unproven and disrespectful allegations against me in contravention of the spirit and letter of the national Constitution and their Oaths of Office.
The war veterans, being a reserve force, under the Zimbabwe Defence Forces, are guided by known professional and ethical standards and expected decorum, and any divergence from this is not acceptable.
As Vice-President and Second Secretary of the tried and tested revolutionary Zanu-PF party, I have not offended against or diverted from the ideology of the party, its canons, precepts, principles and established practices.
I have served the party for over 54 years, often with my life, all the time showing unflinching dedication, undivided loyalty and absolute commitment.
As I stated in The Sunday Mail of July 24, 2016 in respect of the alleged rebellious clique which I strongly condemn, all true war veterans know that the President is their Commander-in-Chief and must be loyal and committed to the President and party. I don't think those who say such things are loyal or genuine war veterans.
They must be loyal. I still stand by that. As you are aware, full investigations on the matter are underway and whoever authored the document, the law must take its course.
Rogue, treacherous, aberrant and counter-revolutionary conduct is not acceptable. These fifth columnists are attempting to rewrite the correct history of our revolution.
Fortunately, Zanu-PF has over the years, amassed combined experience in handling such cases and I happen to know this very well as the man in charge of security during the liberation struggle and after Independence.
The 6th National People's Congress held in December 2014 boldly consolidated the principle of "One Centre of Power", a principle I firmly and unequivocally subscribe to.
The unity of the party and its leadership is its lifeblood and soul.
It is this unity which ensured that we successfully prosecuted the armed struggle for liberation. It is this unity that saw us ward off the concerted, relentless machinations by agents of regime change to enable us to have the Independence, sovereignty and national peace and stability we enjoy today.
I personally hold dear this principle of unity.
Unity of our great nation, unity within our revolutionary Zanu-PF party and unity amongst all comrades, irrespective of their positions in the Party and status, bearing in mind that whosoever violates this cardinal value is in conflict with the spirit and letter of our party constitution.
Whilst the principle of "One Centre of Power" was re-proclaimed during the 6th National People's Congress, which only took place in December 2014, for us in the struggle, this was a rehashing of a principle we held dear during the struggle, in fact a principle established at the very founding of our party.
For a person like me who occupied the sensitive post of Head of Security during the liberation struggle, it was not only a parameter of conduct, it was also a principle whose observance I enforced within the entire cadreship of Zanla.
Let it not be forgotten that both during my incarceration for a period of 10 years — from 1965 to 1974 — and after my release in 1974, I have always had a personal relationship with the President, Cde RG Mugabe, who to me is not just a father figure but a principal mentor, after whom I fashion all my political behaviour.
Again for the sake of the young generation in the party, it was the President, Cde RG Mugabe, who selected and appointed me in 1977 to take up the sensitive post of Head of Security during the armed struggle as the Special Assistant to the President in charge of both military and civil divisions.
That same confidence expressed itself in 1980 at Independence when the President, Cde RG Mugabe, then Prime Minister, appointed me Minister of State Security.
All these appointments leading to what I am today speak of the close and trustworthy relation I have maintained with my President.
It is a relationship I cherish and regard dearly that I will not allow anyone to malign or soil. To that end, as I have done for the better part of my life, I re-affirm and pledge as in the past, to defend and stand by the person and legacy of His Excellency, the President and First Secretary of our tried and tested revolutionary party.
I have in no way, either by acts of commission or omission, sought to arrogate power and authority to myself, away from His Excellency the President and First Secretary, Cde RG Mugabe.
To this end, my association with colleague Cabinet ministers, fellow Politburo members and the party membership in general, has always been to the extent and within the confines of my delegated authority and responsibilities.
I chair more than five Cabinet Committees; this should never be construed as being tantamount to running a parallel Government. These false, concocted, malicious and frivolous allegations will neither deter nor detract me from diligently and effectively executing my duties and responsibilities as assigned to me by His Excellency, the President, Cde RG Mugabe.
This brings my strong views on allegations related to my perceived association and purported leadership of the so-called "Lacoste".
I have never at any one time directly or indirectly established, formed, convened or sought to benefit from the alleged grouping, or other such groupings of dubious and libellous character as alleged. Equally, I have been on the receiving end of various people who are said to use my name and office for personal gain, self aggrandisement and political clout, amongst other benefits only known to themselves.
I abhor this corrupt ascription and despicable malpractice which I have never sanctioned at any point and want the perpetrators to stop.
Let me conclude by calling on all members of the party to respect and follow its traditions of unity, discipline, loyalty to the Party and its leadership, integrity, honesty and truthfulness and the culture of taking facts as a sacred basis for forming opinions or judgments.
I thank you.
Vice-President Emmerson Mnangagwa delivered this address to the media in Harare on July 30, 2016.