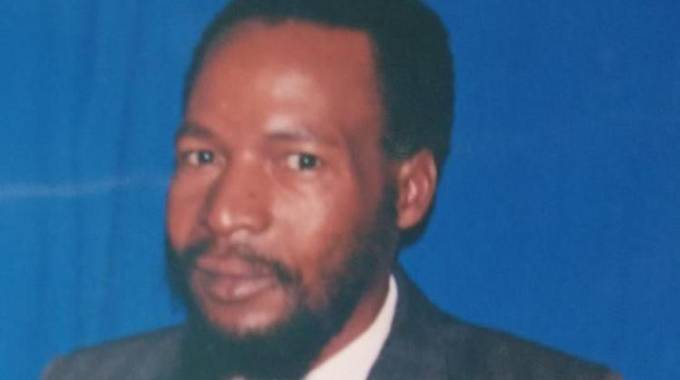 The Sunday Mail
HE went to school up to Grade Seven. At 14, he became a war collaborator. By the time he was 16, Cde Alfred Mushaninga (AM) was already training to fight the colonial regime in Rhodesia. The former freedom fighter, whose nom de guerre was Cde Wedzerai Magorilla, narrates his war story to our Deputy News Editor Levi Mukarati (LM).
*******
LM: At 16, you were one of the young people training to fight the colonial Government in Rhodesia. Before we get to the military period in your life, can you briefly tell us about your childhood?
AM: One aspect about our family is that we were many. Too many to know the exact number of children sired by my father.
His name was Mushaninga Mushaninga.
He had five wives. My father had nine children with my mother, Sarah Nhenge-Mushaninga. I am the fifth born in that family. I was born Alfred Mushaninga in 1961 in Shurugwi, Chikato under Tokwe farming area.
Later, I adopted the nom de guerre Cde Wedzerai Magorilla. I went to Chikato Primary School from Grade One to Seven. I did not proceed to secondary education because my father could not afford to pay my school fees. Like I said earlier, he had many children. Kudzidza kusvika Grade Seven ndakaita mhanza nekuti vamwe vazhinji, kunyanya vasikana mumhuri yedu, havana kutomboenda kuchikoro.
Having failed to proceed to secondary school, I joined the family, full time, in providing labour to white farmers in our area.
This was our means of survival. In brief, that was my childhood.
LM: How then did you end up joining others fighting for the liberation of Zimbabwe?
AM: When I was 14-years-old, or in 1975, talk about the liberation struggle had become part of everyday stories.
Vanhu vazhinji vakanga vakuziva kuti kune magandanga arikurwira kusunungura nyika.
We knew people were being trained outside the country and returning to Rhodesia to commit sabotage acts on various infrastructure of the Ian Smith regime. In fact, it is the Ian Smith regime's propaganda that played a major role in motivating black people to join the war.
To the whites, they thought by distributing flyers denouncing the liberation fighters and other hate messages through the radio, they were containing us, but that actually conscientised the masses on the liberation struggle. I am one person who was "motivated" by such propaganda to join the liberation struggle.
In fact, there were already liberation struggle fighters operating in our area. These included Cde Black Mamba Mhungu Zvombo Zvehondo and Mambara Pasvondo. I remember these names very well because they were an inspiration to me and many others of my age in Shurugwi.
Tainzwa manyukunyuku pataitamba tichitevedzera hondo tichizviiti: "Ndini Cde Black Mamba Mhungu Zvombo Zvehondo".
Izita rairatidza munhu akashinga kana kuti asiri wekutamba naye. That is how I developed an interest in associating myself with these characters. Everyone wanted to associate himself or herself with these characters. Because of that interest, I became a mujibha or war collaborator.
Mazuva iwawo hapana aida kunzi haasikuziva zvirukuitika munharaunda and we would quickly run to tell the comrades any information we thought was vital to them. Others would go to an extent of going to the comrades to tell them there was a white man in the area, even if that white person was a mere agricultural extension officer. This showed how we cherished assisting or working with the comrades. The liberation struggle fighters, in turn, told us about the war and their training.
They would exaggerate that there were a million people being trained outside the country to fight the white government in Rhodesia. But they were true to the fact of the war; that it was meant to ensure the blacks have control of the country, its land and rule themselves.
LM: As a war collaborator, apart from relaying information to the comrades, what other roles did you play?
AM: When we were away from the comrades, we used to see ourselves as trained comrades.
Pane mweya wakanga uripo wekuti waitozviona semurwi werusununguko.
It is a result of that psyche, we ended up, as a group, destroying crops and stealing livestock from white farmers in the area. We would also cut telephone wires. Some of the mujibhas I moved around with included Douglas, Simbarashe and Godfrey. We were actually friends.
These activities were committed between 1976 and 1977. I then eventually left Rhodesia for military training in Mozambique in 1977.
LM: Many young people joined the war after either running away from school or without their parents' knowledge, how was your situation?
AM: I told my mother of plans to go for military training. She objected strongly and asked me to consider going to Gweru or Bulawayo, where my brothers worked. My mother was of the opinion that I should seek the assistance of my brothers to secure employment. Like most parents during that time, it was difficult to watch your son or daughter take the route I was about to take. Ironically, these parents supported other peoples' sons and daughters in the war. I had made a decision and my mother could not talk me out of it. In fact, when I told her of my plans, I had already concluded with the comrades that they would facilitate my journey to Mozambique to join the war. A group of recruits had been assembled.
On the eve of my departure, I carved a cooking stick for my mother. She accepted it, before breaking down. The following morning, I packed a small bag with a few clothes, a pair of shoes and food before leaving to join the comrades in our area.
LM: Approximately how many recruits were in your group and which route did you take to Mozambique?
AM: We left Shurugwi led by Cde Mambara Pasvondo and other comrades. Our group had the likes of George and Aaron, who were my childhood friends. We walked all the way to Mozambique after having passed through Chivi, Chiredzi and Chipinge. As we walked, we would rest at bases of comrades operating in various areas. At most of these bases, we found groups of recruits who joined us. We travelled at night to avoid detection by the Rhodesian security agents. Unlike other groups that would separate, to avoid being detected, before reassembling at a certain points, our group moved as one unit.
We never encountered any challenges.
I remember before crossing Save River, we were taken through some traditional rites by spirit mediums in that area. The war had an interesting interpretation of the role of spirit mediums. We strongly believed they guided us in the war. As such, traditional rites were an integral part of us. When we crossed into Mozambique, I was unaware we were in a new territory. It was in Mozambique where we could have had a big problem but somehow nothing bad happened.
LM: Can you explain what you mean by that?
AM: Just before reaching Espungabera in Mozambique, we were tracked by Rhodesian war planes. It was around 5pm when we heard sounds of these airplanes. Luckily, we were still in a thicket, so we managed to hide.
When we reached Espungabera, we had strict instructions from our leaders not to talk to anyone. We were welcomed by Frelimo soldiers.
The Frelimo soldiers assisted us to travel to Chikwekwete, where we stayed for two nights.
All along, the journey was on foot and I was exhausted. But like others, I wanted to prove I was worthy to be a soldier, hence, I soldiered on.
From Chikwekwete we were ferried by lorries to Chibawawa Camp where were stayed for months as refugees. We had Frelimo soldiers looking after us. I remember Cde Chidika and Cde Moses. The camp was actually commandeered by Frelimo. At that camp, I received light military training and undertook various duties including fetching firewood, cutting down trees to make roads, cooking and making thatched shelters. I was to be selected for basic training in health or administration of medicines.
We were at a camp and the issue of disease and sickness was prevalent. There were many diseases associated with crowding, poor diet and poor living conditions.
While at that camp in 1978, we had an encounter with the Mozambican rebel group, Renamo. They had planned to attack the camp, but we got wind of that and deserted.
The Frelimo soldiers managed to get reinforcements after some days and reclaimed the camp. That was supposed to have been my first encounter with the war.  I had been given an AK47 assault rifle and basic instructions of how to use it in case there was a contact with the Renamo rebels.
It was scary, I was not sure what to expect. But the rebels did not fight, they ran away.
Continued next week. . .