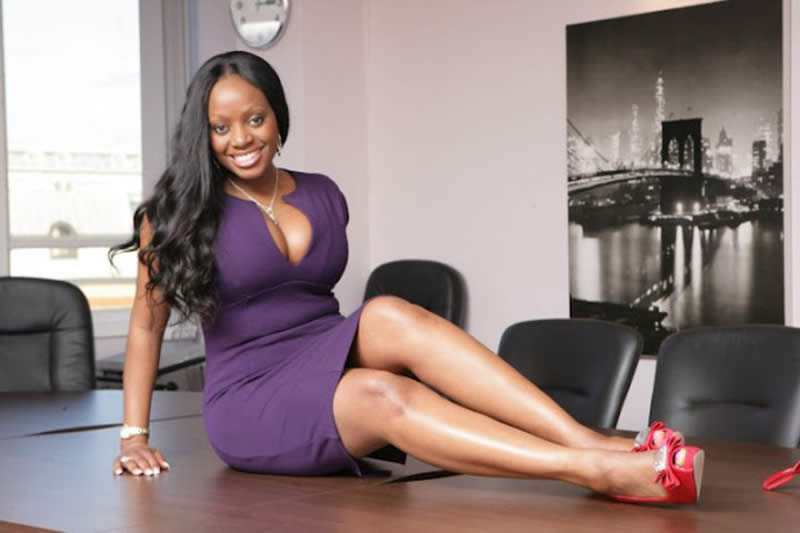 The Sunday Mail
It is hard to separate her from the bad girl image. She, like the best of us, might have made mistakes, but some of her mistakes damaged not only her reputation but also that of the people around her. For that reason, many take reports of her transformation with a not unjustified dose of scepticism.
She grabbed the media's attention and made headlines when she made love on the UK Big Brother show which was being aired live on international television, before a world-wide audience. The outrage was immediate and ruthless especially here in conservative Zimbabwe.
She was then nabbed and deported from the United Kingdom in 2012 after she had attempted to re-enter the UK using someone's passport.
Having been banished from the United Kingdom she relocated to Nigeria where she is engaged in unclear business activities. Where her money comes from remains unclear with reports that she gives US$100 tips in restaurants.
After being refused entry into England, she says she cried for nearly two weeks.
"At the time I felt I really needed to go back to the UK," she told The Sunday Mail Leisure. She says she now looks back and marvels that if she had gone back, Makosi Today, her decently rated television talk show which shows on ZBC, would not have been born.
When lemons are thrown at you, the best option is to pick them up and use them to make lemonade. Makosi seems to have done just that. She has cast off the bad girl image and is reported to now be a church-going philanthropist. Only last week she was reportedly in Tokwe-Mukosi engaged in a campaign to assist flood victims with sanitary wear.
Quite a somersault!
"Criticism keeps me going. When people criticize me, I am one of those people who always want to prove them wrong. When I wake up every morning, I think of the people who criticise me and I tell myself that I have to do it for them. What people may have seen as my tragedy became a divine redirection."
Whilst she claims to be a leopard that has changed its spots, saying she has abandoned life on the fast lane, she admits she misses clubbing and the alcohol-inspired binges that she was used to.
"There was a point in my life where shoes, handbags and related paraphernalia were so important to me, but now they are no longer an integral part of my life as I have grown in Christ. I no longer have an attachment to material things, I am now more concerned in making people around me comfortable," she said.
And the bad habits dying hard . . . "When you are born again, it's not easy to leave behind things you were used to do. Christianity is not an easy ride, that's why most people always fall back to their old ways.
"I don't drink anymore but I miss it because the natural high I have now is more difficult than just having a whisky in my tea and coming here to perform for you. Alcohol at some point drove me and if ever I wanted to do anything, I would just take alcohol and then do it. I don't do clubbing anymore but I miss dancing though I have substituted it with Zumba fitness lessons."
In a comment about her social life that might feed into rumours that she was romantically involved with a polygamous man, she said polygamy was never an issue to her, having grown up in one such environment. Her paternal grandfather had 15 wives and 72 children.
"Polygamy is not a shock to me. I have step brothers and half-brothers," she explained.
She revealed that growing up she did not get along with her siblings as she had a loud mouth.
"I was very different from the pack. I always had weird habits and I was the abnormal one," she explained. "I realised that I would annoy them and most days I was by myself because I am very vocal and I have an opinion about everything. But now we are all a bit mature and we have found ourselves."
She explained that her naughty days began at high school, where she used to bunk lessons at Queen Elizabeth Girls' High School, opting to sit in the nearby park.
"I just went to school because I was sent to school and I studied because I was asked to study. But it had nothing to do with what I wanted to do," Makosi said.
"I hated school and I won't hide the fact that I didn't like it. Mainly because of the different kinds of personalities at school that were intimidating."
Her parents decided to teach her a lesson by transferring her to a mission school in the middle of nowhere, Mukaro High. She got worse.
"If I had an option to run away from Mukaro I would have done that because it was hectic," she emphasised.
But even though she hated the mission environment at Mukaro, Makosi confesses that the experience made her the person she is today.
"Though it seemed bad then, it made me who I am today – a hustler in a good way. If I want something I go for it no matter how thick the bush is," she said.
"I came out with the tenacity that I don't see in a lot of kids of today. Most people ask me where I get the courage. No matter how many times people try to knock me down, I always find ways to pick myself up – it was the mission school."
After completing her secondary education she went to the United Kingdom and studied to become a cardiac nurse. Makosi resigned at 25,  saying that anything to do with formal education was not for her.
Makosi claims to have had no dreams or ambitions as she grew up. While her peers, she says, were either watching cartoons or learning channels, she preferred to watch Oprah and Jerry Springer shows.
She contends it is because dreams are expensive. "I didn't have a dream. One can only dream to become a doctor when they can see a way to achieve that dream.
"Though I came from a decent home, there was no doctor, no lawyer, and no chief executive officer. There was no template for me to dream on," explained Makosi.
She only started to dream eight years ago when Makosi Today was born.
"Eight years ago I realised that I have always liked to speak to people and then I looked at my own life, what it was and imagined a million of other girls who were what I was, who could not have a dream and I knew then it was important to have a dream," she said.
Makosi Today, a talk show currently being aired on ZTV, is about changing the face of Africa with one story at a time.
Besides hosting a successful talk show, Makosi is also now heavily involved in humanitarian work and spoke passionately about community interventions.
"I have adopted a lot of kids that I send to school through my Run For Your Life project. I was a very selfish person and without Christ I wouldn't be doing the humanitarian work that I am doing," she said.
She also writes.
"I write but it comes to me not as a profession. Right now I am working on a book to be released on my birthday," she added.
Makosi's marital status has remained a mystery and she is not eager to open up, she is rather diplomatic about the whole issue.
"I try not to talk about my personal life. If I share my mistakes, I would sort of try and encourage someone out there not to duplicate my mistakes because I am still trying to get there like everybody else. You know men are a problem in the same way women are," she said.
Though she brushed off her marital status,
she opted, instead, to talk about her ideal man. "I don't like fat men. If you have a pot belly, stay away from me. Have a body like Prophet Makandiwa's – tall and tight and be God-fearing too," she explained.
During her spare time, Makosi likes working out and spending time with Benjamin, her horse, as well as her grandmother whom she called an adorable woman.
From a provocative TV personality on British television, Makosi is now donning conservative African attire. She was quick to explain the change in taste, "When we were young we used to think that wearing Gucci is the in-thing, but who is going to talk about us? Do we not want the world to look at us and envy us? I was made in Africa for Africa. I know it's something that comes with age, but I am proud of it," she said.
Her life seems on the mend, but it seems it had to get really dark before things became better.