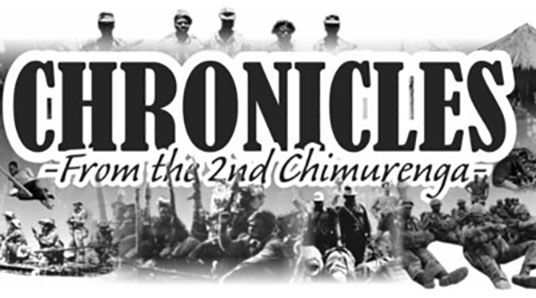 The Sunday Mail
Cde Nobert Mavhungire (NM), whose nom de guerre was Muchadura Mabhunu, had no plans of joining the liberation war. However, a chain of events that followed his return from working in South African mines inadvertently pushed him into joining the struggle. This week, he narrates to our Deputy News Editor LINCOLN TOWINDO (LT) how a chance encounter with liberation war fighters changed his destiny.
**************
LT: You can start by identifying yourself and give a brief background about your life.
NM: My name is Nobert Mavhungire. I was born on February 8,1958 in Marondera district. I grew up in Marondera, where I stayed with my grandparents in Matututu.
I did my early education at Matututu Primary School from Grade One up to Grade Five. I later transferred to Dangara Primary School in Murewa North for my Grade Six and Seven.
The school was 10 kilometres from our home, meaning I had to walk a distance of up to 20km to and from school.
I later dropped out of school because there was no money for me to continue with education. I was later taken in by my sister and her husband, who stayed in Highfield, close to Cyril Jennings Hall. In 1973, I was employed at Kimbeni Furnitures, which was a top manufacturer of furniture in Salisbury. I left that job in 1975, after the company folded because of poor administration.
The following year, I went to South Africa, where I worked in the mines in Transvaal. I was working at Transvaal Hard Beast Fountain Gold Mine, where I was employed as a machine checker. My duties were to service the underground drilling machines that were used to blast tunnels.
I worked at the mine for about a year.
LT: How were you introduced to African nationalism?
NM: There were many other people from home who were working at the same mine.
Because of the hardships we faced at the mines, some Zimbabweans began toying with the idea of crossing the border into Botswana and then Mozambique to undergo military training to fight the white man.
Some of my colleagues hatched a plan to illegally cross into Botswana, but were captured midway through their journey.
They were taken in by the South African police before being tortured during interrogation. During the interrogation, my name came up as one of the co-conspirators and immediately the authorities began looking for me. In no time, I was arrested.
I was then interrogated because the police wanted to know why we were planning to join the "terrorists".
I told them that I was not part of the crew that planned to skip the border but was merely caught in the crossfire because I stayed with some of the men who had planned to cross into Botswana. The authorities issued me with a deportation order.
LT: What were your plans upon returning home?
NM: During my time in South Africa, I had put aside some savings that I intended to invest once I returned home.
But before deportation, I used part of the money to buy some jeans, berets and jackets, which I intended to sell back home to make a living. That was around mid-1977.
Soon, I was back in Salisbury, before I went to Chitungwiza Unit D to stay with a brother of mine. By then, I had married my wife using the money I had brought from South Africa.
Staying in the city was not working well for me, so, I decided to go back to our rural home. After about a week, guerrillas came to set up a base in our village. They spent the night close to our homestead.
During their stay, they got wind that I had just returned from South Africa and immediately came to our homestead looking for me. They told me they heard that I had recently returned from South Africa with some clothing.
They asked me to donate the clothing to the comrades. I told them that I intended to sell the clothing for a small profit, but I was willing to surrender everything to them since they were fighting for a noble cause. I then surrendered everything to them.
LT: What happened next?
NM: They told me that the following morning they wanted to go to the Kambarami area in Murewa. I then offered to accompany them and help them carry the bags.
So, we woke up at the break of dawn and headed for Kambarami. We travelled on foot the entire day. Unbeknown to us, we were walking straight into a Rhodesian ambush. All along, the Rhodesians were monitoring our movements and held back their attack until the right moment. Around 5pm, we arrived at Njedza to break for the night.
As someone with very little knowledge about fighting in a war, I soon started wandering around the base aimlessly.
That is when I noticed a group of armed Rhodesian soldiers running towards our position. I dashed back into the base to alert the comrades of the imminent attack.
On noticing that they were outnumbered and ill-prepared to engage the enemy, the comrades decided to "disappear".
They each went their separate ways.
I then followed behind one comrade who was making his way into the thickets.
The Rhodesian soldiers gave an emphatic chase; they probably thought they would capture us on foot. Soon, they realised that they could not capture us and started firing at us.
The comrade whom I was following was then hit by a bullet and fell to the ground.
I noticed that he had been killed and quickly picked up his gun and scurried for cover.
After running for some distance, I took cover in the bushes.
Rhodesian helicopters deployed to smoke me out could not locate me.
As darkness enveloped the entire space, I began contemplating my predicament.
I was asking myself how I would survive since I had no idea how to use a gun. There was no way of repelling the enemy in the event of an attack.
From a distance, and under the cover of darkness, I heard loud whistling.
I was scared stiff and had no idea of what was going on. Fear, however, seemed to drive me towards the direction of the whistling.
As I got closer to the source, I soon noticed that the sound was coming from one of the comrades who had been hit by an enemy bullet in the midriff area.
His name was Jivas Toriro.
I walked towards his prostrate frame and asked him what I was supposed to do to help him and get ourselves to safety.
The first thing he did was to ask me to hand over the gun. I did as I was ordered.
He then told me, in no uncertain terms, that I had just joined the war by virtue of having carried the sacred weapon.
Cde Jivas then gave me a crash course on how to operate the gun.
He taught me how to put on the safety lock and how to engage the gun into automatic, and generally how to handle the firearm.
He also gave me instructions on how to make a makeshift stretcher, which I was supposed to use to carry him to safety.
I made the stretcher.
I then placed him on the stretcher and dragged him throughout the night towards a mountain called Muchinjike, which was very close to our homestead.
I knew that there was a big cave somewhere on that mountain, so, this would provide decent cover for us from the enemy.
We passed through different villages and would ask for help from the locals to carry the wounded comrade. They would help me until we reached the next village.
At Muchinjike, we took cover in the cave and stayed there for a while.
Local youths would bring us food and clean water under the cover of darkness.
Later on, comrades were told about our presence in that cave and they began coming occasionally to see us. They would bring medication and bandages for Cde Jivas.
As Comrade Jivas recovered, the commanders came to collect him. I thought this was going to be the end of my little adventure with the comrades.
But what the commanders told me shocked me.
"Because you dared to touch this gun during battle, there is no way we can allow you to go back home. We are taking you with us to Mozambique," one of the comrades told me.
Next week, Cde Mavhungire will recount some of the many battles he fought on the front before receiving proper military training.