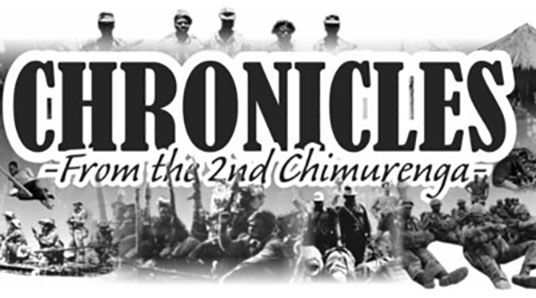 The Sunday Mail
THIS is our final instalment with Mr Henry Kambizi Matemba Mutasa, a Zimbabwean who was born and raised in Mwansa, Tanzania, during the days of the liberation struggle. Previously, he narrated how difficult it was to grow up in a foreign land and how he was constantly haunted by a deep sense of belonging as he yearned to return, for the first time, to Zimbabwe, which is his father's land.
This week, Mr Mutasa (HM), wraps up our discussion by narrating to our Senior Reporter TENDAI CHARA (TC) the additional difficulties he encountered upon coming to newly-independent Zimbabwe.
TC: In our last discussion, you concluded your narration by telling us how difficult it was for you to study in Tanzania. If you can kindly continue with your narration.
HM: Yes, after passing my 'A' Level studies, I was offered a place to study engineering at the University of Dar es Salaam. When my mother saw my name on the list of people that had been offered places to study at the University of Dar es Salaam, she wept bitterly. She knew that in no time I was going to head for Harare because going to university gave me some enhanced freedom to do as I pleased. Like I said earlier, she did not want me to go to Zimbabwe and had tried all the necessary means to discourage me from going.
On the very first day that I attended university, I told the Dean of Engineering that I was not in the right state of mind to study. I told him of my intention to go to Zimbabwe and I begged him to help me raise the money to travel to Harare. So in the end, the university helped me to come to Zimbabwe. Also, the university helped me to get an emergency travel document. I approached the Zimbabwean embassy in Tanzania and the officials there were very understanding and sympathetic to my cause.
The Zimbabwean ambassador in Tanzania at the time, Ambassador Julius Shava, went out of his way to help me. He was very much concerned about the predicament I was in, to an extent that he nearly shed tears. Part of the money for my airfare was raised by the embassy staff.
TC: You were determined to come to Zimbabwe…
HM: I was very much determined. I just felt that Zimbabwe was the best place to be for me. I wanted to come and see my relatives from my father's side. So when I told the Dean of Engineering about my trip to Zimbabwe, he said that upon return, I would have to re-apply for the studies. I decided that once I got to Zimbabwe to see my relatives, I would still come back to Tanzania and study. I told the officials at the University of Dar es Salaam that I would come back and study in Tanzania as a Zimbabwean.
The Dean said he could not give me an automatic entry upon my return from Zimbabwe. He further advised that I had to re-apply and compete with other people that also wanted to study at the university. That was a bit tricky for me, but I remained determined all the same.
At first, my mother knew nothing about my planned journey. Not a single family member in Tanzania knew about my plans. It was a secret between me, the university and the embassy staff. I bought the ticket using money from well-wishers. I then told my uncle (mother's brother) about my plans a night before I was scheduled to leave. I told him: "Tomorrow morning I am leaving, leaving for good." That was on February 10 1990. I told him that since my country was now free, there was no need for me to remain in Tanzania.
He was both worried and livid and he asked me what I would do in the event that I failed to get a place at the University of Zimbabwe. I told him bluntly that this was secondary because returning to my father's home country was the primary concern. I told him that I was prepared to face whatever challenge came my way, as long as I got to Zimbabwe. My mother was angry and she registered her displeasure by shouting at me. She said that she was not happy that I was going away without her permission. My uncle reluctantly took me to the airport the following day.
I am not very certain about this but I strongly suspect that my mother influenced some of the security guys at the airport in Dar es Salaam to employ all forms of tricks to deny me passage to leave the country.
Luckily a security agent who knew my father smoothly facilitated my departure.
I was excited when I was boarding the plane. It was my first international flight and I was, for the first time, going to my father's country. The plane was scheduled to touch down at the Harare International Airport at exactly 10 am. My heart was beating very fast.
Air Zimbabwe was a renowned airline those days. At exactly 10am the aereplane touched down at the then Harare International Airport. When the plane touched down I was so excited that I wanted to sprint out and meet the family members that were waiting for me. Coincidentally, the time that the plane landed was the same time that Nelson Mandela was being released from prison in South Africa.
The mood at the airport was, therefore, explosive as Zimbabweans were celebrating Mandela's release. For me, it was a double celebration. It was like the icing on the cake. Sadly, I did not have a return ticket and I was temporarily denied entry into the country.
I asked the immigration officials about how they expected me to return to Tanzania. I told them I was a Zimbabwean born in exile. The intervention by family members saved the situation as they paid the $800 required for the return ticket. That was a lot of money then.
I got into the car and was driven home as we celebrated my coming to Zimbabwe. Car horns were blowing up in Harare as people celebrated Mandela's release.
For my family, it was the crowning moment. I had waited 21 years to come to the country of my birth and I was so excited that I had finally made it.
TC: What then happened? Did you get a place to study at the University of Zimbabwe?
HM: After a short while, my father advised me to go back to Tanzania to finish my studies. He told me that I could not waste such a golden opportunity to study engineering. So there I was, returning to a place that I did not like. After much persuasion and even threats, I returned to Tanzania accompanied by my father's younger brother. Upon return to Zimbabwe, my father's younger brother brought with him two of my sisters back to Zimbabwe. I was left in Tanzania with my mother who was still angry that I had left her. I was back to square one. My mother's brother invited me to stay with him and I was readmitted at the University of Dar es Salaam where I studied engineering. Before I returned to Tanzania, I applied for a place to study engineering at the University of Zimbabwe.
TC: What then happened?
HM: I studied at the University of Dar es Salaam for four years and then one day in March 1994, I received a fax from the University of Zimbabwe advising me that I had been offered a place to study engineering in Harare. I finally left Tanzania and enrolled at the University of Zimbabwe. I had to start all over as I was admitted as a first-year student. The four years of study in Tanzania simply went to waste, but this did not dampen my spirits. This was the price I had to pay for my burning desire to return home.
I was happy that I was finally home and I swept the setback under the carpet. I finally got my Zimbabwean citizenship in 1995, some 26 years after I was born. I remain a happy, proud Zimbabwean.
TC: Thank you very much for your time.
HM: You are most welcome.